Top Camping Destinations in all 50 States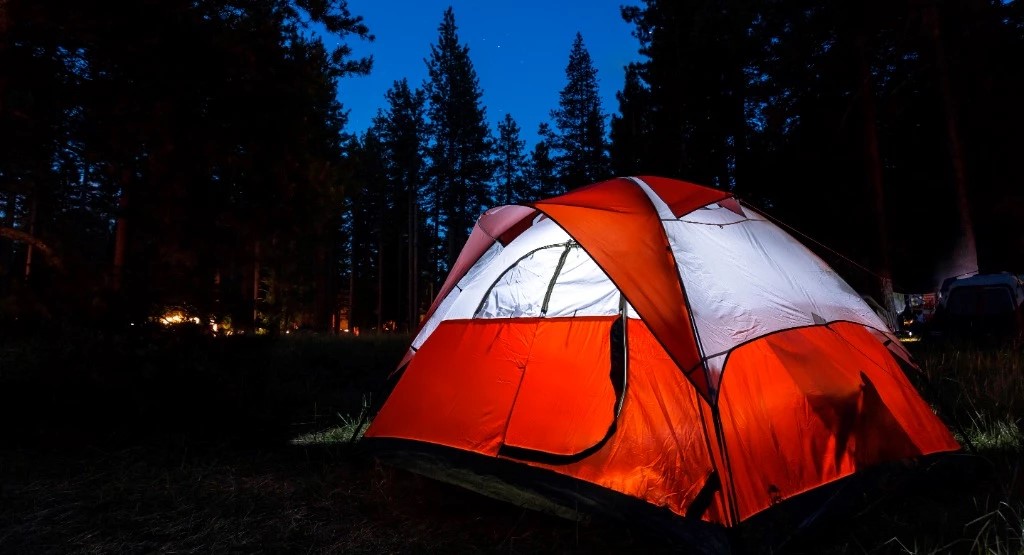 Camping season isn't over yet, and even if you can't get a last-minute reservation this year, it's never too early to start planning for next year's trip. Here is our list of the top camping destinations in the United States.
Cheaha State Park (Delta, Alabama)
Cheaha State Park is home to the highest peak in Alabama, Cheaha Mountain. This incredible camping destination feels worlds away; however, you won't have to drive long to reach Cheaha State Park. It is within an hour's drive of many neighboring towns in northern Alabama.
Chena Lake Recreation Area (North Pole, Alaska)
One could arguably say that you can camp pretty much anywhere in Alaska, but Chena Lake is quite a pristine camping destination. Located east of Fairbanks, many people enjoy spending time observing birds and wildlife, fishing, and swimming here during the summer.
Coconino National Forest (Flagstaff, Arizona)
The Lockett Meadow Campground in the Coconino National Forest boasts magnificent views of the San Francisco Peaks. If you're not afraid of dry camping, head to this camping destination in northern Arizona. There are plenty of hiking trails you can explore during your stay.
Lake Ouachita State Park (Mountain Pine, Arkansas)
Lake Ouachita is the perfect place for all types of water sports; it is also the deepest lake in Arkansas. A national forest surrounds this state park, making it an excellent camping destination for all nature lovers. Lake Ouachita is open year-round, so any day is a good day to visit.
Shasta-Trinity National Forest (Big Bar, California)
Experience a little bit of heaven on earth in northern California. Mountains, lakes, rivers, forests, and majestic views await you at the Shasta-Trinity National Forest. Featuring over 50 campgrounds, this piece of paradise is among the best camping destinations on the west coast.
Maroon Bells (Aspen, Colorado)
Soak in as much of the picturesque Maroon Bells as possible by reserving one of the nearby campsites just northeast of Maroon Lake. You'll soon discover why the Maroon Bells are one of the most photographed areas in Colorado; this place will leave you speechless.
Rocky Neck State Park (East Lyme, Connecticut)
Located on the coast of southeastern Connecticut, Rocky Neck State Park features woodlands, marshes, and beaches. This is a premier spot for bird watching, fishing, hiking, swimming, and camping. If you're in the New England region, you won't regret visiting this place.
Killens Pond State Park (Felton, Delaware)
Killens Pond is a popular state park in central Delaware where many people go hiking, bird watching, fishing, and kayaking. This place is also open for camping year-round, so book one of their cabins or campsites. Their campgrounds can accommodate both tents and RVs.
Rainbow Springs State Park (Dunnellon, Florida)
Find inner peace and serenity in this natural spring. Rainbow Springs offers miles of space to float, canoe, or kayak along the Rainbow River. RVers love it here because all their campsites have water and electric hookups. This state park can accommodate RVs up to 103 feet long.
Cloudland Canyon State Park (Rising Fawn, Georgia)
Situated in northwestern Georgia, Cloudland Canyon is mind-blowingly gorgeous. They have virtually every kind of lodging accommodation, including cottages, yurts, backcountry, walk-in, tent, and RV campsites. Don't miss out on this southern U.S. camping destination.
Waiʻānapanapa State Park (Maui, Hawaii)
Located on the southern end of the Hana Highway in Maui, this state park features exquisite black sand beaches. Feel free to explore the hiking trails and spend the day soaking in the sunshine. Camping is allowed by permit only, so book in advance if you plan to stay overnight.
Ponderosa State Park (McCall, Idaho)
Head to western Idaho and find solace at Ponderosa State Park. This camping destination features a lake, hiking trails, and picnic areas and is about two and a half hours north of Boise. If you're searching for adventure in the gem state, look no further than Ponderosa State Park.
Cave-In-Rock State Park (Cave-In-Rock, Illinois)
Situated on the banks of the Ohio River, Cave-In-Rock State Park is perfect for those who enjoy water sports. Don't forget to explore the park's namesake, the 55-foot wide cave-in-rock is steeped in mystery. This neat camping destination accommodates RVs up to 30 feet long.
Turkey Run State Park (Marshall, Indiana)
Adventure awaits in the rugged wilderness of western Indiana. Turkey Run State Park is arguably one of the best-kept secrets of the midwestern U.S. Many hikers enjoy the 5-mile challenge, and everyone is welcome to use the tennis, basketball, and sand volleyball courts if they need a break.
Maquoketa Caves State Park (Maquoketa, Iowa)
Explore over a dozen caves at this unique camping destination. Located in eastern Iowa, this hidden gem is an excellent spot for all sorts of outdoor enthusiasts. Reserve your campsite online and hike to your heart's content at this beautiful area in the midwestern United States.
Crawford State Park (Farlington, Kansas)
This camping destination is on the edge of the Ozarks in southeastern Kansas. Whether you want to rent a cabin or bring your own tent or RV, enjoy a camping trip at Crawford State Park. Spend time on the lake and explore all of their nearby hiking trails during your visit.
Carter Caves State Resort Park (Olive Hill, Kentucky)
Talk about luxury, this is arguably the best camping destination in the bluegrass state. Visitors can take a guided cave tour, explore a dozen hiking trails, and canoe on the river while they're here. If you love camping, reserve a campsite or stay in the lodge at the Carter Caves Resort.
Fontainebleau State Park (Mandeville, Louisiana)
Soak in the sights of the gulf coast at this scenic state park. Fontainebleau State Park features a lake, where many enjoy sailing, swimming, bird watching, and other fun recreational activities. Anyone traveling through New Orleans should book a stay at this camping destination.
Acadia National Park (Mount Desert, Maine)
We just had to feature this place because it is a breathtaking camping destination in Maine. The Schoodic Woods Campground in Acadia National Park is the newest campground, and it features electric hookups, a dump station, flushing toilets, and nearly 100 reservable campsites.
Assateague State Park (Berlin, Maryland)
Visit Maryland's only oceanfront state park. This camping destination provides endless opportunities for visitors to go fishing, swimming, surfing, and kayaking. Keep your eyes out for the herd of wild horses and explore this incredible barrier island in eastern Maryland.
Boston Harbor Islands (Boston, Massachusetts)
Take a ferry ride to Peddocks Island and enjoy camping under the stars with your loved ones. With over 30 islands and peninsulas, there is no lack of things to see at the Boston Harbor Islands. This popular recreation area fills up fast, so book a campsite ahead of time.
Pictured Rocks National Lakeshore (Munising, Michigan)
Featuring colorful rocks, beaches, sand dunes, and waterfalls, all can witness the natural beauty of Lake Superior at this camping destination in the Upper Peninsula. There are three drive-in campgrounds but only 65 campsites total, so book your camping trip in advance if you plan to visit.
Itasca State Park (Park Rapids, Minnesota)
The oldest state park in Minnesota is certainly a crowd favorite among campers. This is also where the Mississippi River headwaters originate. All are welcome to explore several nearby lakes and enjoy fishing, boating, and bird watching to your heart's content at Itasca State Park.
Tishomingo State Park (Tishomingo, Mississippi)
Located in the southwestern section of the Appalachian Mountains, this U.S. camping destination features picnic areas, a disc golf course, a lake, and a fishing creek. Many visitors enjoy hiking, canoeing down Bear Creek, and camping at Tishomingo State Park, so don't miss out!
Roaring River State Park (Cassville, Missouri)
Wander through the Ozarks at this scenic camping destination in southwestern Missouri. There are nearly 200 campsites with modern amenities at Roaring River State Park. Fishing is an especially popular activity, so bring your gear and try to catch some trout during your visit.
Gates of the Mountains Wilderness (Helena, Montana)
Head to Holter Lake and camp overnight at one of their over 50 Bureau of Land Management campsites. This non-reservable camping area is just north of the Gates of the Mountains Wilderness. Leave your worries behind and breathe in the fresh mountain air in Big Sky country.
Smith Falls State Park (Valentine, Nebraska)
Smith Falls is the highest waterfall in Nebraska, which used to be part of a homestead owned by Frederick Smith. Many locals love visiting the falls and spending time on the river either kayaking, tubing, or canoeing. Embrace the beauty of Nebraska at Smith Falls State Park.
Lake Tahoe (Incline Village, Nevada)
We can't think of any better place to camp in western Nevada. Nestled in the Sierra Nevada mountain range, Lake Tahoe is the second deepest lake in the United States. Enjoy spending time on the water and experience heaven on earth at this incredible camping destination.
Franconia Notch State Park (Lincoln, New Hampshire)
There's no way to mention camping in New Hampshire without talking about Franconia Notch. This year-round outdoor attraction is especially picturesque during the fall. We highly recommend Franconia Notch State Park, it is a must-see if you're in New Hampshire.
Kittatinny Valley State Park (Newton, New Jersey)
Visit the home of New Jersey's deepest natural lake, Lake Aeroflex. Mountain biking, fishing, kayaking, hiking, and camping are among the popular activities at Kittatinny Valley State Park. This camping destination is just over 50 miles northwest of New York City.
Cimarron Canyon State Park (Eagle Nest, New Mexico)
Just east of the Enchanted Circle Scenic Byway, Cimarron Canyon is ideal for hiking, horseback riding, camping, fly fishing, picnicking, and bird watching. There are three different campgrounds to choose from, so come relax and find peace at this beautiful camping destination.
Letchworth State Park (Castile, New York)
Also known as the "Grand Canyon of the eastern United States," Letchworth State Park features waterfalls, over 50 miles of hiking trails, and lush forests. You won't regret camping here, so plan a summer getaway with your friends and family in upstate New York.
Pisgah National Forest (Asheville, North Carolina)
There are countless places for primitive camping available in the Pisgah National Forest. Although this place may feel worlds away, it is only about 30 miles from downtown Asheville, North Carolina. Enjoy mountain biking, hiking, offroading, and other fun activities at this camping destination.
Fort Abraham Lincoln State Park (Mandan, North Dakota)
Featuring a Native American village and a historic military fort, this state park is a neat attraction. Believe it or not, Fort Abraham Lincoln State Park offers camping accommodations too. You can either stay in a cabin or reserve a campsite if you're inclined to extend your visit.
Hocking Hills State Park (Logan, Ohio)
Discover caves and waterfalls at this lovely camping destination. Hocking Hills is an hour southeast of Columbus, Ohio, and the main attractions include Old Man's Cave, Rock House, and Ash Cave. This is a top-rated place and you won't regret spending time in Hocking Hills State Park.
Robbers Cave State Park (Wilburton, Oklahoma)
Located in southeastern Oklahoma, explore the area where the infamous outlaw Jesse James used to hide. Robbers Cave State Park encompasses 8,000 acres, allowing plenty of space to go rappelling, ATV riding, fishing, hiking, and canoeing. Add this camping destination to your list of places to visit.
Mount Hood National Forest (Oregon)
Mount Hood is roughly two hours east of Portland, Oregon. Explore the luscious forest, hike the picturesque waterfalls, and soak in views of Mount Hood during your next Oregon camping trip. Be sure to visit the Lost Lake at this scenic Pacific Northwest camping destination.
Ricketts Glen State Park (Benton, Pennsylvania)
Head to northeastern Pennsylvania and chase the waterfalls at this camping destination. Ricketts Glen is open year-round, so you can soak in all the sights and sounds of nature anytime. Plan an epic camping trip to this state park and invite your friends and family along with you.
George Washington State Campground (Chepachet, Rhode Island)
Located in northwestern Rhode Island, this state campground features a nearby lake and national forest. Hiking, swimming, fishing, mountain biking, and camping are among the popular activities here. All are welcome to visit this Rhode Island camping destination in the spring, summer, or fall.
Hickory Knob State Park (McCormick, South Carolina)
Hickory Knob State Park doubles as a camping destination and golfing resort. This beautiful area features a river, reservoir, on-site restaurant, 18-hole golf course, cabins, and campsites. If you love secluded campgrounds plus modern amenities, check out this state park.
Custer State Park (Custer, South Dakota)
There is a reason the Sylvan Lake Campground is highly sought-after in South Dakota's oldest and largest state park. Myriad outdoor activities such as bird watching, fishing, hiking, and horseback riding await you at Custer State Park. Keep an eye out for the bison herd while you're here!
Cades Cove (Townsend, Tennessee)
Cades Cove is a premier camping destination in the Great Smoky Mountains National Park. There are over 150 campsites at Cades Cove, and they allow tents and RVs. Make sure your camp is animal-proof, it's not uncommon to see wildlife such as deer, black bears, raccoons, and skunks here.
Guadalupe River State Park (Spring Branch, Texas)
This state park is just north of San Antonio and is a popular place to go tubing, kayaking, and fishing. You can also go geocaching, bird watching, hiking, and horseback riding here. It is difficult for anyone to get bored on a camping trip to Guadalupe River State Park.
Uinta-Wasatch-Cache National Forest (Northern Utah)
Escape to the mountains in northern Utah. The Uinta-Wasatch-Cache National Forest is a vast yet secluded national forest with numerous dry camping areas ready and waiting for your next high adventure. See why millions of visitors love coming back to this camping destination.
Green River Reservoir State Park (Hyde Park, Vermont)
Located north of Montpelier, this secluded state park is truly the best place for anyone to get away from it all. They have nearly three dozen primitive campsites that are so remote you have to reach them via kayak or canoe. This pet-friendly camping destination will seriously take your breath away.
George Washington and Jefferson National Forest (Millboro, Virginia)
Just an hour and a half south of Shenandoah National Park, this wilderness is awe-inspiring. The George Washington and Jefferson National Forest comprises one of the largest public land areas in the U.S. There are hundreds of miles to hike, so bring a friend and explore this vast Virginia forest together.
Spruce Knob (Riverton, West Virginia)
Explore West Virginia's most prominent landmarks at the Spruce Knob-Seneca Rocks National Recreation Area. Located just over two hours north of the George Washington and Jefferson National Forest, the Spruce Knob Lake campground is one camping destination you won't want to miss.
Deception Pass State Park (Oak Harbor, Washington)
Deception Pass State Park is the ultimate camping destination in the Pacific Northwest. It features old-growth forests, a lake, tidepools, and miles of beachfront along Puget Sound. Consider camping at Deception Pass if you're itching to discover the best of the evergreen state.
Devil's Lake State Park (Baraboo, Wisconsin)
Visit Wisconsin's largest state park on your next midwestern U.S. camping trip. Devil's Lake encompasses 360 acres and is ideal for kayaking, canoeing, and paddle boarding. Locals and tourists alike love spending time at Devil's Lake State Park, so don't miss out on this camping destination.
Buffalo Bill State Park (Cody, Wyoming)
Aside from Yellowstone and the Grand Teton National Parks, Buffalo Bill State Park is one of the top camping areas in Wyoming. Outdoor recreation such as hiking, picnicking, fishing, and windsurfing are popular here. Consider staying at the North Shore Bay Campground and experience Wyoming's wilderness.
We hope you enjoyed our list of the top camping destinations in the United States. No matter where you go, we hope you enjoy spending time away from it all, soaking in the beauty and serenity of nature with your friends and family. Don't forget to share your favorite camping spots in the comments!
If you're into road tripping, create an account and start planning your next epic road trip using our trip planner. View our FAQ page to learn more.
Calling all camping enthusiasts! Here are some itineraries that may interest you: Western U.S. State Parks, Grand Teton to GSM, Eastern U.S. State Parks, Blue Ridge Parkway, Southern U.S. State Parks, and 7 Astonishing National Parks.