About Us
Back in 2014 we made a questionable financial decision that turned out to be the best decision of our lives. For about $7,000 we bought a 1994 Damon Challenger motorcoach from a seller on CraigsList.com and set out to explore the Southwestern US.
We are a normal family. We have jobs, our kids go to school and spend too much time on their devices, and my wife and I argue over normal stuff, like whether it was smart of me to go spend $7,000 on an old clunker of a motorcoach. But despite everything that is normal about us, we craved adventure and buddy, we got it.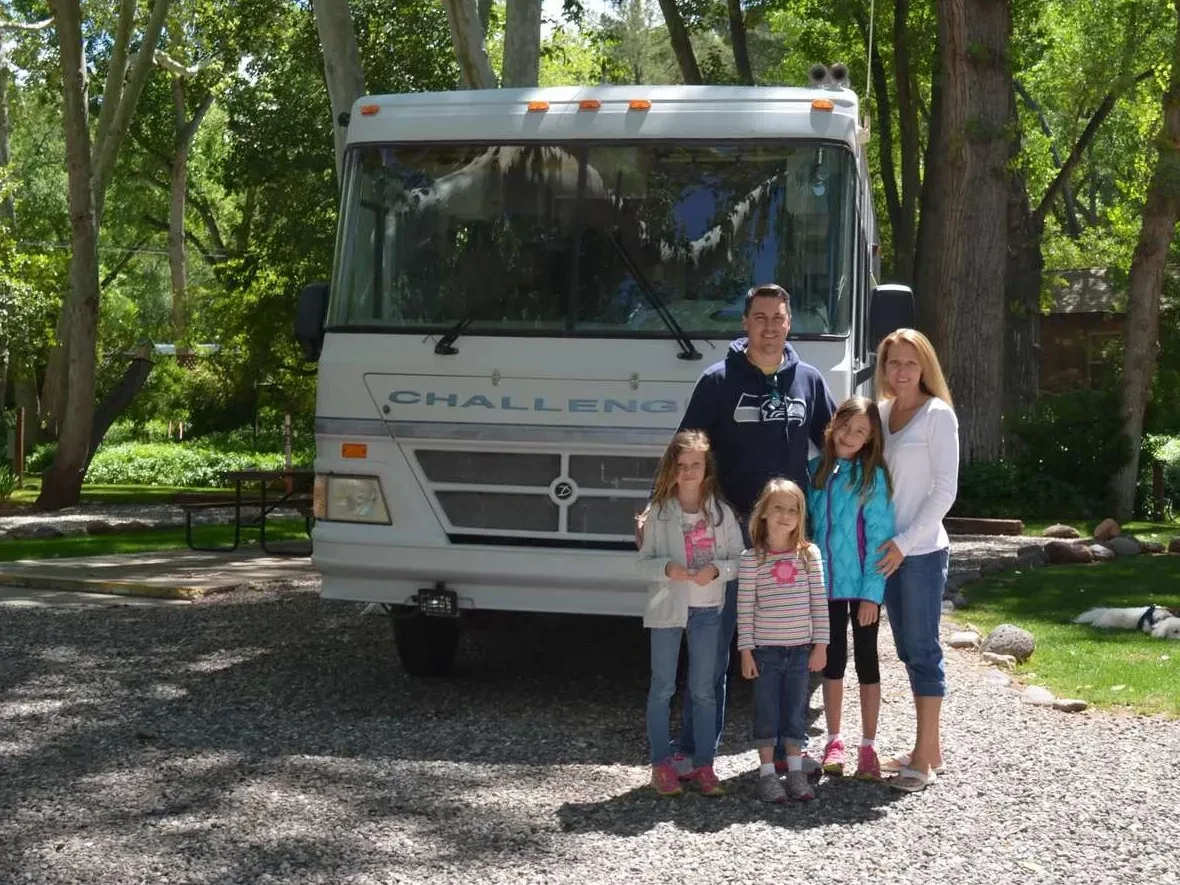 The Cashatt Family with "La Beasta" in April 2014
Our very first trip out in the motorcoach, which we lovingly nicknamed "La Beasta", took us from the suburbs of South Phoenix up to magical Sedona, Arizona where we saw life-changing red rock formations, a sunset exploding in red, purple, and pink, and once that sun set we looked up to find the Milky Way nestled in a mind-boggling amount of stars. We camped along Oak Creek among beautiful cottonwood trees (seen in the photo above). A family of egrets nested above us and the kids completely abandoned their smart devices in favor of exploring Oak Creek and building little homes for snails and other critters that they found.
You might think we closed that first night around a campfire while roasting marshmallows, but you'd be wrong. I earned the rank of Eagle Scout when I was a young man so camping was always kind of my jam. My wife Monica, however, made it clear since our dating days that she was not a camper. In fact, she doesn't really like campfires (I know, right?). So La Beasta and the open road became our compromise. Instead of a campfire on that very first night of our very first family road trip, we took a short walk from our beautiful campground to a vibrant open market area we discovered called Tlaquepaque Arts & Shopping Village where we had a great meal and local beer at the Oak Creek Brewery. Monica got to do a little shopping, and we all went to bed happy.
Almost seven years and 40,000 miles later, we have explored the entire continental US and most of the National parks in our compromising way: a little outdoors and stunning natural landscapes for the family, some fishing for me, "darling little towns" (DLTs) and shopping for Monica and our girls. Our friends often ask us about our adventures and how we can help them plan to take their own and that is what gave me the idea for Go Wandering.
We have made Go Wandering a tool to help others discover all of the amazing, wonderful, and beautiful places that the Great American Road Trip has to offer. From the world's deepest canyon (Grand Canyon National Park) to the world's largest tree (General Sherman in Sequoia National Park) and all of the heart-warming farmer's markets, unique burger & shake joints, weird statues, strange museums, thrilling amusement parks, and stunning National Monuments in between, we want all of you to go see the things we've seen.
In addition to discovery, we made this site about planning because planning a road trip can be demanding. We have taken a lot of the guess work out of itinerary building and done much to help keep your plans organized because the details of trip planning should not stand in your way.
So, please enjoy this site. Bookmark your favorite places, build an itinerary that makes you happy, and share it with your friends. But above all, get off of the couch and GO WANDERING!

Matt Cashatt & The Go Wandering Team