The Top 13 RV Road Trip Destinations in the U.S.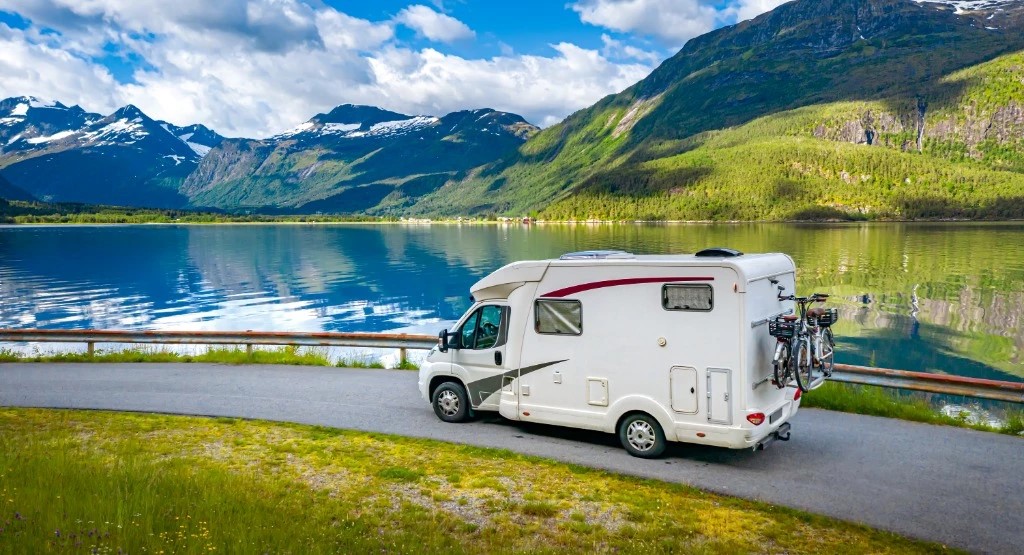 There's nothing more freeing than packing up the RV and heading on the open road with family and friends (solo trips can also be fun). We are excited to share our list of the top RV road trip destinations and hope these inspire you to start planning your next epic adventure across the United States. Any RV traveler should consider visiting some of these U.S. road trip destinations whenever they get the chance.
Acadia National Park (Southeastern Maine)
Even though Maine is often overlooked, the pine tree state has a top road trip destination. Acadia National Park is breathtaking, easily accessible to travelers, and has plenty of places that accommodate RVs. It is also within a day's drive of Boston, Providence, Hartford, and Albany, making it a no-brainer to add to a New England road trip itinerary. Acadia has so many things to see and do that you could easily spend a couple of weeks exploring the area. You won't regret booking a campsite at the Schoodic Woods Campground, so start planning right away if you want to visit Maine.
Blue Ridge Parkway (North Carolina and Tennessee)
Home of the Great Smoky Mountains, the Blue Ridge Parkway is a must-see road trip destination. The most visited U.S. National Park (many people live within one day's drive from the smokies) is free to enter, making it an ideal budget-friendly option for any RVer. Many visitors enjoy camping at Cades Cove and exploring popular sights, including Clingmans Dome, the motor nature trail, the Newfound Gap, and Walker Sisters Place. There are countless waterfalls and majestic landscapes on this scenic drive, so you'll be in awe no matter where you stop along the way.
Colorado
Every RVer should also explore the centennial state. Spring is a good time of year to visit Colorado since there are generally fewer crowds. No matter where you begin your journey, you should plan on stopping at Colorado Springs to see the Garden of the Gods. This breathtaking place will certainly be a highlight of your Colorado road trip. While you're at it, stop and ride the historic cog railway to enjoy some majestic mountain views. Other noteworthy places in Colorado include the Maroon Bells, Colorado National Monument, Canyons of the Ancients, and Rocky Mountain National Park.
Columbia River Highway (Northwestern Oregon)
The Pacific Northwest is an exquisite part of the country, and we can't get enough of the Columbia River Highway. Immerse yourself among the stunning waterfalls, lush forests, and mighty Columbia River. Make sure you have plenty of storage space on your camera because you'll want to take a lot of pictures on this epic RV road trip. The west side of this scenic highway features Multnomah Falls, Bridal Veil Falls, and Latourell Falls. There are seemingly endless places to hike nearby, so bring your friends and family with you and wander for miles admiring the natural beauty of Oregon.
Fab Five (Utah's National Parks)
Southern Utah's red rocks are so photogenic and mesmerizing, and we believe Utah's National Parks belong on every RVers travel bucket list. We don't recommend traveling here during the summer (temperatures frequently reach over 100 degrees Fahrenheit); however, April, May, September, and October are arguably the best months to visit. Try to plan your road trip either before Memorial Day or after Labor Day to avoid all the crowds. Arches and Zion are the most popular Utah National Parks, but there are plenty of things to see at Bryce Canyon, Capitol Reef, and Canyonlands as well.
Galveston, Texas
Believe it or not, Galveston is also an excellent RV road trip destination. The Jamaica Beach RV Park is just one of many RV parks you could stay at in Galveston, Texas. It is easy to see why Galveston is so popular because this coastal destination offers miles of beaches, an amusement park, a historic pier, a state park, a historical landmark, and other family-friendly attractions. May, June, and July are the busiest months; however, due to their high humidity, the optimal months to visit are actually October, November, March, and April. Plan your next spring or fall RV road trip adventure to east Texas.
Glacier National Park
Talk about picturesque, Montana is on virtually everyone's road trip bucket list. Glacier National Park is home to the iconic Going-to-the-Sun Road; however, this beautiful stretch is not suitable for all RVs. As long as your RV is less than 21 feet long, 10 feet high, and 8 feet wide, you can drive on it. Be sure to brush up on your canyon road driving skills; it is not easy to navigate this road in a larger vehicle. If your RV is too big, don't let that stop you from coming here. U.S. Highway 2 has the Goat Lick Overlook on the way up to the Many Glacier Road. Take an unforgettable RV adventure here!
Michigan's Upper Peninsula
Bordering Lake Superior, Michigan's Upper Peninsula is a land brimming with lighthouses and pristine natural surroundings. RVers and outdoor enthusiasts love the variety of options available for camping, fishing, hiking, biking, and kayaking in this top road trip destination. Must-sees along this scenic route include Tahquamenon Falls, Pictured Rocks National Lakeshore, and the Porcupine Mountains Wilderness. A visit to Mackinac Island, Sault Ste. Marie's Soo Locks, and Marquette's local lighthouse should also be part of this unforgettable RV adventure.
New Hampshire
The fall foliage along the Kancamagus Highway is a sight you have to see at least once in your life. This national scenic byway is New Hampshire's State Route 112 in the northern part of the state. It cuts through the White Mountain National Forest and features over 30 miles of seemingly untouched natural beauty. RVers are sure to enjoy a camping trip at Pawtuckaway or Hampton Beach State Park as they make their way down to southern New Hampshire. Don't underestimate this RV road trip destination; there are so many neat places to visit in New Hampshire.
Olympic National Park (Northwestern Washington)
Olympic National Park is home to the Hoh Rain Forest, Sol Duc Falls, and Ruby Beach, all of which are must-see places in the evergreen state. This U.S. National Park encompasses nearly a million acres, so you will be able to get away from it all. A premier place to camp in Olympic National Park is near Lake Crescent at the Log Cabin Resort. Their annual camping season runs from May through September and they can accommodate RVs (hooray for full hookups). Enjoy all everything that lies in store for you at this RV road trip destination and immerse yourself in the unparalleled beauty of Washington.
Redwood Forest, Lake Tahoe, and Yosemite National Park
Nearly everyone's bucket list includes these popular California road trip destinations. If you own a smaller RV, you are in luck because the Redwood Forest, Lake Tahoe, and Yosemite have accommodations for you. Due to their popularity, it is imperative to book in advance if you want to stay awhile. You could easily spend an entire summer exploring these three places with your friends and family. However, if you are just passing through, you won't regret the views at Lady Bird Johnson Grove (Redwood Forest), Emerald Bay (South Lake Tahoe), and Glacier Point (Yosemite).
Southern Florida
Beginning at Everglades National Park, take your RV on a road trip to the Florida Keys. Winter is the busiest time of year for Southern Florida, so try to book a time between March and May if you want to avoid the crowds. It is difficult to do a spur-of-the-moment kind of trip here because although there are many RV campgrounds in the area, they fill up quickly. The state parks will have the best prices for nightly rates. Make time to see Biscayne National Park, John Pennekamp Coral Reef, and the Bahia Honda State Park while you're down there.
Upstate New York
There are so many iconic places to see in upstate New York, including Niagara Falls, Letchworth State Park, Ausable Chasm, Chimney Bluffs, and Taughannock Falls. With so much to see, it takes careful preparation on this RV road trip to ensure there's enough time to soak in all the sights. If you want to see the Adirondack region, book a stay at the Lake George RV Park. This is the ultimate family-friendly RV Park because it has so many on-site facilities, including pools, bike trails, tennis courts, a dog park, and more. Make fun memories at this RV road trip destination.
We hope you enjoyed our list of the top RV road trip destinations in the United States. Whether you need a camping getaway in the mountains or a relaxing beachside vacation, the continental U.S. has it all. Tell us about your favorite road trip adventures in the comments!
Are you ready to start planning your next road trip? Sign up for an account and create your custom itinerary with our trip planner.