Top Hiking Trails in Utah's National Parks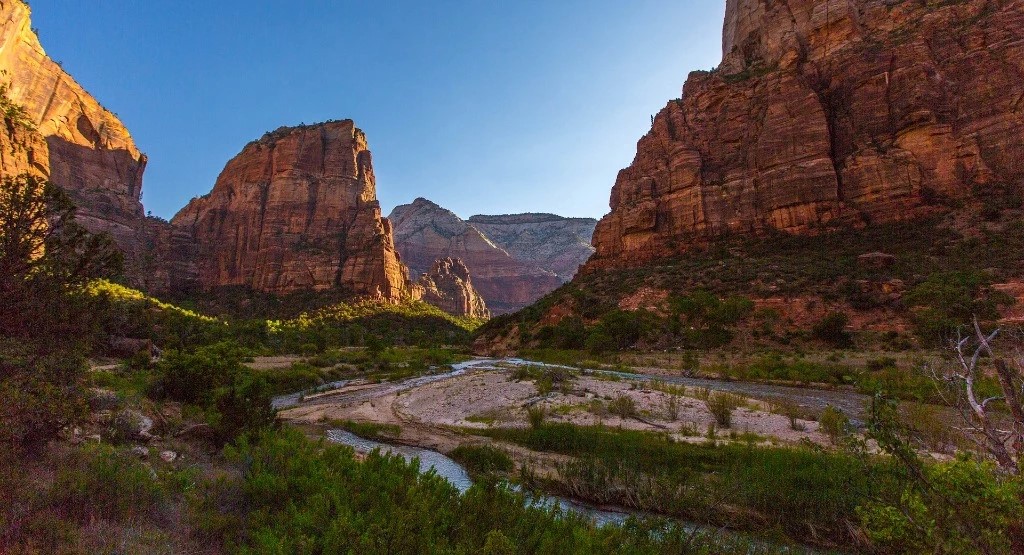 Anyone traveling to southern Utah should pack their hiking shoes and do some exploring in at least one of its five national parks. Continue reading to learn about some of the top hiking trails in these beloved national parks.
The Devils Garden Loop Trail leads hikers directly to the iconic Landscape Arch (the longest arch in North America), scenic spires, and narrow rock walls called "fins." This trail begins 18 miles north of the park's visitor center, offering the quintessential experience that Arches National Park has to offer.
You can expect the hike to and from Landscape Arch to be relatively easy. The landscape is hard-packed and flat for the most part, and a round trip hike is almost two miles long. The trail becomes quite rugged and challenging once you begin hiking toward Double O Arch. Most visitors turn around after taking in the majestic views of Landscape Arch. It is best to come in the early mornings or at sunset since most of this trail does not have shade.
Visitors can hike a section of the Under the Rim Trail beginning at Bryce Point. Feel free to roam for as long as you like and soak in views of the incredible red rock formations and desert landscape. A shuttle service is available in the summer, allowing guests to arrive or depart from the Sunrise, Sunset, Inspiration, and Bryce Points (Sunrise is closest to the visitor center).
Under the Rim Trail spans 22 miles across Bryce Canyon. Avid hikers can expect this hike to take about two days to complete. Each hiker should be prepared with at least one gallon of water per day to traverse this backcountry trail. There may be water at the springs or creeks but always treat the water before drinking it.
The Island in the Sky scenic drive eventually leads to Grand View Point. This area is over 6,000 feet in elevation and features a view full of canyons, distant mountains, and basins as far as the eye can see.
Hikers can take the easy, paved trail just 100 yards away from the parking lot to reach the first viewpoint. You can venture down further to a secondary scenic overlook about one mile away. Even though this is an easy out-and-back hike, it features a spectacular sight that you won't want to miss.
Immerse yourself in the deep canyons by hiking the Halls Creek Narrows at Capitol Reef. Halls Creek Narrows is 56 miles south of the visitor center and follows a natural drainage area called Grand Gulch. This region is about as remote as it gets, and the trail is nearly four miles long. Be aware that it is not an official maintained trail, so map reading skills are a must for anyone wishing to hike here.
Even though you are in a desert, there will be plenty of shade as you venture through here. These narrows will also require you to wade through water at certain points, and if the levels are high enough, you may have to swim. If you are visiting between July and September, make sure there are no flash flood warnings for Halls Creek before you begin your hike.
The most popular trail is the Zion Narrows hike which takes you directly through the Virgin River. Many people follow the paved Riverside Walk past the Temple of Sinawa and hike upstream for a while before turning back in the same direction. Hikers that don't want to get their feet wet are better off taking the Canyon Overlook Trail instead. This scenic trail is an easy, one-mile hike providing excellent views for all visitors.
The West Rim Trail is ideal for more avid hikers. This long-distance hiking area often has fewer visitors than the previously mentioned hiking trails. Expect the West Rim Trail to take up to 12 hours round trip. Unfortunately, this last trail system is closed until further notice due to a significant rockfall, but no one can dispute the majesty of the Observation Point Trail. It is strenuous but much less fear-inducing than the Angel's Landing Trail. Once this section of Zion reopens, don't hesitate to go and enjoy some of the best natural scenery in southern Utah.
Anyone that loves hiking will have a blast at Utah's national parks. We hope you go wandering to your heart's content with your friends and family along these trails and experience an adventure to remember.
If you're interested in southern Utah, take a look at these itineraries: Utah's Fab Five, Utah Colorado Loop, St. George to Las Vegas.
Read about more hikes in the rocky mountain region: Colorado, Idaho, Montana.