The Top 10 Hikes to Take in Colorado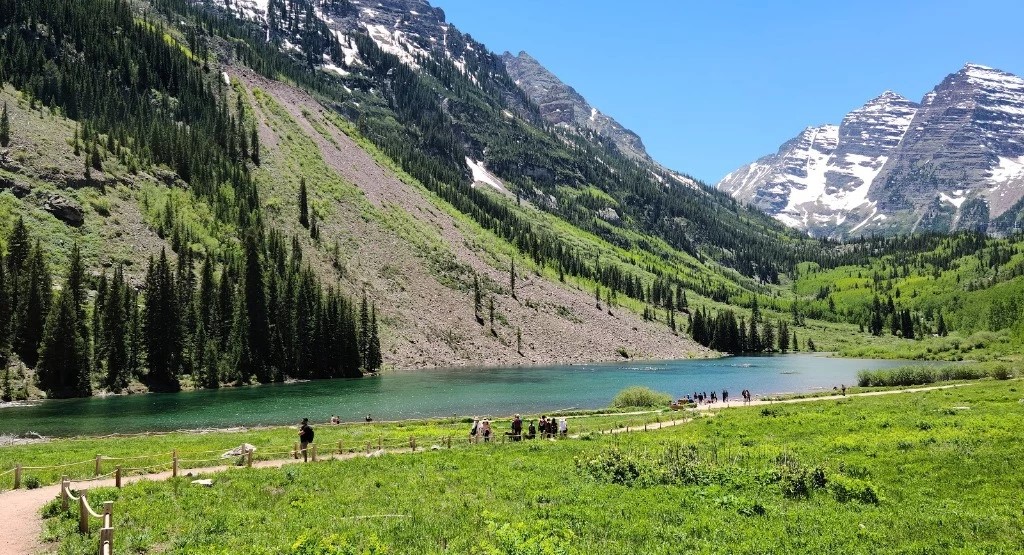 Are you planning a summer vacation to Colorado and want to ensure you experience as much as you can of this mesmerizing state? Getting a feel of nature is so crucial for the human mind, body, and soul. Colorado covers the Southern Rocky Mountains, the north-eastern quota of the Colorado Plateau, and the western verge of the Great Plains. The region has been settled by Native Americans for 13,000 years, with the Lindenmeier Site holding artifacts dating from approximately 9200 BCE to 1000 BCE.
Colorado is nicknamed the Centennial State because it became a state one century after signing the Declaration of Independence. Colorado's snow-capped Rocky Mountains may be famous, but the general landscape is diverse and extends beyond postcard-perfect peaks and evergreen forests. Colorado is also home to reddish-orange rock formations and flat-topped mesas. In addition, it has rolling meadows dotted with wildflowers, crystal-clear alpine lakes, golden-yellow aspen groves, rocky alpine tundras, narrow canyons, and grass-covered prairies.
Hiking is the most accessible way to experience Colorado's varied terrain. There are 39,000 miles of trails of varying length, difficulty levels, and sceneries spread across the state. With so many possible treks, to put it in perspective, AllTrails lists 4,688 different routes. That is an extensive distance, but we zeroed in on the most exciting routes worth exploring.
The Top 10 Hikes to Take in Colorado
There are so many routes to take while hiking that this list doesn't even do the state justice. The trails range from a leisurely 1-mile stroll at Maroon Bells to a challenging 8-mile round trip hike to a cascading waterfall in Rocky Mountain National Park.
Maroon Bells Hikes
The hikes you'll find here are 1 to 13 miles roundtrip, depending on what trail you end up choosing. Maroon Bells Hikes, a 4 hour drive from the capital city of Denver, offer some of the most beautiful scenery in Colorado. Located about 10 miles from Aspen up Maroon Creek Road, this should not be missed on your visit to Colorado. It consists of about five trails;
Maroon Lake Scenic Trail of 9,500ft-10,000ft elevation tracks the lake to the far side and strolls along the creek flowing into the lake.
East Maroon Trail has an elevation of 9,000ft-12,000ft.
West Maroon Trail descends to the Frigid Air Pass and Schofield Park out of crested Butte. Elevation of 10,000ft-12,500ft.
Buckskin Pass is 4.6 miles one way, making a difficult trail.
Willow Lake Trail ascends steeply to the top of Willow Pass and is 6.5 miles, making it the most difficult in the area.
You can choose your hike based on your skill level and what appeals to you most, but regardless you are guaranteed to be met with some of the most breathtaking vistas you have ever encountered in your lifetime.
Lost Lake Trail
Lost Lake Trail is an easily accessible and mild hike on the Grand Mesa. It is only a 2.5-mile roundtrip from the Glacier Springs Trailhead, and the beginner-friendly route winds through dense pine forests before leading to scenic views and pristine alpine lakes that are teeming with trout. South Mesa Lake is an excellent spot for fishing, while Lost Lake beckons those keen on cooling off with a refreshing dip.
Snowmass/Rim Trail Classic
There is a lot to cherish about the 1.3-mile Rim Trail Classic. First, it is family-friendly, easy to access, and within walking distance from Snowmass Base Village, for starters. Second, it is a mild enough slope to hike with young children. Finally, it makes it a local favorite in terms of effort and time because it takes up to about 45 minutes but still offers remarkable views.
The Blue Lakes Trail
The Blue Lakes Trail is a beautiful hike located just outside Ridgway. This is a 8.5-mile trek that is moderately strenuous, especially towards the end. However, it is worth the hype because of the beautiful scenery on the trail. You will stroll through the gorgeous alpine meadows that are even more spectacular when the wildflowers bloom before reaching the glacial basin containing the three blue lakes.
Perkins Central Garden Loop
They are referred to as the Garden of the Gods. The trail is easy and about 1-1.5 miles long and doesn't climb high at all. It is viewed as one of the best trails in Colorado because everyone can enjoy this trail since it is a short and flat course for beginner hikers to consider, although more seasoned hikers still enjoy it all the same.
Bridal Veil Creek Trail
The highlight of this trail should be the stunning Bridal Veil Falls, which are the highest in all of Colorado. The course is about 5 miles long and has a 2,000 ft elevation range. It is a difficult trek for beginners, and only experienced hikers are advised to try conquering this feat. However, interested parties should follow trail number 507 that goes right through the Bridal Veil Basin.
Crystal Mill Trail
This trail is about 9 miles in length; the Crystal Mill is reasonably long and will take you around 5 hours to complete. The beginning of this hike is bound to be pretty tough, so you will know if the walk suits you right away. The trail is primarily a 4X4 dirt road; therefore, come prepared for mini dust storms as ATVs pass by.
The Emerald Lake Route
This trail is about 3-4 miles in length; the Emerald Lake Trail passes the base of Hallet Peaks in the Rocky Mountain National Park. It has brilliant breathtaking views and is worth a visit when you visit Colorado. However, if the considerable elevation isn't your cup of tea, Emerald Lake Trail is the best option. It has an elevation gain that is only about 700 feet.
The Mount Bierstadt Route
Located in Silver Plume, the Mount Bierstadt Trail is around 7 miles long and a relatively popular trail in Colorado. The course consists of going through the expanses of Mount Evans. Be advised to remain on the path and to not damage the vegetation; some people deviate – hence destroying the beautiful foliage. In addition, it can be a tricky maneuver in snowy conditions, especially for non-experienced hikers. You will need full micro-spikes to weave through the trail in these conditions.
Geyser Spring Trail
Did you know that Colorado has a real-deal geyser, and it's hidden in San Juan National Forest? Certainly seek it out if you're in this region; it begins with following the Geyser Spring Trail. It starts 1.3 miles out and at an elevation of 8,600 feet, and the back path crosses a meadow and footbridge before climbing into cooler mountain elevations and ending at a small pool fed by the only actual geyser in the entirety of Colorado.
This concludes our guide of the hikes that you will not want to miss if you find yourself in the glorious state of Colorado. Being one of the top places in the US to take advantage of this pastime, it can be overwhelming to narrow down and choose the best hikes to embark on during your time here. No matter which path you end up on, you're certified to encounter some of the most unreal and beautiful surroundings you could ever possibly imagine.