Top Places to Visit Near the Gulf Coast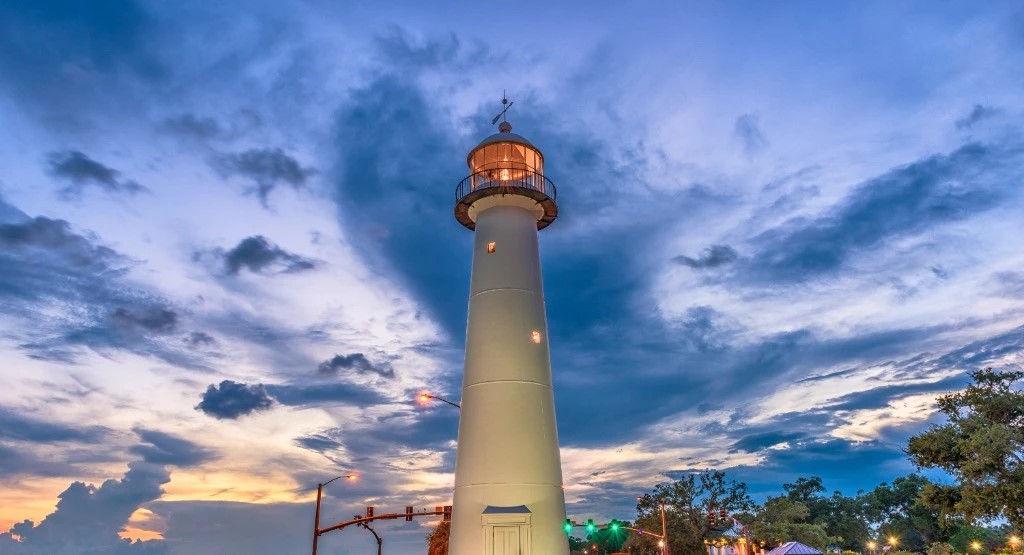 According to the National Park Service, five and a half million visitors visit the Gulf Island National Seashore annually. These islands begin at Cat Island off Mississippi's coastline, heading east to Fort Walton Beach, Florida. Anyone planning a road trip along the United States gulf coast region should consider adding some of these places to their itinerary.
Mississippi
Biloxi Lighthouse (Biloxi)
See one of the first cast-iron lighthouses in the southern United States. The Biloxi Lighthouse (pictured above) has been around since the mid-1800s, and guests of all ages are welcome to take a guided tour of this historic landmark.
Biloxi Historic Tour (Biloxi)
Ride the "shrimp train" and learn about the history of Biloxi from one of their longtime local residents. The Biloxi Tour Train is a one-of-a-kind touring experience that has been around for over 60 years.
Betsy Ann Riverboat (Biloxi)
Experience the gulf coast on a traditional paddlewheel riverboat. Betsy Ann holds up to 70 passengers and features open-air bench seating. Their tour options include sunset, dinner, historical, and tiki boat cruises.
Grand Bear Golf Course (Saucier)
This 18-hole golf course will leave you speechless. The Grand Bear Golf Club features a gorgeous green amongst a wetland and is open daily for tee times from 7 AM to sunset. Any golfing enthusiast would love to play a game here.
Gulf Coast Gator Ranch (Moss Point)
You'll never want to cross paths with an alligator in the wild, but at the Gulf Coast Gator Ranch, you can safely see them up close. This attraction allows guests to hand-feed the gators (supervised), and you can also take an airboat tour of the nearby swamp for an extra fee.
Mississippi Sandhill Crane National Wildlife Refuge (Vancleave)
The Mississippi sandhill cranes are an endangered species that call this place home. All ages are welcome to explore the refuge to see these rare birds and other endangered wildlife. Look no further for a neat place to go bird watching on the gulf coast.
Ocean Adventures Marine Park (Gulfport)
This family-friendly attraction provides an interactive experience for everyone. The Ocean Adventures Marine Park has dolphin and sea lion shows, plus a chance to pet the sting rays. If you love aquariums, visit this marine park in Gulfport, Mississippi.
One Hundred Men Hall (St. Louis)
The 100 Men Hall, located west of Gulfport, Mississippi, is a historical place on the Mississippi Blues Trail. They often host concerts, dance nights, and other events throughout the year. Check out this place if you're interested in learning about the history of blues music.
Ship Island Excursions (Gulfport)
Ship Island features the best beaches in Mississippi, and you can only reach the island via ferry. If you're in the mood for a fun adventure on the Gulf Coast, don't hesitate to book an excursion to Mississippi's Ship Island.
Zip'N Fun Adventure Park (Gulfport)
Ziplines and ropes courses are ideal places to get your blood pumping, and you can do both activities at the Zip'N Fun Adventure Park in coastal Mississippi. This family-friendly attraction is right off I-10, making it a convenient and fun place to get some energy out.
Alabama
Alabama Gulf Coast Zoo (Gulf Shores)
Just six miles from the beach, feel free to stop at this zoo with your friends and family. It is home to hundreds of wildlife, including alligators, Bengal tigers, tortoises, lions, camels, toucans, monkeys, iguanas, and more.
Alligator Alley (Summerdale)
Become familiar with the alligators at this gator farm in southeastern Alabama. Alligator Alley has other creatures as well, such as turtles, bullfrogs, owls, and osprey. If you're interested in learning about gators, don't hesitate to visit Alligator Alley.
Audubon Bird Sanctuary (Dauphin Island)
If you're visiting in the spring or fall, you have to visit the Audubon Bird Sanctuary. This is a resting place for hundreds of bird species, including ducks, loon, cormorants, flycatchers, cowbirds, warblers, and eagles. Soak in the picturesque views of the Gulf of Mexico and Gallard Lake.
Blacksmith Experience (Robertsdale)
Make your own knife at the Blacksmith Experience. This unique experience will introduce you to the art of blacksmithing. Reserve your spot in advance and see what the Blacksmith Experience is all about.
Bragg-Mitchell Mansion (Mobile)
The Bragg-Mitchell Mansion is an exquisite southern antebellum home. It features Greek Revival architecture and has 13,000 square feet of living space. Take a guided tour and check out this impressive historic mansion.
Gulf State Park (Gulf Shores)
Gulf State Park features three freshwater lakes, offering plenty of space for you to spend time on the water. Other available activities include geocaching, biking, hiking, and bird watching. Families can easily spend multiple days at this park without getting bored.
Hang Ten Helicopter Tour (Orange Beach)
Take a sightseeing tour of the gulf coast from a bird's eye view. Hang Ten Helicopters are the ultimate tour guides on the gulf coast. They offer various packages, including sunset, historic fort, and wildlife tours for guests of all ages.
Mobile Carnival Museum (Mobile)
Learn about the cultural heritage of the annual Carnival festival at this museum. Guests are welcome to explore over a dozen gallery rooms at their own pace and discover the history of Carnival and the Mardi Gras festival in the deep south.
Orange Beach Waterfront Park (Orange Beach)
This park simply has it all: lovely coastal views, beachfront, picnic shelters, and a playground. Spend time soaking in the sights and sounds of nature and enjoy an ultimate family outing at the Orange Beach Waterfront Park.
USS Alabama (Mobile)
Explore a historic military park full of warships and equipment dating back to WWll. The USS Alabama (known as Big A) is a submarine used during WWll. If you're into military history, you won't want to miss out on the USS Alabama.
Florida
Big Lagoon State Park (Pensacola)
Spend a day at the beach in northwestern Florida. Big Lagoon State Park is an excellent place for picnicking, camping, swimming, fishing, and boating. If you are looking for a place to enjoy the great outdoors along the gulf coast, add this place to your itinerary.
Eden Gardens (Santa Rosa Beach)
Visit a historic homestead from the late 1800s. The Wesley mansion is open for guided tours from Thursday through Monday. You can also explore the gardens, fish on the dock, or enjoy a family picnic at this beautiful park.
Grayton Beach State Park (Santa Rosa Beach)
This is an excellent beach for sunbathing, and there are nearly 2,000 acres of land to explore. Grayton Beach is just west of Seaside, Florida, and is one of the top beaches in the area. Besides swimming, you can also go boating, hiking, and camping at Grayton Beach.
Gulf World Marine Park (Panama City Beach)
Have an adventure at this family-friendly attraction. Gulf World Marine Park puts on fun wildlife shows throughout the day, and guests can also pay extra to swim with the dolphins. If you love aquariums, you will undoubtedly enjoy spending time at this marine park.
Historic Pensacola Village (Pensacola)
Guests can visit several attractions at once in this part of historic downtown Pensacola. Learn about the area's history at the Pensacola Museum of History, Museum of Commerce, Children's Museum, and Museum of Industry.
Man in the Sea Museum (Panama City Beach)
Discover the history of scuba diving at this museum. You will see the SeaLab, an experimental underwater habitat made by the U.S. Navy. They also have displays of underwater helmets, early submarine models, and more.
National Naval Aviation Museum (Pensacola)
See over 150 naval aircraft at this museum. It is located at the Naval Air Station in Pensacola and is open daily from 9 AM to 4 PM. Anyone that loves military history will have a blast exploring this vast museum.
Panhandle Pioneer Settlement (Blountstown)
Pioneer history comes to life at this historic settlement. It features historic buildings, including several log cabin homes. This attraction is open Monday through Friday and hosts fun seasonal events, so drop by if you want to learn about the early settlers of Florida's panhandle.
Pensacola Lighthouse (Pensacola)
Climb to the top of this 150-foot historic lighthouse in Florida's panhandle. This lighthouse dates back to the late 1800s and features a stunning view of the gulf coast. You won't regret stopping by this magnificent landmark.
Sea Dragon Pirate Cruise (Panama City)
Take a sightseeing tour and (hopefully) see some dolphins in the Gulf of Mexico. Your kids will have plenty of other activities to do, and the crew members are dressed as pirates to add to the overall experience. If you're looking for something unique, take a ride on the Sea Dragon.
Are you ready to visit the gulf coast? Check out these itineraries for inspiration: Gulf Coast, Birding Adventure, Texas Gulf Coast, Southern Plantations, Florida.
If you're itching to go road tripping, create an account and use our trip planner to create your ultimate road trip adventure. Read our FAQ page to learn more.