Top Scenic Drives in the USA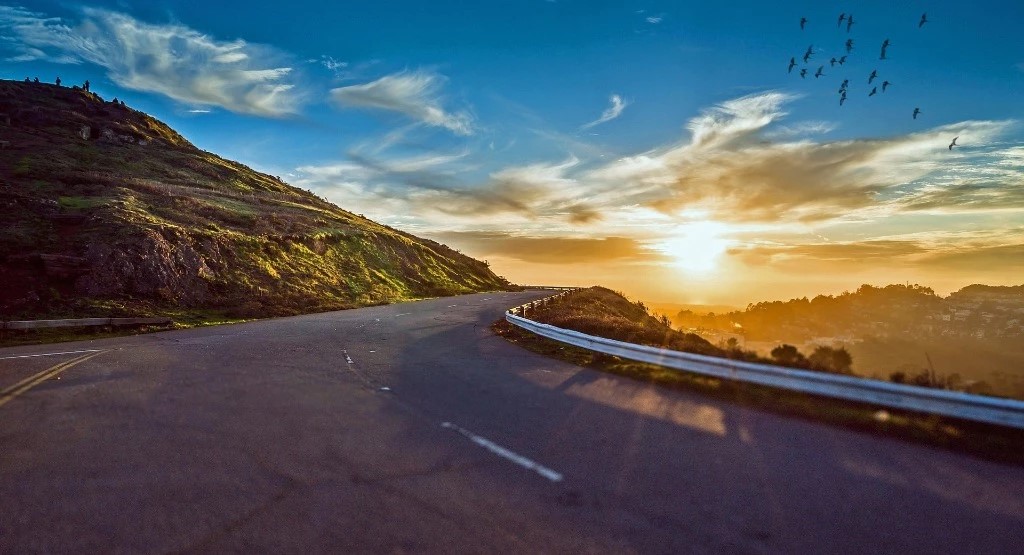 The United States has some incredible landscapes, including luscious rolling hills, rocky shorelines, and beaches. If you enjoy long road trips, you've got to check out some of these scenic drives during your travels.
Blue Ridge Parkway
The Blue Ridge Parkway spans nearly 500 miles from the Great Smoky Mountains to Shenandoah National Park. Many consider this route the ultimate all-American route, and it is especially pretty in the fall. With sights such as Linville Falls, Chimney Rock, and the Natural Bridge, is hard to beat this scenic drive. Consider taking a detour along the Blue Ridge Parkway the next time you're passing through Tennessee, North Carolina, or Virginia.
Going-to-the-Sun Road
Glacier National Park's most iconic road is the Going-to-the-Sun Road. This nearly 50-mile-long stretch is fully open from late June to mid-October. Glacier National Park has become one of the most visited U.S. National Parks in recent years. Due to the summer crowds, arrive as early as possible, expect congested roads, and remember to be patient. Avoid the weekends if possible, and join one of their guided bus tours to get the full experience on this scenic drive.
Hana Highway
Maui, Hawaii, is a tropical paradise that everyone should visit at least once. The Hana Highway is nearly 65 miles long, spanning the east coast of Maui. This scenic drive takes about half a day (round-trip), but don't be surprised if it takes you even longer. Pack lots of food and water, and plan to stop at Wailua Falls and this gorgeous arboretum along this scenic drive. Driving along the Hana Highway is a must when you're in Maui, Hawaii, so don't miss out!
Kancamagus Highway (NH SR 112)
You won't regret seeing the beautiful fall foliage in New Hampshire's White Mountain National Forest. The Kancamagus Highway, also known as "The Kanc" should be part of your next New England road trip. Popular points of interest include the Albany Covered Bridge, Pemigewasset Overlook, Champney Falls, and Lower Falls. One simply cannot skip out on the Kancamagus Highway in the fall, we promise this scenic drive is awe-inspiring and worth every minute of your time.
Ocean Drive
Rhode Island may be small, but it is also home to one of the most scenic drives in the United States. Newport's Ocean Drive (also known as the 10-Mile Drive) features opulent mansions such as the Breakers and the Elms. Visitors also love to stop and tour Fort Adams, the nation's largest coastal military fort. Be sure to relax and watch the crashing waves at Gooseberry Beach before heading to the Cliff Walk as you complete this short but scenic coastal drive.
Red Rock Scenic Byway (AZ SR 179)
Even though it isn't a long stretch of road, the Red Rock Scenic Byway is still impressive. Soak in the desert scenery and become acquainted with Sedona, Arizona, during this scenic drive. This route takes you through the village of Oak Creek, where you can visit landmarks such as Bell Rock, Courthouse Butte, and Cathedral Rock. It would also be worth your time to visit the Coconino National Forest and explore the San Francisco Peaks if you're in this neck of the woods.
Trail Ridge Road
If you've ever wanted to visit Rocky Mountain National Park, this scenic drive gives you a good reason to travel to Colorado. The Trail Ridge Road cuts through the park and features expansive views of the mountains in every direction. You are sure to be awe-inspired on Trail Ridge Road; it is the highest continual stretch of road in the United States. Its highest point is over 12,000 feet above sea level, so embrace the feeling of being on top of the world for as long as you can.
US Highway 5
From Putney, Vermont, this scenic drive follows along the Connecticut River and features several historic wooden bridges. Stretch your legs in Ascutney, Vermont, at Wilgus State Park if you're itching for the great outdoors. This pet-friendly camping area is open from May through September. History buffs will enjoy a pit stop at the American Precision Museum in Windsor, Vermont, and geek out at their collection of historical machines and tools used in the industrial age.
US Highway 13
This scenic drive takes you across the Chesapeake Bay along the Delaware River. Drive through the Chesapeake Bay Bridge-Tunnel, then stop and explore the Fisherman Island National Wildlife Refuge on the other side of the bridge. Visitors should also visit Dover and see where Delaware Bay converges with the Delaware River. This underrated state has a rich history, so be sure to add Delaware to your early American history road trip.
US Highway 78
This 715-mile route cuts through cities such as Memphis, Tennessee, Birmingham, Alabama, and Charleston, South Carolina. Enjoy the Appalachian Mountain range as you drive through this lovely region of the United States. Be sure to visit Elvis Presley's Birthplace in Mississippi, the Birmingham Museum of Art in Alabama, the Georgia Aquarium in Atlanta, and Barnwell State Park (Blackville, South Carolina) during this unique scenic drive.
US Highway 101
The Pacific Coast has some incredible places to see, and US Highway 101 is a scenic drive you won't soon forget. Don't miss out on the Redwoods, Boardman Scenic Corridor, Cape Perpetua, Otter Crest Scenic Viewpoint, and Haystack Rock during this road trip. We recommend visiting the Pacific Northwest in late spring and summer (unless you love endless days of rain), but be aware that this road tends to get backed up, especially on the weekends.
We hope that these scenic drives will provide you with lots of inspiration for your next epic American road trip. There is so much to explore, so go wandering wherever your heart desires. Tell us about your favorite scenic drives in the comments, and don't forget to create an account and plan your road trip with Go Wandering!