Top Outdoor Adventure Travel Destinations in the U.S.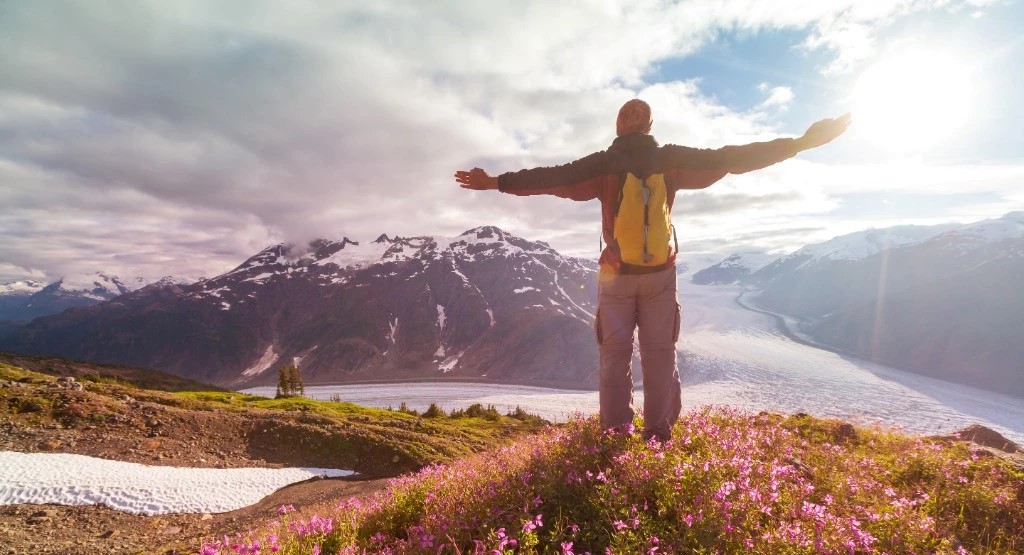 The United States has so much natural beauty from the sandy coastline to the rugged mountains. Epic outdoor adventures are waiting for you at every turn. If you need to relax and escape to the great outdoors, check out some of these top outdoor adventure travel destinations.
Spring and Summer
Anchorage (Alaska)
Alaska, "the land of the midnight sun," has miles of untouched wilderness waiting for you to explore. Summer is the ideal time of year to visit Alaska, and Chugach State Park is within minutes of downtown Anchorage. This massive state park features mountains, lakes, glaciers, and an exquisite coastline. Enjoy even more picturesque views along the Tony Knowles Coastal Trail overlooking the bay. This popular paved biking trail is perfect for everyone, including beginners.
Chattanooga (Tennessee)
Talk about charming; Chattanooga, Tennessee, is lovingly called the "Scenic City." This town has easy access to the Tennessee River, Ruby Falls, Lookout Mountain, and other majestic places. Sunset Rock and the Tennessee Wall are great for rock climbers, both of which are within minutes of downtown. They also host major league fishing competitions in the early spring, so you can bet that an outdoor adventure of epic proportions awaits all who visit Chattanooga.
Finger Lakes (Upstate New York)
Spring is an underrated season to visit the Finger Lakes, but you can take advantage of lower lodging rates and fewer crowds. April and May are the best months to fish for trout, pike, perch, and Atlantic salmon in the Finger Lakes region. Whether you decide to camp at Keuka Lake or Seneca Lake, expect to see gorgeous sunsets. You should also add Letchworth State Park, Buttermilk Falls, Taughannock Falls, and this wildlife refuge to your Upstate New York itinerary.
Lake Tahoe (California/Nevada)
This outdoor adventure travel destination is nestled in the Sierra Nevada Mountains. Admittedly, the southern side of the lake is a bit touristy, but the northern side of Lake Tahoe is perfect for outdoor adventurers seeking solitude. Whether you want to relax on the beach, explore all the backcountry trails, or go kayaking, you can do it all at Lake Tahoe. There is no better place to unwind and Lake Tahoe is one of the most pristine lakes you may ever get the chance to see.
Pacific Coast (Oregon)
Spring and summer are undoubtedly the best seasons to explore the Oregon Coast. You could easily spend several months adventuring from Brookings to Seaside. Some of the most breathtaking places along the Northern Pacific Coast include the Boardman Scenic Corridor (Brookings), Cape Perpetua Scenic Area (Yachats), Otter Crest Scenic Viewpoint (Otter Rock), and Haystack Rock (Cannon Beach). If you love the ocean, don't miss out on the Oregon Coast!
Upper Peninsula (Northern Michigan)
Enjoy views of Lake Superior at this picturesque outdoor adventure destination. The Upper Peninsula features the Pictured Rocks National Lakeshore, Porcupine Mountains Wilderness, and Tahquamenon Falls. Summer is the optimal time to visit this region because it is warm enough to go swimming, boating, fishing, and chasing waterfalls. Michigan's U.P. is an absolute gem, and we feel like more people should explore this beautiful region of the United States.
Yosemite National Park (Northern California)
Plan a camping trip to Yosemite National Park well in advance. This place is very popular among road trippers and outdoor enthusiasts, especially during the peak of summer. A more affordable option you may want to consider is visiting Yosemite in the springtime. Believe it or not, the park's waterfalls start to flow at full force around mid-April. Have an epic adventure hiking, horseback riding, white water rafting, camping, or fishing at this majestic U.S. National Park.
Zion National Park (Southern Utah)
Zion National Park is mostly packed all summer long, but the cooler spring weather is a great time to visit this outdoor adventure destination. This place has countless areas to go hiking, rock climbing, off-roading, and horseback riding. Plan to explore at least one of these trails during your stay: Zion Canyon Overlook, The Narrows, Emerald Pools, and the Watchman. You have to see Zion National Park at least once in your life; we promise you won't regret it.
Fall and Winter
Black Hills (South Dakota)
The Black Hills has countless things to see, including waterfalls, natural rock spires and pinnacles, prairies, and a vast national forest (which has stunning fall foliage). Custer State Park is an absolute must if you're an outdoor enthusiast. This place features over 1,000 wild bison and tons of space to observe wildlife such as elk, antelope, bighorn sheep, prairie dogs, hawks, and more. Discover the beauty of South Dakota and plan your next outdoor adventure here!
Boulder (Colorado)
Leaf peeping in Boulder is so much fun, and the Wonderland Lake, Betasso Preserve, and Peak to Peak Scenic Byway should be on your list of places to see in the fall. Of course, sledding, skiing, and snowboarding are always plentiful in the winter. If you're adventurous enough to go on a winter hike, head to the iconic Flatirons. These mountains are visible from virtually everywhere in Boulder. Enjoy an epic outdoor adventure in Boulder, Colorado, this fall or winter.
Florida Keys (Southern Florida)
This tropical escape can easily chase away the winter blues. The Bahia Honda State Park, located west of the Seven Mile Bridge is RV-friendly, but book your stay in advance because spots fill up fast. Water-loving outdoor adventurers love snorkeling in the Florida Keys, especially the John Pennekamp Coral Reef State Park. We know Florida's beaches are calling your name, so plan to explore the Florida Keys on your next epic outdoor adventure.
Great Smoky Mountains National Park (North Carolina/Tennessee)
Head to the nation's most visited National Park in the fall! All the fall foliage here is simply breathtaking. As a bonus, Great Smoky Mountains National Park has no entrance fees. Plan to hike along the Roaring Fork Nature Trail, Newfound Gap, Grotto Falls, Walker Sisters Place, and Cades Cove while you're here. Cades Cove is a premier camping spot, so set your sights on the Great Smoky Mountains if you're itching for an epic outdoor adventure.
Maui (Hawaii)
Maui is an unforgettable outdoor adventure destination. If you visit during winter, don't miss out on whale watching (migration season begins in November). Join an excursion to see the humpback whales in the Auau Channel, then continue your outdoor adventure at the Molokini Crater. This is one of the best snorkeling and scuba diving spots in the Pacific. You should also pack your hiking boots and explore Maui's state parks and scenic coastal trails during your stay.
Ozark National Forest (Arkansas)
Forests are some of the most scenic spots for an outdoor adventure in the fall. Arkansas is known as the "natural state," and the Ozarks are certainly one of the top places every outdoor enthusiast should visit. Enjoy hiking and observing wildlife to your heart's content over here. If the weather is nice enough, floating down the Buffalo National River should also be on your Ozark National Forest itinerary. Don't miss out on this incredible outdoor adventure travel destination.
Northern Arizona
This desert oasis is sure to lift your spirits. You won't regret exploring the Coconino National Forest during the fall; it is one of the most diverse national forests in the United States. From the red rock canyons to the majestic San Francisco Peaks, this picturesque area is brimming with wildlife and natural beauty. Average high temperatures in the fall and winter are around 65 degrees Fahrenheit, which is certainly preferable to dealing with frigid temperatures.
White Mountain National Forest (New Hampshire)
New Hampshire is home to the famous White Mountain National Forest, the most visited U.S. national forest. Hiking and landscape photography is a must in this region. While you're at it, hop over to Franconia Notch State Park or drive down the iconic Kancamagus Highway (New Hampshire State Route 112), which cuts through the lower half of the forest. It is hard to beat the awe-inspiring views and fall foliage at this outdoor adventure travel destination.
We hope you enjoyed our list of the top outdoor adventure travel destinations. Wherever you decide to travel, we hope you will find serenity and enjoy spending time in nature. Tell us about your favorite outdoor adventures in the comments!
If you're new to gowandering.com, create an account and plan your next epic road trip using our trip planner. Visit our FAQ page to learn more information about our trip planning tool.
Be inspired by these adventurous road trips: Michigan's UP, Fab Five, Northern California, U.S. National Parks, Birding Adventure.