Explore Oregon's Mesmerizing Waterfalls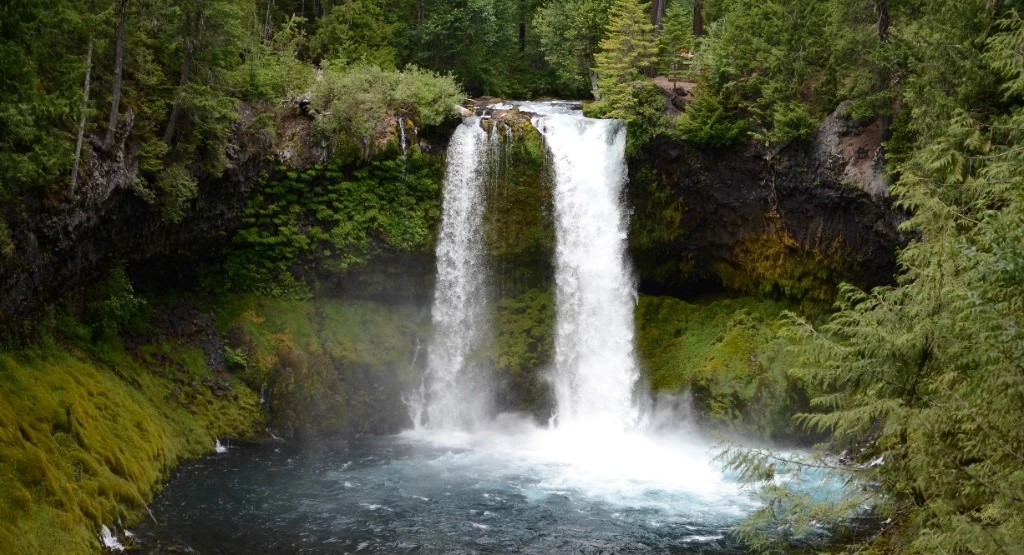 Nothing beats watching the sunset on a secluded beach, but waterfalls are among the top scenic places to go hiking. You simply can't miss out on the Pacific Northwest if you're into waterfalls. Continue reading to learn about some of the most mesmerizing waterfalls in Oregon.
Abiqua Falls
Abiqua Falls is an hour east of Salem, Oregon. It is 92 feet tall, and features a moderately challenging trail, making it ideal for the most adventurous hiker. You'll soon realize why this is one of the most sought-after waterfalls in Oregon once you see it in person.
Bridal Veil Falls
Stop here on the way to Multnomah Falls, it is just off I-84 in Corbett, Oregon. There are two different hiking trails, the higher one leads to an overlook of the Columbia River. Once you're done soaking in the sights, take the lower trail to reach the base of this 120-foot waterfall.
Downing Creek Falls
Downing Creek Falls is about halfway between Salem and Bend, Oregon. This 35-foot waterfall features a simple out-and-back hiking trail, making it easily accessible for nearly every hiker. You won't want to miss this hidden gem during your next Oregon road trip.
Gorton Creek Falls
Gorton Creek Falls is located in the Columbia River Gorge Scenic Area off I-84. It plunges from a whopping 115 feet high. This place is perfect for landscape photography because the falls stay shaded during the day due to the high canyon walls.
Latourell Falls
Be sure to stop in Corbett, Oregon, if you plan on exploring the Columbia River Gorge. Latourell Falls is the third tallest waterfall in this area. The two-mile loop trail passes through rocky sections, across small wooden bridges, and through dense forest. This secluded place is a hidden gem that is only 30 miles east of Portland.
Multnomah Falls
You simply cannot plan a trip to Portland without spending time at this iconic waterfall. Multnomah Falls is awe-inspiring and is also Oregon's tallest waterfall at 620 feet high. If you're driving to the falls, a timed use permit is required. However, you can choose to bike or join a tour to waive the permit requirement.
Proxy Falls
Proxy Falls is west of Bend, Oregon, within the Three Sisters Wilderness. This cascading waterfall is over 200 feet tall and features a heavily-used hiking trail leading hikers through the dense forest and over the old lava flows.
Punch Bowl Falls
The aptly named Punch Bowl Falls is half an hour west of Hood River, Oregon. If you're an avid hiker, be prepared for a steep hike to reach the falls. Hiking, kayaking, and swimming are all allowed at this popular waterfall.
Ramona Falls
Anyone itching for adventure should not miss out on Ramona Falls. This place is on the west side of Mount Hood and it takes several hours to reach the falls. It is a popular place to hike and offers incredible views through Oregon's luscious forests.
Salt Creek Falls
This is the second-highest single drop waterfall in the state. There is a fee to park at Salt Creek Falls, but it is totally worth it for the view. Stop for pictures at the observation deck right by the parking lot, then head down the staircase to see the falls up close.
Sahalie Falls
Sahalie Falls is located in the Willamette National Forest, about an hour and a half west of Bend. The trail for this cascading waterfall eventually leads to Koosah Falls (pictured above). Both of these waterfalls are worth your time if you enjoy hiking.
Silver Falls
Head to Oregon's largest state park to see this and several other waterfalls on the same hike. Silver Falls State Park is just over half an hour east of Salem, and it is definitely worth your while to explore this region.
Sweet Creek Falls
This waterfall is about an hour and a half west of Eugene, Oregon. The trail has wooden bridges and is fairly easy to navigate. Even though it may not be the tallest waterfall, it has four different tiers, making it appear as if it is multiple waterfalls.
Tamanawas Falls
Tamanawas Falls is about 100 feet tall and is less than 30 minutes northeast of Mount Hood. You couldn't ask for a more picture-perfect waterfall, so don't forget to bring your camera with you. Add this place to your Oregon itinerary if you're planning to visit Mount Hood.
Toketee Falls
Hiding within the Umpqua National Forest, Toketee Falls is a stunning 120-foot, two-tiered waterfall. Toketee Falls is open year-round and the hike is less than a mile long, making it an ideal place for an easy daytime excursion.
Tumalo Falls
Head to Deschutes National Forest and discover this central Oregon waterfall. Tumalo Falls is a must-see if you're passing through Bend, Oregon. There is a small fee to park here, but it will always be worth your time to explore this neat waterfall.
Watson Falls
See this jaw-dropping 293-foot waterfall in southwestern Oregon. The half-mile hiking trail is well-traversed and is worth the effort it takes to reach the falls. It is about an hour northwest of Crater Lake National Park, so add this to your itinerary the next time you visit Crater Lake.
White River Falls
This is another neat site near Mount Hood, be sure to explore White River Falls if you have the chance. White River Falls used to power the old hydroelectric plant for the surrounding communities in the 1900s. This 90-foot cascading waterfall is definitely worth your time.
We hope you enjoyed learning about some of Oregon's most mesmerizing waterfalls. Tell us about your favorite Oregon waterfall in the comments section.
View our Oregon Waterfalls road trip to see some of these incredible waterfalls. You may also be interested in this Eastern U.S. waterfall itinerary.
Hiking enthusiasts should check out these articles: California's National Parks, Utah's National Parks, Western U.S. National Parks, Southern National Parks, Eastern National Parks