Top Hiking Trails in the Western and Midwestern U.S. National Parks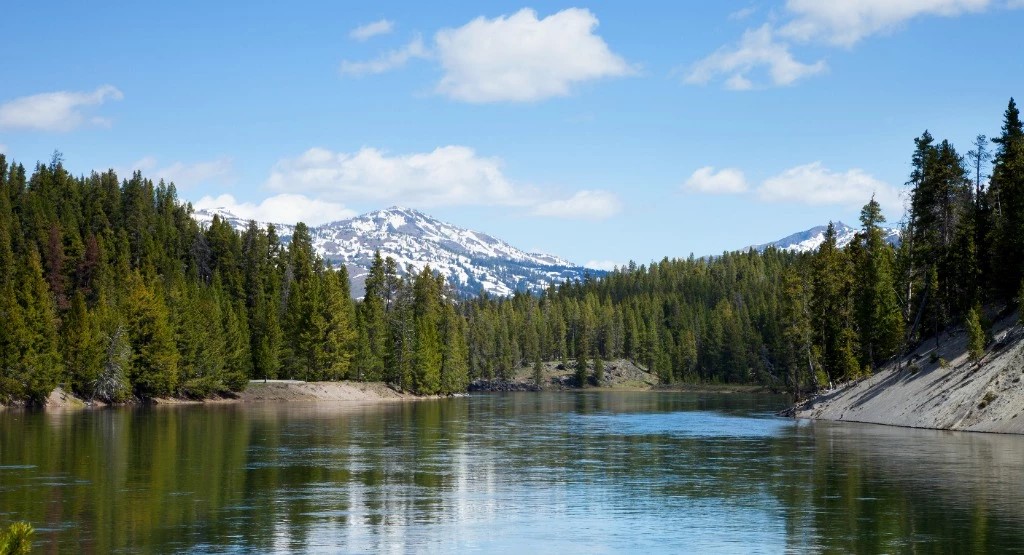 As summer officially starts this weekend, many of you are itching to get out in nature. Today's discussion will go over the top hiking trails in the Western U.S. National Parks. The National Parks on this list are among the most popular ones to visit, and we hope you get a chance to see them soon.
Colorado:
Black Canyon of the Gunnison National Park
The North Vista Trail leads to Exclamation Point, where you can gaze deep into the Black Canyon. This is a moderate hike for the first 1.5-miles. However, if you're feeling adventurous and want to go past Exclamation Point, expect it to become strenuous as you head towards Green Mountain. The panoramic views from up there will make your trek worthwhile.
Great Sand Dunes National Park
Believe it or not, there is a forested section among the Great Sand Dunes. The Mosca Pass Trail (3.5-miles one way) offers much-needed shade after a day of offroading on the dunes. With the Sangre de Cristo Mountains as the backdrop, you will also have countless opportunities for landscape photography at this Colorado National Park.
Take the Petroglyph Point Trail if you're looking for an unforgettable hike. This area is not for the faint of heart, but it is exceptional for the most experienced hikers. The trailhead starts near Chapin Mesa Museum. Prepare to be awe-inspired by all the ancient dwellings and petroglyphs throughout. Mesa Verde National Park is an International Dark Sky Park, so you'll want to stay here for at least one night if you love stargazing.
Look no further for a rugged hike; the East Shore Trail in the Rocky Mountain National Park is sure to test your limits. You can access the East Shore from the regular trailhead or via the Shadow Mountain Dam Trail on the south side. No matter which direction you come from, explore the Shadow Mountain Lookout Tower if you have time.
Michigan:
Even though this park is closer to Minnesota, Isle Royale National Park is a secluded island considered a part of Michigan's Upper Peninsula. Lake Superior surrounds this place, and it is the perfect spot where anyone can be one with nature. After arriving here by boat, hike to Suzy's Cave, accessible via the Rock Harbor Trail. The trail is only 18 inches wide and has a lot of roots and rocks, so be careful where you step.
Minnesota:
Discover the vast wetlands in Voyageurs National Park by hiking the Cruiser Lake Trail. This hike is 8-miles long (one way) and features many of the untouched areas of the park. Since this section of the park is only accessible by boat, plan to start at either Anderson Bay (by Rainy Lake) or Lost Bay on the other end of the trail. Keep your eyes peeled for wildlife such as deer, moose, and various birds, and revel in the natural beauty of this place.
Missouri:
The Gateway Arch is the smallest U.S. National Park, and even though there aren't any hiking trails here, you can still enjoy walking to your heart's content along the Mississippi River waterfront. They also offer riverboat tours at the gateway to the west, making it a fun area to spend some quality time with friends and family.
Montana:
Hidden Lake Trail is where it's at for wildlife observation. This alpine hiking trail is accessible from the Logan Pass Visitor Center. If you're here during the right time, you'll be able to see bears and bighorn sheep off in the distance. Enjoy the serenity of Hidden Lake and take as many pictures as you want. There is plenty to look at with the Bearhat Mountain to the south and Mount Cannon to the north.
Nevada:
The Baker Creek Loop Trail is one of the less-traversed hiking trails in this underrated park. Expect to see meadows, forests, and a lake as you follow the creek on this moderate hike. If you visit during the spring or early summer, you may also get the chance to see sweeping views full of colorful wildflowers. Anyone traveling through Nevada should consider stopping by Great Basin National Park.
North Dakota:
Theodore Roosevelt National Park
This unique U.S. National Park is always worth visiting if you're in the area. Explore the southern section of Theodore Roosevelt National Park on the Maah Daah Hey Trail. This part of the trail is just over seven miles long (one-way) and it takes an average of four hours to complete. The Maah Daah Hey Trail is a premier multi-use trail in the Badlands, so you may also see mountain bikers or horseback riders during your visit.
Oregon:
You will be in awe the moment you set eyes on the deepest lake in the United States. All visitors should check out the Garfield Peak Trail beginning at the Rim Village. The first part of the trail features several historic landmarks and scenic overlooks. Sit a while along the ridgeline and soak in the beauty of Crater Lake's deep blue waters the next time you're visiting Oregon.
South Dakota:
The Notch Trail is a moderate 1.5-mile (round-trip) hike featuring colorful canyons and panoramic views of the White River Valley. Do not attempt this hike if you are afraid of heights. At one point, you will have to climb a log ladder and carefully follow a ledge before you can reach the notch. The views are worth the effort it takes to get there!
There are plenty of places to hike above the cave system, including the Rankin Ridge Fire Tower trail. Rankin Ridge is the highest point in this National Park and the hike itself is only a mile long (round-trip). Even if you're short on time, you won't regret taking this trek with your friends and family.
Washington:
Take the Tolmie Peak Trail to soak in views of Mount Rainier and Eunice Lake from atop the fire lookout tower. The trailhead is located on the northern end of Mowich Lake in the northwest section of the park. At 6.5-miles (round-trip) and an elevation gain of over 1,000 feet, you can expect this hike to take at least three hours.
Take a backpacking trip and trek the Thunder Creek to Park Creek Pass in North Cascades National Park. This hiking trail is located in the heart of the park and features ancient forests, a glacier-fed creek, and fantastic mountainous landscapes where you can truly get away from it all. Even if you're not staying overnight, you can take a day hike up to the first bridge and head back.
The Heather Park Trail is nearly 6.5-miles long and features steep, rocky terrain. Expect to see lake basins and pine trees as far as the eye can see during your ascent. The ideal time of year to come here is between late June and early October. Be aware that this is bear country and remember to leave no trace on this hike.
Wyoming:
Anyone that has a chance to visit this iconic National Park should spend time exploring the Clear Lake Loop Trail. This hike passes by thermal hot spots and lakes, eventually reaching the stunning 1,200-foot Silver Cord Cascade waterfall. You can get to this waterfall via a spur trail heading northwest from Ribbon Lake.
You won't be disappointed by hiking the Jenny Lake Loop. This trail offers plentiful views of Cascade Canyon, the Cathedral Group, and Jenny Lake. The Cathedral Group is a cluster of peaks consisting of Mount Owen, the Grand Teton, and Teewinot. At seven miles round-trip, this is ideal for anyone planning a day hike at the Grand Teton National Park.
If you're wondering why California and Utah aren't on this list, we already discussed the top national park hikes in those states. You can read the article about California's top national park hikes here and learn about Utah's top national park hikes here.
Here are itineraries to give you inspiration for your next road trip: Northern U.S. National Parks, Big Sky, Rocky Mountain High, Western State Parks, Midwestern State Parks, Midwest to the Rocky Mountains, Utah Colorado Loop