Best Time to Visit Washington D.C.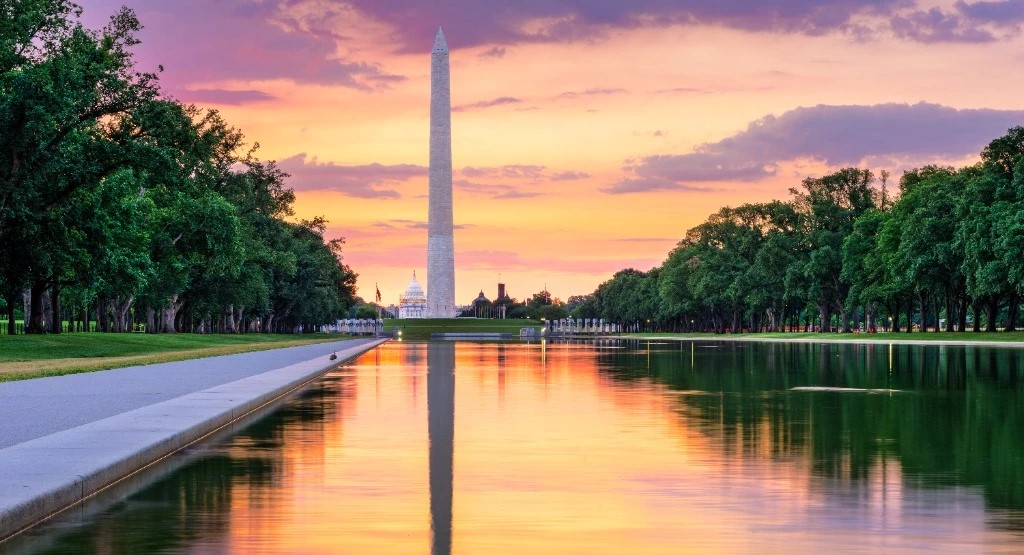 Washington, D.C., is a massive metropolis that we consider to be the ultimate travel destination for history buffs. Learn about the best time to visit Washington, D.C., and the top places you should see while you're here.
With mild temperatures and the cherry trees in bloom, visiting Washington, D.C., between late March and mid-April provides the perfect backdrop for a trip to the nation's capital city. Attending the National Cherry Blossom Festival should be on your travel bucket list for Washington, D.C. This annual festival celebrates Japanese culture at its finest, so come and see it for yourself.
Places to visit:
National Mall
Dwight D. Eisenhower Memorial: Visit the newest addition to the National Mall. This place honors the 34th U.S. President and his legacy. Marvel at the stainless steel tapestry, which spans the front side of the building. An architectural masterpiece, this memorial is a must-see.
Lincoln Memorial: Abraham Lincoln was the 16th U.S. President, and his efforts in uniting the nation are unparalleled. This memorial was established in 1922 and features a 19-foot statue of Lincoln. Stand in awe of his legacy and outstanding leadership at this majestic memorial.
Martin Luther King Jr. Memorial: See the statue depicting MLK Jr. and reflect on the life of this civil rights leader. Admire the stone carving of the man himself, and read several of his engraved quotes, including, "Injustice anywhere is a threat to justice everywhere."
Thomas Jefferson Memorial: Another notable architectural feature in the National Mall is the Jefferson Memorial, situated across the Tidal Basin in a direct line of sight of the White House. Pay your respects to Thomas Jefferson at this majestic memorial building.
Washington Monument: This iconic tower was built in honor of George Washington, the first President of the United States. All are welcome to walk around and admire this place, but tickets are required if you want to head up to the top of the Washington Monument.
Museums
Hillwood Estate Museum: Talk about jaw-dropping; anyone interested in historic homes should stop by the Hillwood Estate. There is more than meets the eye at this exquisite mansion, so take a walk and explore the formal gardens full of unique seasonal blooms.
National Archives Museum: Home of the nation's founding documents, such as the Declaration of Independence, this museum will leave you speechless. Seeing these preserved historical documents in person is quite humbling, so plan to visit the National Archives if you have time.
National Gallery of Art: Check out this vast art gallery with thousands of artworks on display. You'll get to see paintings dating back to the 13th century, plus statues and various artistic masterpieces inside its two buildings and exquisite sculpture garden next door.
Smithsonian National Air and Space Museum: Learn about the history of air and space travel at this vast museum. Home to the first airplane and many other historical aircraft and rockets, you won't want to skip over this free attraction. It is open daily from 10 AM to 5:30 PM.
Smithsonian Museum of Natural History: See the most extensive collection of natural history artifacts in the world. This incredible museum will fill you with awe and amazement. Explore its various exhibits and enjoy the wealth of knowledge and history inside this unforgettable place.
Parks and Gardens
Anacostia Park: Visit one of the largest recreation areas in the nation's capital. With over 1,100 acres of space, Anacostia Park is an excellent place to go roller skating. Kayaking, swimming, biking, hiking, and picnicking are also favorite pastimes at this park.
Fort DuPont Park: Home to an earthen military fort established during the American Civil War, Fort DuPont Park is a beautiful wooded area with over 300 acres of space. This place is ideal for picnics, nature walks, bird watching, biking, and other fun outdoor recreational activities.
National Arboretum: The National Arboretum is located in northeastern Washington, D.C., and it features gorgeous plant life, such as azaleas, oak trees, and magnolias. One area you have to see is the national capitol columns, which provide a photogenic backdrop for all who visit.
Rock Creek Park: Rock Creek Park feels like an oasis among the sprawling city. This historic park features colonial-era homes and buildings, historic mills, bridges, fountains, and more. If you're interested in learning about the area's local history, you have to visit this park.
United States Botanic Garden: Lastly, this botanic garden features over 50,000 plants, including medicinal plants, orchids, bromeliads, cacti, and many others. Established in 1842, they still have several original specimens in their collection. Wander through this stunning garden in D.C.
If you have time to spare, you should also consider taking a tour of the White House, wandering through the Library of Congress, or seeing the inside of Ford's Theatre. No matter what time of year you visit, we hope you enjoy every minute you spend wandering through Washington, D.C. Tell us about your favorite places to visit in Washington, D.C. in the comments!
This sightseeing itinerary takes you along the North Atlantic coast, ending in Washington, D.C.
If you're into road trips, create an account, click 'Plan a Trip' at the top, and start planning your own itineraries right here. Visit our FAQ page to learn more about our trip planning tool.