A Beautiful and Historical Trip Along the Illinois River Road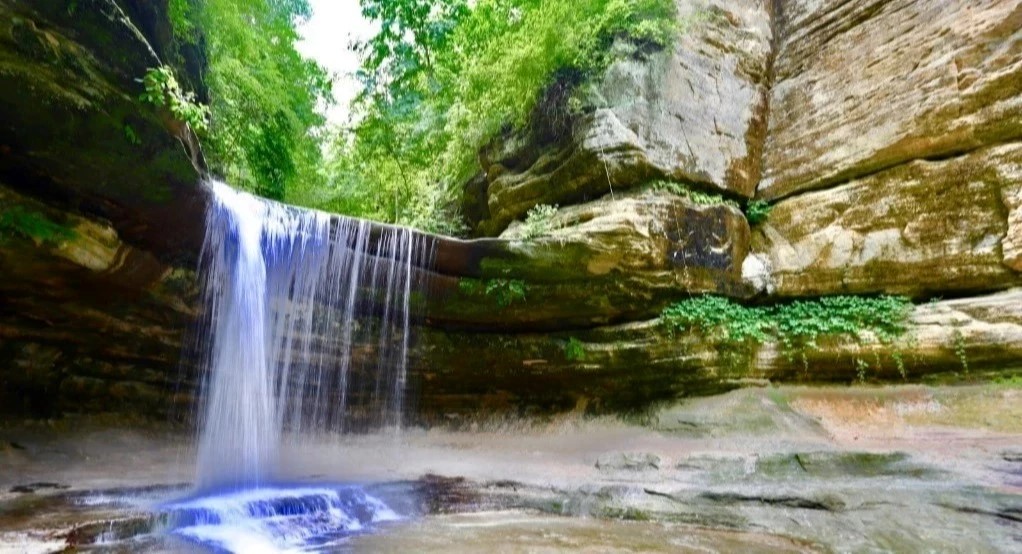 The Illinois River Road Scenic Byway is an extraordinarily picturesque expanse of highway that is a roughly 300-mile loop from Ottawa, Illinois to the town of Havana along the scenic Illinois River. There is a ton of historical significance surrounding the Illinois River, as the first Native Americans utilized the river as a means of transportation, and eventually, French explorers did, as well. The most ideal time to take this journey is from the late spring through the fall to guarantee the best weather and sights during this drive. There are so many stunning points of interest along this route, so today we are going to break down an in-depth itinerary to ensure that you have maximum adventures and opportunities to admire the rugged nature along this circuit. The drive takes about 7 hours, but to make the most out of the journey, we definitely suggest spanning it out over the course of a few days to certify that nothing is missed out on during this voyage.
Ottawa to Starved Rock State Park
Our travels will begin in the northern portion of the route in Ottawa, Illinois. Ottawa is brimming with natural beauty, and it also has a fascinating history since it was where Abraham Lincoln had his first senatorial debates. Starved Rock State Park is only about 15 minutes down the road from Ottawa, which is our first official stop on our drive.
Starved Rock State Park is an utterly stunning landscape that boasts 14 waterfalls, canyons, and many miles of hiking trails. There are so many picture-worthy spots throughout this state park, so be sure to bring your camera to capture its pure beauty. The park looks unreal during the autumn months, with brilliant orange and red leaves creating a vibrant contrast against the bright blue sky. Definitely explore the canyons that have been formed into the sandstone here before heading on your way.
Starved Rock State Park to Peoria
After seeing all that Starved Rock State Park has to offer, continue south on the charming Illinois River Road towards Peoria. There is plenty to do and see within Peoria, and this makes for the perfect place to stop for a bite to eat and stay the night to break up the road trip. Wildlife Prairie Park can be found in Peoria, which is home to at least 50 various species of native wildlife. This park is definitely worth a stop to hike on the trails, fish, and see how many bison or elk you can spot. Wildlife Prairie Park also offers various lodging options, which you can take a look at here if you wish to spend a little extra time in this peaceful atmosphere.
The Peoria Riverfront Museum is another establishment worth checking out while in this town, especially if you love to learn about all things art, science, and history. The Peoria Zoo is another popular spot among locals and visitors alike, and it is even more perfect if you are traveling with little ones.
Peoria to Havana
From Peoria, head south through the town of Pekin, where there are multiple parks such as Dirksen Park, Tante Park, and Pekin Riverfront Park. Any of these parks are great for a peaceful afternoon outside or for a relaxing picnic to space out the drive. After Pekin, continue on to Havana, which is the southernmost point of this route.
Havana is a quaint and historically rich town, and it also happens to be where the majority of the United States' pumpkins come from! If you are driving this route in the fall, this is an ideal time to visit any of the several pumpkin patches around Havana to get in the autumn spirit. If you love American history, take a 30-minute detour to Lincoln's New Salem Historical Park to discover where Abraham Lincoln once lived and worked back in the day.
Havana to Canton
Head out of Havana and back up the scenic byway towards Canton, which is known for its numerous parks and natural areas scattered around such as Canton Lake and the Emiquon National Wildlife Refuge. The Emiquon Preserve is massive and has heaps of native wildlife and vegetation throughout it. Another remarkable spot is the Dickson Mounds State Museum, which showcases 12,000 years of Native American history that exists within the Illinois River Valley.
If you desire a break from driving and are looking for some delicious food, Bistro 101 serves up exquisite cuisine that is made from locally sourced produce and has a wide range of dishes for every type of diet.
Canton to Princeton
From Canton, drive an hour and a half along the Illinois River and up toward the small town of Princeton, which has historically significant ties to the Underground Railroad. The Lovejoy Homestead is a National Historic Landmark that was once a refuge for slaves in the 1800s. Visitors are welcome to come and explore the grounds, the schoolhouse, and learn all about the remarkable past of this place from the museum that is set up here.
After you have finished visiting Princeton, head the short distance back to Ottawa, where we began our journey. This road trip has it all; beautiful nature, abundant history, phenomenal views, and intriguing museums. It is no wonder that this route has been named one of the most beautiful in all of America, with the Illinois River winding right with you as you make your way along the byway. The Illinois River Scenic Byway allows for what is arguably the best way to see the most extraordinarily scenic spots in this Midwestern state.