The Ultimate Alaska Road Trip Itinerary: the George Parks Highway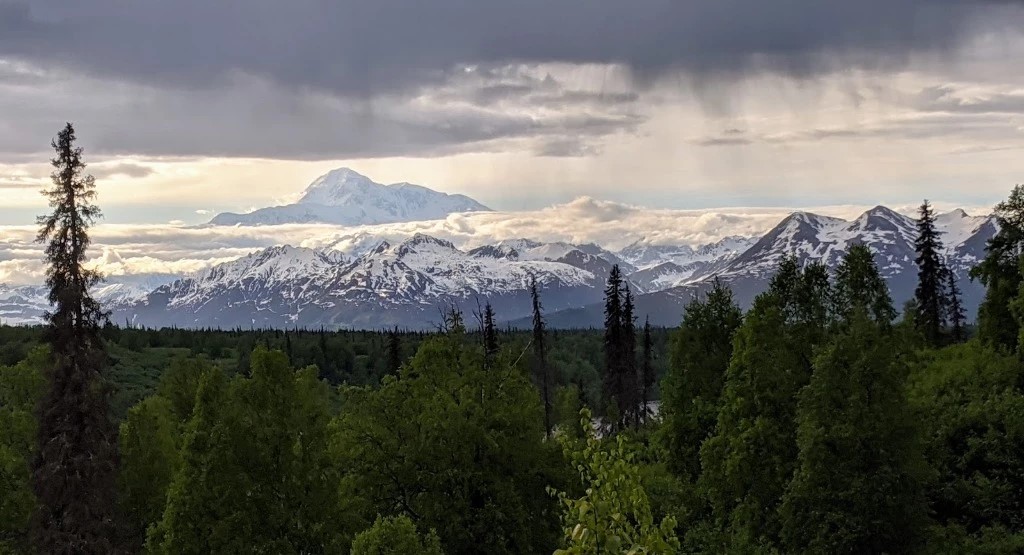 The George Parks Highway connects Alaska's two largest cities, Anchorage and Fairbanks, and passes through the magnificent wilderness into the heart of the state.
When the Parks Highway was built in 1971, it was originally known as the Anchorage-Fairbanks Highway, but it was renamed after George A. Parks, the territorial governor of Alaska (1925 to 1933). Mount McKinley, North America's tallest mountain, can be seen from the highway on many occasions. Denali National Park and Preserve are also accessible.
From Anchorage, take Route 3 to Fairbanks. The speed limit is 60-65 mph, so the ride from Anchorage will take around 7 hours, longer if you rest. However, you will have ample daylight to admire some of the pleasant sights and events along the way thanks to the midnight sun. Here are some of our personal favorites:
Anchorage to Talkeetna Turnoff
Eagle River Nature Center
Eagle River Nature Center is a gateway to Chugach State Park and a glacial river valley as natural and spectacular as any in Alaska, and it is just 40 minutes from downtown Anchorage. The Albert Loop offers a simple 3-mile nature walk or a 5-mile hike up-valley to see 3,000-foot cliffs and spiraling waterfalls. Cross-country skis or snowshoes may be used to explore the trails in the winter.
Thunderbird Falls Trail
Who can say no to a refreshing waterfall less than a half-hour drive from town? The one-mile trail to Thunderbird Falls crosses a lovely birch forest along the Eklutna River canyon to reach a deck with views of a 200-foot waterfall, making it one of the most famous "first hikes" for families with small children. During the winter, the falls will freeze, forming incredible blue ice columns.
Eklutna Village
The park is the town's oldest continuously populated Athabaskan Indian village, dating back to 1650. St. Nicholas Church, the oldest standing structure in greater Anchorage, was founded by Russian Orthodox missionaries in the early 1800s. Take photos of the vibrant Spirit Houses that have been built over the graves of the dead, a tradition that arose from the blending of cultures. Are you up for a stroll? It will be rewarded with a sight of the glacier as well as the opportunity to see foxes, eagles, and black bears.
Eklutna Lake Scenic Drive
This 22-mile drive from Anchorage leads you away from Alaska's towns and cities and through Chugach State Park. The road runs alongside Eklutna River and the scenic and glacial Eklutna Lake, and it is smooth with twists and turns. Twin Peaks can also be seen through the forest.
Hatcher Pass Scenic Drive
Driving north from Anchorage is not as thrilling as driving south, but you'll be engulfed in stop-and-shoot terrain in under an hour. The Glenn Highway leads north to Palmer, where you can take a mountain road to Hatcher Pass.
Hatcher Pass, located in the Talkeetna Mountains between Willow and Palmer, is a local favorite for a leisurely, pleasant drive. Hike through alpine tundra dotted with wildflowers and ptarmigan, or ski steep, fresh powder at Independence Mine Historic State Park.
Dorothy Page Museum & Historic Townsite
In this museum known as the Dorothy Page Museum & Historic Townsite, you can travel back in time here in Alaska. As you descend stairs painted to look like an old mine shaft, look for mining digs. Then, during the 1930s, hear about hard-rock gold mining in Hatcher Pass. See Athabascan objects, learn about dog mushing, and take a tour of a historic dentist's office. The main museum building, which was once a community center for basketball games and church services, now tells Wasilla's story from 1917 to today.
Nancy Lake State Park
This is one of the only flat state parks in Alaska. It is also a perfect place to go canoeing in the summer or cross-country skiing or snowmobiling in the winter, thanks to its many lakes. The state has built several loops, each with its own portage routes and cabins, for simple multi-day adventures.
The park's largely deciduous forest is another special aspect. Fires destroyed the large spruce trees in the last century, but a vibrant birch forest has developed in their place. On a summer day, listen to the quaking leaves, catch a forest ablaze in yellow and orange in the autumn, or take in the sepia tones of winter. Water lilies and wildflowers brighten the scene in the summer.
Museum of Alaska Transportation and Industry
This museum is a gearhead's dream, devoted to the tech that opened the Last Frontier. Even if you're not into trains, ships, or heavy machinery, you will find the Museum of Alaska Transportation and Industry utterly fascinating. You can walk through old rail cars, commercial fishing boats and cars, and old farm and oil equipment on the 20-acre property. Within, you can read about Alaska's pioneer women, gold mining, and aviation. The museum, which is just four miles from downtown Wasilla, is a great place for families to visit; kids enjoy the antique toys and train exhibits, and special events are both exciting and informative.
Hatcher Pass: The Willow Side
Hatcher Pass is well-known for its mining history as well as its natural beauty. The majority of traffic enters the pass from the Palmer side. However, the path from the "Willow line" is equally lovely. It's a little rougher around the edges, but most vehicles will drive it in the summer. Several potholes and hairpin turns at the top of the pass necessitate cautious driving.
Hell Bent Fishing Charters
Hell Bent Fishing Charters will take you on a raft or fishing trip through the rivers of south­-central Alaska. Raft along a beautiful river that is just minutes away from the highway system. It's ideal for a half-day or full-day excursion anytime you want to get away from the hustle and bustle of your vacations and into the wilderness of Alaska.
Willow Creek Tours
Take a 3-hour float trip down gentle Willow Creek with Willow Creek Tours while taking in the breathtaking scenery of Alaska's backcountry. You will board a raft with up to 6 other people and a professional guide from Pioneer Lodge, just off the Parks Highway south of Talkeetna. Then sit back and relax or take a paddle if you prefer; this small river has easy-gliding Class I and II rapids.
Talkeetna Turnoff
The Milepost 98.9 has been reached. Why should you be concerned?
You're on your way to one of Alaska's funkiest little cities, Talkeetna, if you take the turnoff right where the wooden grizzly stands on its hind legs.
In reality, driving the 14-mile Talkeetna Spur Road is akin to chasing the white rabbit down Alaska's rabbit hole. One factor is that you are still in the shadow of the massive mountain. Yes, this is the base camp for climbers preparing to take on Denali (Mt. McKinley). Skin-tight neon spandex, raccoon sunburns, wild fur, and the look of victory—or defeat—in their eyes can't be missed.
Summit fever is the term for that look. And, whether you're a climber or not, you can't help but catch it because stories are told in a variety of languages.
Locals, however, have formed Talkeetna's personality. They are feisty and independent, and they are proud of their town's wild and woolly history of gold mining and trapping. They also prevented the Parks Highway from passing through town, which would have ruined the town's unique character.
Talkeetna Turnoff to Denali National Park
Denali Gold Tours
There is always gold in Alaska, and Denali Gold Tours will teach you how to pan for the gleaming flakes in pristine water near Trapper Creek. Spend a half or full day in the beautiful Alaskan countryside with your guide, who will teach you old-school gold panning methods and tell you stories about the exciting days of Alaska's gold rush.
Trapper Creek
With gas stations, restaurants, and a post office, Trapper Creek is a significant junction of the Parks Highway and Petersville Road. Trapper Creek, also known as the southern entrance to Denali State Park, had just 423 people at the time of the last census. Summer and winter tourists come from all over the state for the superb outdoor recreation experiences. Denali (Mt. McKinley) can, of course, be seen from a variety of places along the highway and on nearby trails.
Mt. McKinley Princess Wilderness Lodge
When you stay at this urban wilderness accommodation known as Mt. McKinley Princess Wilderness Lodge, you can see North America's largest mountain from your room. The major plus here is that you are close to both Talkeetna and Denali State Park while still being far enough away from the summer crowds. The rooms have high ceilings, fans, and a stunning view of the mountains. Relax in the Great Room, which features a massive stone fireplace and floor-to-ceiling windows with views of Denali, or in the outdoor hot tub.
Byers Lake Trail
Kesugi Ridge is reached through one of four trails. This gentle stroll begins at the Denali State Park campground at Byers Lake and ends at the Denali State Park campground at Byers Lake. On the north side of the lake, stroll through spruce and birch trees, while on the east side, take in expansive views of the Alaska Range and Denali. While the trail is rusty and muddy at times, a new boardwalk holds your feet above the swampy areas. The hike includes two bridges, one across the inlet and the other at Byers Creek's outlet, both of which are excellent places to hunt for rainbow trout. At the Byers Lake Campground, there are 73 camping spots, three public-use cabins, and hiking trails. Kayak rentals, guided day hikes, and kayak tours are all available, as well.
Chulitna River
At Broad Pass, one of only two breaks in the Alaska Range Mountains, the Chulitna River flows south out of a huge valley. It provides a 75-mile float that can be completed in as little as three days in kayaks, but it can also be enjoyed as a four or five-day tour. Canoes and kayaks are enjoyable on the upper section but dangerous on the lower. Floaters can be seen in the upper Chulitna's three forks during the mid to late-summer months, particularly in the East and Middle Forks. It is a big salmon stream, like most of the rivers that flow out of Broad Pass from the south, so fishing is one of the main reasons to float either one.
229 Parks Restaurant and Tavern
In a row of restaurants churning out decent food, 229 Parks stands out as a fine dining establishment that uses only the healthiest, highest-quality ingredients. They are dedicated to providing high-quality food, and the menu is frequently updated to reflect what is fresh or in season. Berries, mushrooms, fish, and greens are all possibilities. The salads and entrees are also superb. You will get to try more of the menu if you order small plates. The coffee and pastries are also served at breakfast.
Denali National Park to Fairbanks
Nenana
For many years, this village on the south bank of the Nenana River, where the railroad meets the river, served as the home port for old paddlewheel riverboats that plied the interior rivers. The last surviving riverboat from here is now on display in Fairbanks, but the town still exists and serves as a supply center for many people traveling up and down the Nenana and its connecting rivers.
Fountainhead Wedgewood Wildlife Sanctuary
Come see up to 15 distinct varieties of mammals, including beavers, red foxes, flying squirrels, snowshoe hares, moose, and many bird species at the Fountainhead Wedgewood Wildlife Sanctuary. There are 14 expressive signs located along the sanctuary's trail system, allowing visitors to learn how birds, fish, frogs, and mammals survive in the harsh environment of interior Alaska.
Fountainhead Antique Auto Museum
The path to revolution in Alaska a century ago was a tumultuous one, and the Fountainhead Antique Auto Museum chronicles it in enjoyable detail. The museum, which is located on the grounds of Wedgewood Resort – a member of the city's premier, locally operated hotel chain – displays hundreds of historically significant pre-World War II automobiles and provides visitors with a ride back to Alaska's rugged and fascinating early years.
Alaska is somewhere that completely embodies utter beauty with the rugged wilderness that practically makes up this entire state. This road trip along the George Parks Highway is perfect for any adventurer that has a high appreciation for the outdoors and all the incredible wonders that Mother Nature provides. The Last Frontier is a place that has the ability to completely sweep you off your feet in no time, and it is impossible to not be in total awe the entire time you spend here.