The most picturesque waterfalls in the eastern United States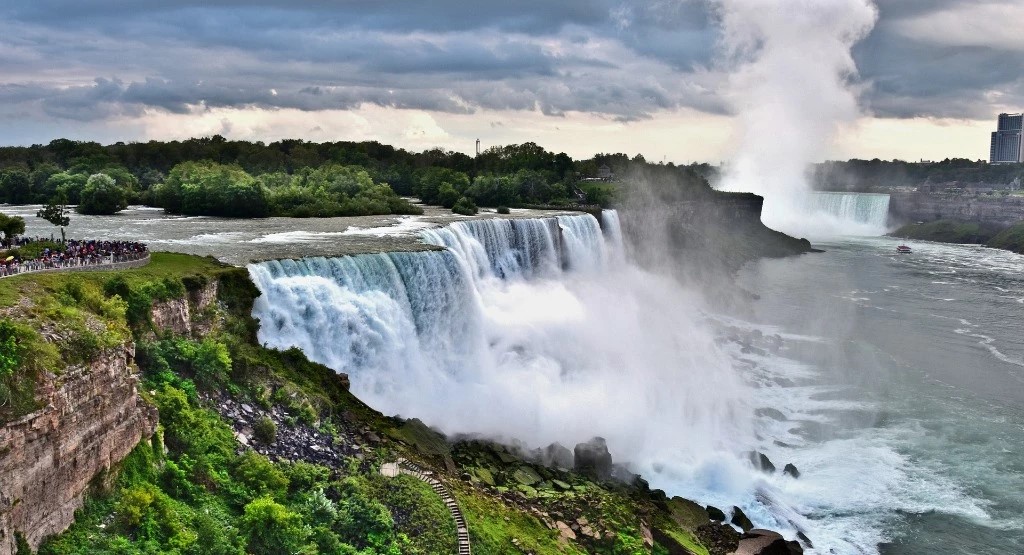 Waterfalls are some of the most scenic and peaceful places to visit in the world. If you're planning a trip to the eastern United States, take note of these spectacular waterfalls and add them to your travel itinerary. Here is our list of the most picturesque waterfalls on the east coast, beginning from Maine down to Florida's panhandle.
Houston Brook Falls (Maine)
This waterfall isn't off of a major interstate, so it will take some time to get here; however, the hike itself isn't all too difficult. Houston Brook Falls is located in Bingham, Maine, and is a horsetail type of fall with a small swimming hole at the bottom. It is about 30 feet high, and lots of locals enjoy visiting it in the spring, summer, and fall. You are welcome to go swimming here at your own risk, but the swimming hole isn't usually deeper than three feet. Houston Brook Falls is a great place to cool off and enjoy the misty mountain air in Maine.
Arethusa Falls (New Hampshire)
Arethusa Falls is the tallest waterfall in New Hampshire. At about 200-feet high, it is an impressive sight. You can reach the falls by visiting Crawford Notch State Park in northern New Hampshire. This spectacular single-drop waterfall will be worth your while if you enjoy hiking. The trail is well marked but has many exposed tree roots and protruding rocks, so watch your step as you ascend to this massive waterfall. If you're seeking adventure, New Hampshire's White Mountain region is calling your name.
Moss Glen Falls (Vermont)
Stowe, Vermont, is a quaint town with a fantastic waterfall nestled in the local state forest. There is a short hike to get to the bottom of Moss Glen Falls. The trail is easy to see from the parking lot and only takes about half an hour to get to the falls and back. Sturdy hiking boots are a must because the rocks are pretty slippery near the edge. If you want to hike further to see the falls from another angle, continue following the trail straight up. Moss Glen Falls is only 5-minutes away from the Stowe Historic Village, so this area will not disappoint if you enjoy sightseeing.
Bear's Den Falls (Massachusetts)
Located in the northern part of New Salem, Massachusetts, Bear's Den Falls is a cascading waterfall that is a beautiful yet often overlooked sight by out-of-town visitors. It features a short dirt path that is well-maintained and easy to hike. You can come here any time of year, but swimming near the falls is discouraged, no matter how slow the current is flowing. Bear's Den has several caves and lovely landscapes for you to see. This area is a nature reserve that is also an excellent spot for bird watching. If you're touring the New England area, be sure to add Bear's Den Falls to your itinerary.
Niagara Falls (New York)
Who can forget one of the most iconic waterfalls in the world? The American side of Niagara Falls is awe-inspiring and offers lots of paved trails for visitors. It is open year-round but is busiest during the summer and on holiday weekends. There is a lot to do within Niagara Falls State Park, so you'll probably want to book a few nights at the local hotels. At night, they often light up the falls with colorful lights, so consider staying at a place that offers incredible views. Niagara Falls is easily one of the biggest waterfalls you will ever see.
Kent Falls (Connecticut)
If you've never heard of Kent, Connecticut, it should be on your list of places to visit in the United States. Kent Falls State Park has a stunning cascading waterfall, which draws in crowds of people every year. Consider bringing a picnic lunch with you if you want to spend a few hours here with a group of friends or family. The park has plenty of picnic tables and grills that are free to use on a first-come, first-served basis. This state park has been around for over 100 years, and it sure is a great place to take pictures and soak in the sights of all its natural surroundings.
Buttermilk Falls (New Jersey)
Head to northwestern New Jersey to the Delaware Water Gap National Recreation Area to see Buttermilk Falls. This waterfall is one of the tallest ones in the state. The entire length of the main hiking trail leading to the falls is almost 1.5-miles one-way and has an elevation gain of over 1,100 feet. It eventually meets up with the Appalachian National Scenic Trail as you head south from the falls and has lots of trees and wildlife. This area is simply breathtaking and is a nature lover's paradise.
Muddy Creek Falls (Maryland)
Located in northwestern Maryland, Muddy Creek Falls is in Swallow Falls State Park. It is over 50 feet high and is a major highlight for anyone visiting the park. A great place to take pictures is on the boardwalk trail overlooking the falls. While you're here, you may as well hike to Swallow Falls too. It has an upper and lower cascading waterfall surrounded by pine trees on either side. Interestingly, Henry Ford, Thomas Edison, and Harvey Firestone once camped here together back in 1921.
Upper Whitewater Falls (North Carolina)
The Upper Whitewater Falls is a phenomenal sight on the border of North and South Carolina. At over 400 feet tall, this is the highest waterfall east of the Rocky Mountains. It has an upper and lower overlook that offers the best views of the falls. Both areas are right by the parking lot, but only the upper one is ADA accessible. There is a $3 fee to park here, but viewing this massive waterfall is priceless. This area is unrivaled in its rugged natural beauty, so don't miss out on the chance to visit if you're driving through North and South Carolina.
Rainbow Falls (South Carolina)
Rainbow Falls is just an hour's drive east of the Upper Whitewater Falls, so it would be a shame not to stop here for some pictures. Unlike the Upper Whitewater Falls, this waterfall requires you to hike for a bit, but the effort is well worth it for the view. You will cross over the Middle Saluda River within the Jones Gap State Park to get to Rainbow Falls. Begin at the Jones Gap Trail and look for the junction (about 0.75-miles in), which will lead you to the Rainbow Falls Trail. Rainbow Falls is quite steep, with a single drop plummeting down from 100 feet. Autumn is the best time of year to visit, but feel free to come here anytime.
Amicalola Falls (Georgia)
Amicalola Falls is one of the largest cascading waterfalls east of the Mississippi River, and it is absolutely gorgeous. Head to Amicalola Falls State Park in northern Georgia to see this waterfall. An observation platform at the top of the falls provides a scenic view of the falls and is an ideal spot to take pictures. You can also take the staircase down to the lower observation platform to get a different perspective of Amicalola Falls. Additionally, the park has various paved trails close to their lodges and dirt hiking paths branching near the campsites to give guests plenty of space to explore the area.
Falling Waters (Florida)
Last but not least, Falling Waters Falls is Florida's highest waterfall. It is located about halfway between Tallahassee and Pensacola. You can choose to spend a few hours or even a few days at Falling Waters State Park to enjoy the beauty of this 73-foot single-drop waterfall. The waterfall leads down into a dark, cylindrical sinkhole at the bottom, and it is truly a natural wonder. June, July, and August are the optimal months to view the falls because other months of the year usually have less rainfall in this part of Florida. This lovely sight should be on your bucket list of places to see in Florida if you haven't been here already. Falling Waters State Park features a butterfly garden as well, making it a delightful place for outdoor lovers of all ages.
This list features some of the most picturesque and awe-inspiring waterfalls you may ever see. If you love waterfalls, check out this itinerary. Here's another neat waterfall road trip on the west coast. No matter where you travel, go wandering to your heart's content and have a blast on your next road trip with your friends and family.