Top State Parks in Arkansas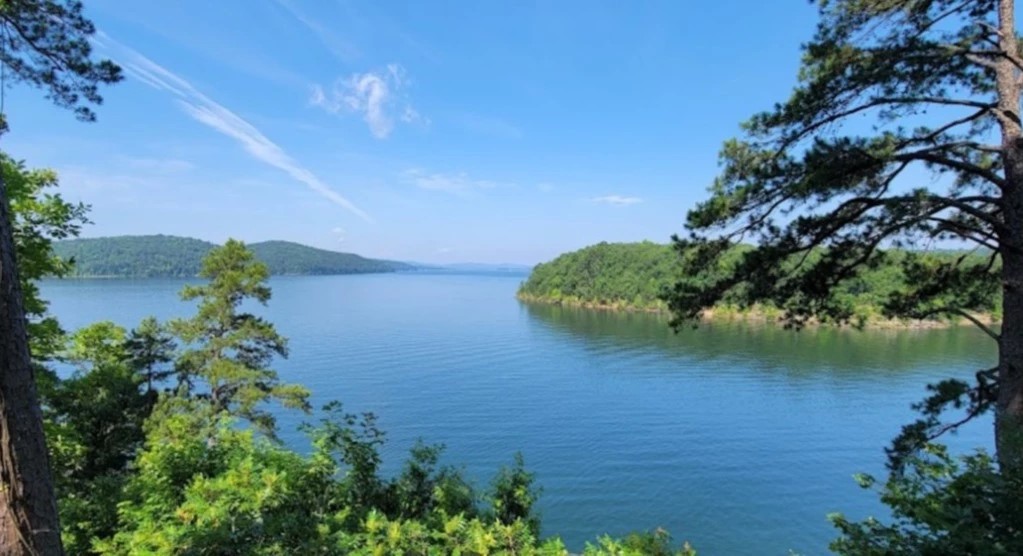 Arkansas, known as the "Natural State," is home to 52 state parks. This southern state can be divided into six different geological regions and boasts some of the most diverse landscapes in the country. From mountains and valleys to forests and rivers, there is so much to explore in Arkansas. We will go over the top state parks to visit to help you narrow down places to see in this beautiful yet often overlooked region of the United States.
Crowley's Ridge State Park
Featuring paved trails, lakes, and scenic surroundings, Crowley's Ridge State Park is ideal for families with small children and those who need easy accessibility to sites. Many people enjoy jogging and walking around the lakes along the paved trails. Be on the lookout for shorebirds such as herons and kingfishers that often visit the area. Feel free to book a stay in one of their rustic cabins or simply come here for a nice outing with friends and family. They have picnic tables, a fishing pier, a swimming beach, and a visitor center. The visitor center, cabins, and picnic area are open year-round. Guests can swim here from Memorial Day through Labor Day weekend, and the park has lifeguards on duty at the swimming beach. You can also rent a kayak, paddleboat, or fishing boat to enjoy some time out on the lake if you prefer.
Devil's Den State Park
Devil's Den is in the northwestern part of Arkansas, just west of Interstate 49. Many visitors enjoy boating and fishing on Lake Devil, the 8-acre lake. The area is known for its scenic hiking and mountain biking trails. Some of its trails lead east to the Ozark National Forest. Bird enthusiasts will enjoy various birds such as the northern cardinal, American goldfinch, red-bellied woodpecker, blue jay, Carolina chickadee, and white-eyed vireo. Devil's Den also features over 20 cabins and well over 150 campsites, many of which can accommodate RVs, making it an ideal choice for a camping excursion.
Lake Catherine State Park
Look no further for a summertime adventure. Lake Catherine covers nearly 2,000 acres, offering plenty of space for you to go swimming, fishing, boating, and canoeing. With vast surrounding forests and a peaceful lake, this is the ultimate place to get away from it all. There are four hiking trails to explore, including Dam Mountain Trail, a 4.5-mile that takes you to the top of Dam Mountain for some excellent views that are perfect for landscape photographers. The park offers several options for campers, including cabins, RV sites, primitive tent campgrounds, and even a rent-a-yurt so that you can enjoy your preferred camping experience. Lake Catherine State Park is less than half an hour away from Hot Springs National Park, so be sure to add it to your itinerary if you plan on traveling to Hot Springs, Arkansas.
Lake Fort Smith State Park
This area is perfect for all sorts of outdoor enthusiasts. Lake Fort Smith boasts nearly 1,500-acres of water and is excellent for fishing and kayaking. You won't hear jet skis or large boats on this lake because swimming and waterskiing are prohibited, giving you all the more reason to enjoy the peaceful sounds of nature for a while. Feel free to bring your RV here; they offer several class AAA campsites, plus a heated bathhouse and flush toilets nearby. If you love mountain biking, try touring the Boston Mountain Trail. It is about 12-miles long and features a loop route, making it less likely for you to get lost in the woods. There is also a visitor center, playground, and picnic area at this state park. Even if you have limited time on your hands, this place has something for everyone to enjoy.
Lake Ouachita State Park
Come and see the largest lake in Arkansas. Lake Ouachita is about 15-miles northwest of Hot Springs National Park and offers a scenic escape from the city. Enjoy fishing, swimming, boating, tubing, kayaking, and even scuba diving while you're here. This lake is surrounded by the Ouachita National Forest, making a scenic backdrop for nature photographers. Bird enthusiasts and hikers also love the area, so all types of people will enjoy their time here. Whether you want to come for a simple family outing or a multi-day camping trip, you can do it at Lake Ouachita State Park. The campgrounds and picnic area are open year-round, and the marina is available for most of the year (March to November), making a trip quite doable for even the busiest schedules.
Logoly State Park
Logoly State Park is one of the best places to go bird watching. Bring your binoculars and be on the lookout for feathered friends such as warblers, blue jays, finches, sparrows, hawks, chickadees, woodpeckers, vireos, and more. The Spring Branch trailhead is near the pavilion and has a bird blind where you can sit and watch the birds for a while. There are two other hiking trails to explore as well, one of which loops around the pond. Many people begin at the visitor center, which has interactive educational exhibits that teach about the region's local environment and natural ecosystems. If you thoroughly enjoy being out in nature, Logoly State Park is the perfect place to go.
Mount Magazine State Park
Mount Magazine is the highest point in Arkansas and has magnificent views of the Arkansas River Valley to the north and Petit Jean River Valley to the south. As if the breathtaking views aren't enough, outdoor enthusiasts also come here for mountain biking, horseback riding, backpacking, ATV adventures, and rock climbing excursions. Feel free to book a room at the lodge for a luxurious stay on this gorgeous mountain. Mount Magazine State Park is incredible for a romantic getaway because they have several secluded cabins that feature a covered deck with an outdoor hot tub. If you prefer traditional camping, this state park has 18 campsites available for guests. No matter your age or athletic ability, Mount Magazine will give you something to talk about, and it is a popular tourist destination in Arkansas.
Petit Jean State Park
Located northwest of Little Rock, Petit Jean State Park has several distinctive natural features such as Cedar Falls, the grotto, and Bear Cave. In addition to these sites, a portion of the Trail of Tears Historic Site runs through the park. Head to Stout's Point Overlook to get a bird's eye view of this historic route. Petit Jean State Park is also a popular camping destination for may. Whether you want to stay in a lodge, cabin, yurt, or regular campsite, you can find something that fits your needs. Lake Bailey is a classic fishing and kayaking area. Other outdoor activities to do here include picnicking, tennis, swimming, hiking, and wildlife observation. There is fun for all ages at Petit Jean, so don't miss out on this treasured state park in Arkansas.
Pinnacle Mountain State Park
This 1,011-foot mountain is located in central Arkansas, just west of Little Rock. Many visitors come to conquer the mountain, but there are other fun things to do here too. Book a guided float tour down the Little Maumelle River in the spring or fall for a fun adventure on the water. Avid hikers can choose from four different trailheads that all originate near the visitor center. The Arkansas Trail is a paved walking trail ideal for families with young children. This unique trail has educational information on posted signs to help guests learn about the local trees. Enjoy the sounds of nature within the 80-acre arboretum, an exquisite area for bird watching. Pinnacle Mountain State Park is also a fantastic place for a picnic, so be sure to see this picturesque mountain the next time you visit Little Rock, Arkansas.
Woolly Hollow State Park
If you're anywhere near Conway, Arkansas, be sure to head to Woolly Hollow. This state park features a 40-acre lake (Lake Bennett) and has rental canoes, kayaks, pedal boats, and fishing boats available for visitors. Woolly Hollow is ideal for fun family outings and has picnic tables and a few hiking trails to explore. In addition to the typical outdoor recreation you find at state parks, the swimming beach is a great area to relax and cool off in the summer, and it even has a lifeguard on duty during the peak tourist season. Woolly Hollow is fully equipped with restrooms and showers nearby, so you can dry off before heading back home. If you enjoy spending time on the lake, look no further than Woolly Hollow State Park.
Arkansas is a magnificent state to visit if you're into outdoor adventures. Regardless of which state park you choose to go to, you will feel rejuvenated and restful after wandering to your heart's content. Click here for our Arkansas itinerary to see even more places in the natural state.