The Best Ways to Enjoy a Getaway in Beautiful Jupiter, Florida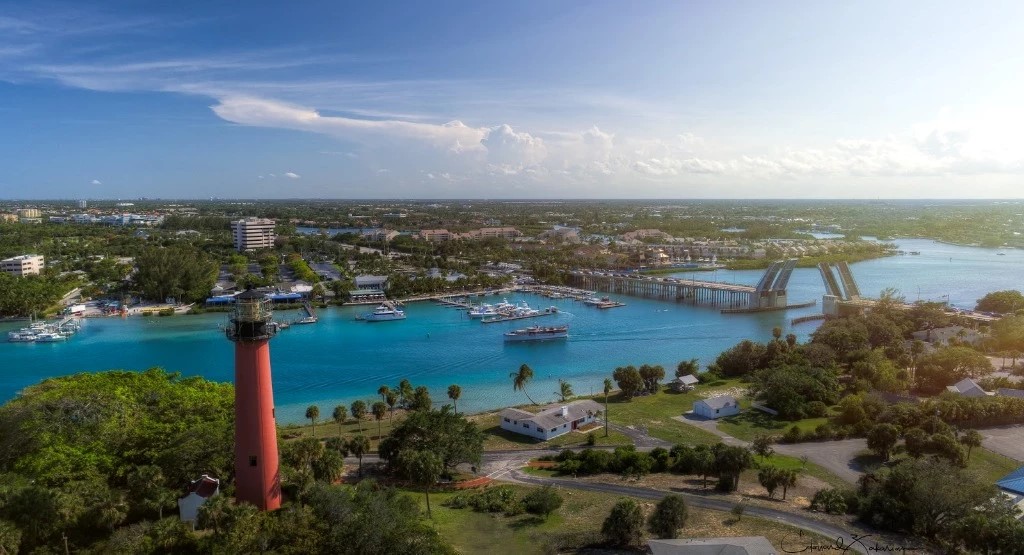 It can be fun to visit the country's big cities and the most well-known beach towns when you're deciding on a place to vacation. Sometimes, though, charming small towns make for the perfect getaway that allow you to relax and unwind in a way that the popular cities can't. Jupiter, Florida is a quaint town in the southeast portion of the state – it sits right on the coast of the Atlantic so there are plenty of opportunities to enjoy the beach, but there are so many other unique gems in the area that will ensure your itinerary is filled to the brim with fun! This destination is great for couples that want a tropical retreat complete with sunshine and salty air or families that want somewhere that has plenty of activities to entertain little ones. Another perk is that there isn't a bad time of year to visit Jupiter; winter, spring, summer, fall – there is so much to enjoy in every season. Let's get into it and break down some of the best things this town has to offer!
Hit the Beach, of Course!
You can't visit a town on the coast of south Florida and not go to the beach at least once! There are miles of beaches to choose from with a couple of the most popular ones being Carlin Park and DuBois Park. Both of these spots are great options for families as they have ample parking, picnic areas, bathroom facilities, rinse off areas, and lifeguarded. If you continue further south from Carlin Park, you'll come across quieter and less crowed beaches with streetside parking if that's more of what you're looking for. Whether you want to surf, stroll the beach for pretty shells, splash and swim in the waves, or sunbathe on the beach with a good book, there's a beach for you here!
Check Out the Lovely Local Parks
Spacious parks make any place better in our opinion, and Jupiter is teeming with them! Getting great hike in, seeing native wildlife, and exploring amazing habitats by kayak are a few of the ways to enjoy the town's parks. Jonathan Dickinson State Park is a vast and wonderful place that gives visitors the opportunity to hike, mountain bike, and kayak through the mosaic of incredible ecosystems here. Riverbend Park is another remarkable spot that's also ideal for kayaking through cypress swamps and enjoying scenic picnic afterwards. You can easily spend all day at any of the local parks if you're visiting when the weather hits the perfectly cool temps that arrive in the winter or early spring!
Explore the Underwater World
The life that exists below the ocean's surface is nothing short of magical, and if you love exploring it whenever you get the chance, you'll be happy as a clam in Jupiter. You have a few different options for choosing your underwater experience – there are bridges with easy access such as Cato's Bridge that you can snorkel at (be sure to have a dive flag for safety), you can go on a boat tour for snorkeling out at the best reefs in the ocean, or you can take a boat out for scuba diving if you're certified! No matter what, you're bound to see unbelievable marine life like sea turtles, stingrays, tropical fish, octopuses, and so many other incredible species. Even if you've never been snorkeling before, Jupiter is easily one of the best places you can give it a try with its warm and clear water, accessible reefs, and multiple boat tour options.
Step Back in Time at Important Historical Sites
Behind the picturesque beauty that's present everywhere you look in Jupiter, there is a rich and extremely important history that's embedded throughout this relatively small town. There's evidence of civilization in the area that dates back at least 5,000 years. You can pay a visit to the Jupiter Inlet Lighthouse, which has been operating and keeping the coast safe since the mid-1800s. There's a museum that provides a detailed history of the lighthouse and the significance of the land it's on and guided tours are offered, as well! There is also Loxahatchee River Battlefield Park, which is the site of the last battles of the Second Seminole War. If you love to take time and learn the history of the towns and cities you visit, there are plenty of places to do so throughout Jupiter!
See Extraordinary Animals While Supporting Great Causes
There are a couple of really wonderful places in Jupiter that have made it their mission to take in sick, injured, or orphaned animals and rehabilitate them to release back in the wild or provide them with a comfortable place to live where they're well taken care of. Busch Wildlife Sanctuary has helped several thousand animals since opening in the early 1990s. They have a variety of incredible exhibits with tons of educational signage about the animals you see. Expect to see Florida panthers, black bears, all different kinds of snakes, alligators, eagles, tortoises, opossums, and so many other species!
Another organization that has been doing fantastic work for more than 30 years is the Loggerhead Marinelife Center. This scientific nonprofit organization helps rescue sick and injured sea turtles and rehabilitate them to be released back into the ocean. Visitors can come walk through the newly renovated center and see some turtles and other marine life exhibits! Both of these sanctuaries are free to visit but do greatly appreciate donations since this is how they are able to continue caring for the animals that are brought in!
Final Notes
If you have a lot of vacation time saved up and want to extend your trip onward from Jupiter, the start of the Overseas Highway, which runs from Key Largo to Key West, is only about an hour and a half south of Jupiter. You can road trip down the highway, which is easily one of the coolest routes in the country. You can check out the article that outlines how to make the most out of this road trip here.
Jupiter is a one-of-a-kind place that has an unexplainable charm that will ensure you never forget your time here and will want to make a trip back ASAP. This town has a little bit of everything and has the ability to entertain people with all different kinds of hobbies. A true beach town with friendly locals, excellent local restaurants, unbelievable sights of turquoise water at practically every turn, and so many other redeeming qualities we didn't even get into – Jupiter is a dream destination for anyone jonesing for a relaxing and fulfilling tropical getaway.