The Best Blue Ridge Parkway Road Trip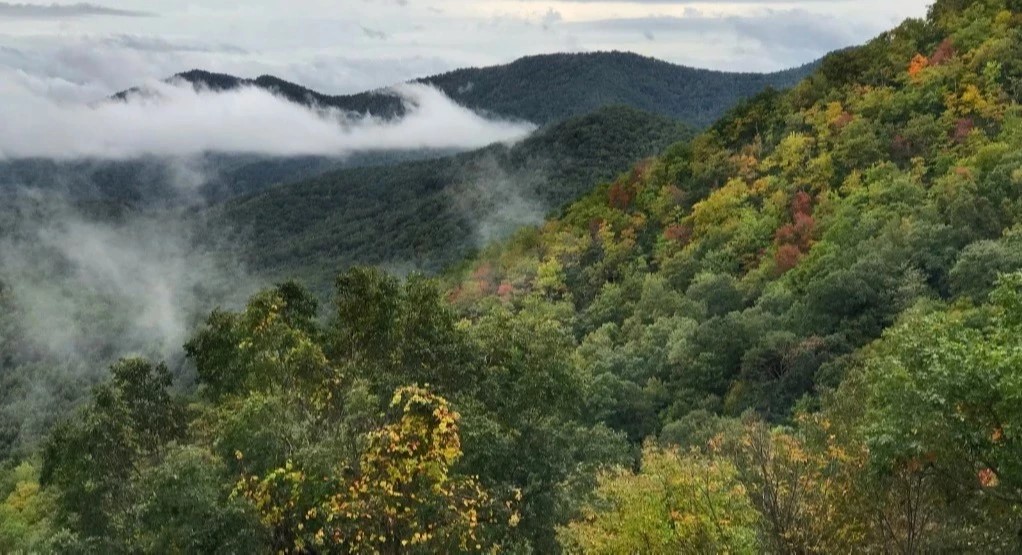 From the mountains' cool-toned mornings to the vibrant green trees framing the two-way road, the 469-mile Blue Ridge Parkway weaves from North Carolina to Virginia. Choose to park your RV or car for a day at mile marker 177.7 in the Meadows of Dan, Virginia. Ease your way through the Claw of the Dragon during a two-day cruise on your motorcycle. Offering a diverse array of memorable, unique adventures, you'll never experience it the same way twice.
And while there is plenty of fun along the Parkway year-round, Blue Ridge Parkway's signature treasures are best experienced from late April and early May to mid-to-late October. You will find quiet, remote hideaways and accommodating and historic communities. Go off-road and discover a wealth of tucked-away waterfalls, blooming wildflowers, and a vast wilderness to explore.
Cherokee, NC to Ashville, NC
Swooping down from Cherokee and back up toward Asheville in North Carolina, this section of the Pisgah Region stretches from Milepost 469 all the way to 382.5. Along with the Blue Ridge Parkway Visitor Center, when you visit Cherokee, NC, you'll find museums, campgrounds, shops, and unique restaurants—all rich with the Eastern Band of Cherokee Indians' culture and history. Drive about 18 miles, and you will reach Waterrock Knob. It is here that yields you the best opportunity to watch the sunrise and fall behind the many mountain ranges' picturesque views on the whole Parkway.
Take your trip to new heights and visit the Devil's Courthouse, an infamous cave situated at 5,720 feet. The stunning 360-degree panoramic landscapes here allow you to gaze over Tennessee, South Carolina, and Georgia. Continue on your drive and make a stop so that you can hike toward the enchanting Graveyard Fields waterfalls nestled in scenic trees and colorful wildflowers. You'll witness nature's hallmark beauty along your trek, though only a handful of signs of its fiery past remain distinguishable across this extraordinary landscape.
Mount Pisgah is a seasonal destination open from late March to October. It offers many opportunities to hike its summit, watch for birds and other wildlife, and to enjoy a beautiful picnic surrounded by nature. The Biltmore Estate is located within Ashville and is rich in its historic heritage. Here, you will discover the lavish property, gardens, Antler Hill Village, and the winery while enjoying some of the best mountain views!
Asheville, NC to Blowing Rock, NC
As you drive from Asheville toward the North Carolina and Virginia state line, you will enter the Highlands region of the Parkway. In May, pink crabapple trees blossom, adorning the Crabtree Falls Trails' 1.8- or 2.5-mile hike to one of the Parkway's best waterfalls. If you are planning on more than a day trip, stay the night right in the heart of Linville Falls. The Linville Falls Lodge & Cottages are all within convenient walking distance to the waterfalls. The Linville Gorge Visitor Center is also close by. Just exit the Parkway at Milepost 317!
Blowing Rock offers a wide variety of adventures. You will want to plan for at least a 3-day trip when visiting here. Check out the 365-degree observation deck and catch all the sights while you're here and then head into Downtown Blowing Rock. It's less than five minutes away from the attraction.
Blowing Rock, NC to Roanoke, VA
The Plateau Region's countryside spans from the state line and into Virginia. Here, you will be able to enjoy historic sites and marvel at the diverse landscapes along the Parkway. Doughton Park is the perfect spot for camping under the stars. It is also a land of open, picturesque meadows ripe with many opportunities to see various animals during your stay. Pull off the Parkway and see the "coolest" community along the trip called Fancy Gap! Whether you stop for a few hours, stay the night, or stretch your legs for a bit, Fancy Gap offers a little something for everyone: antiques, golf, and cabins.
If you want to grab a few souvenirs for your loved ones, you will definitely want to scope out the Mabry Mill Restaurant & Gift Shop. With its specialty country-style menu, this restaurant-gift shop hybrid is open from May to October. Do you plan to have the family in tow? You will not want to miss Roanoke County's Explore Park! This 1,100-acre recreation park is the hub for adventures the whole family can enjoy. Ziplines, aerial obstacle courses, and more await you!
Roanoke, VA to Afton, VA
From the cozy landscape into rolling pastures, the northernmost end of the Blue Ridge Parkway ends in Afton, Virginia. To get there, you will pass through both the George Washington and Jefferson National Forests. However you decide to explore this piece of the Parkway, you will find yourself surrounded by early American settlements.
Visit the charming cabin called Polly Wood's Ordinary when you stop at the Peaks of Otter. This cabin was the first lodging available to travelers way back in the 1830s. If exploring the outdoors is not your thing, you'll want to stop in Lynchburg, Virginia! With its historic architecture, Lynchburg, VA is a bustling city burrowed in the Blue Ridge Mountains. Here, you will not only find a host of unique shops, family-friendly attractions, and tasty restaurants. You will also find Thomas Jefferson's Poplar Forest nearby.
Come and join the fun at the American Shakespeare Center's Blackfriars Playhouse. It is the only Shakespearean indoor theatre re-creation in the world, in Staunton, VA! If you find yourself hungry for more immersion, step through time and explore the Frontier Culture Museum, the living history museum.
You will find that along the Blue Ridge Parkway, history is not only protected, but it thrives within the backdrop of the rolling mountains, wondrous waterfalls, winding trails, picturesque towns, and diverse culture. You are able to explore the vast landscape in your own way. Hike through new trails and unseen sights for a whole week. Spend the day amongst unique shops and vendors in quaint towns. Escape to a weekend rendezvous to immerse yourself in the arts and culture. Whatever your adventure looks like, the Parkway is a destination you can make your own.