East Coast Road Trips to Add to your Bucket List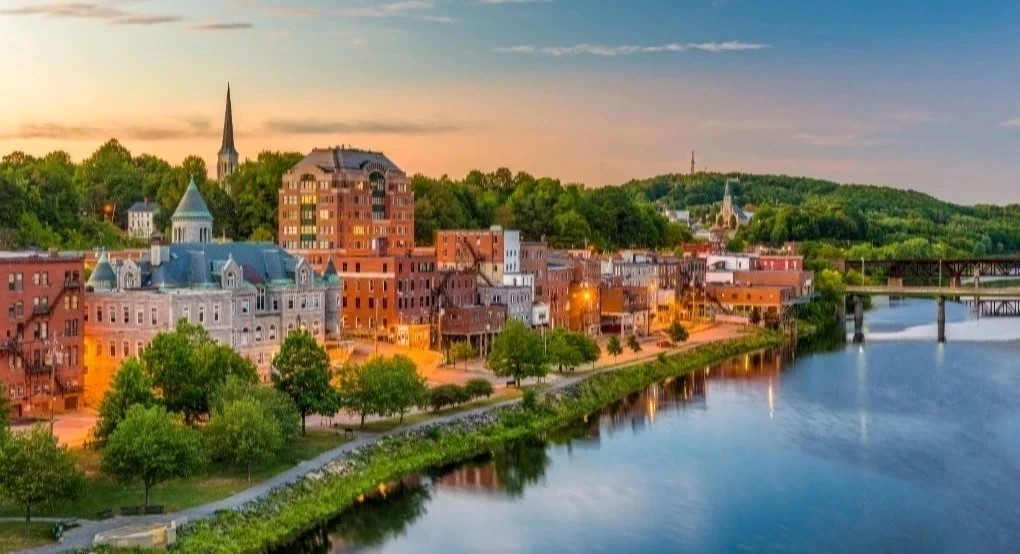 There is so much to see and do throughout the United States, especially on the East Coast. Today's article will go over several East Coast road trips to consider adding to your travel bucket list.
Beautiful New England (MA, RI, CT, VT, NH, and ME)
This road trip features a combination of historical sights plus scenic spots to help you get the most out of this beautiful part of the United States. The entire route is 977 miles long, and you'll visit nearly 70 places on this road trip. Click the link to view the full details of our Beautiful New England road trip.
(Stop 1) Beginning in Boston, Massachusetts, the sights you'll see include the Boston Tea Party Ships, Freedom Trail, Bunker Hill, the Boston Harbor Islands, and the iconic Massachusetts State House. You'll get to spend almost a whole week here, giving you plenty of time to watch a baseball game or take a tour of Fenway Park before the next leg of the journey.
(Stop 2) Next, you'll take a short pitstop in Salem, then explore the beachfront at Portsmouth, New Hampshire. This historic port city dates back to the 17th century and is home to Governor John Langdon's Mansion, which President George Washington and other historical figures once visited.
(Stop 3) After a few days in Portsmouth, you'll spend the next several days in Portland, Maine. There is no shortage of natural beauty in this neck of the woods. Make sure to see Bailey Island Beach (about an hour from Portland), eat some of the freshest lobster, and take a picture next to the Portland Head Lighthouse before you go!
(Stop 4 & 5) The next stop on this road trip is Acadia National Park. After spending two nights under the stars, you'll head up to Augusta, Maine. In Acadia, you can tour an old military fort, learn about the region's maritime history, visit some historic sites, walk along the Kennebec River, and stroll through the local botanical garden.
(Stop 6) Now you're heading into the last half of the journey, and you'll take four days exploring Northern New Hampshire. This part of the New England region has the Flume Gorge, Franconia Notch, Lost River Gorge, and Castle in the Clouds. Rest assured, this leg of the road trip has jaw-dropping sights at every turn.
(Stop 7 & 8) Make your way to Northwestern Vermont and see the Trapp Family Lodge, explore a few state parks, and take a train ride on the Green Mountain Railroad. After that, the route takes you to Southern Vermont to Hildene (the Lincoln family home) and up Mount Equinox Skyline Drive.
(Stop 9) Continuing South, your next destination is Northampton, Massachusetts. Be sure to see the historic homes downtown at the Historic Northampton museum. After a good night's rest, you won't regret exploring Mount Holyoke and Bear's Den Falls (both of which are less than an hour's drive East of Northampton).
(Stop 10) Your second to last stop on this trip is Hartford, Connecticut, which features an iconic park (Bushnell Park) in the heart of downtown. You should also see Connecticut's old state house, the Harriet Beecher Stowe Center, the rose garden, and Mark Twain's house.
(Stop 11) Providence, Rhode Island, is the final stop on the Beautiful New England road trip. You'll be able to end the trip on a high note will all of its historic mansions (like the Breakers and the Elms), gardens, museums, and lighthouses. Take in all that this New England city has to offer before heading back home from this memorable vacation.
Discover Upstate New York (NY)
Everyone talks about visiting New York City, but that doesn't mean you should completely overlook the rest of the state. This road trip is about 500 miles long and includes nearly 40 places. Look no further for a scenic, awe-inspiring adventure; we have the trip details ready for you, so check out this itinerary.
(Stop 1): This road trip begins in Albany, where you'll visit the Secret Caverns, the New York State Museum, historical sites (such as the Ten Broeck Mansion), and scenic places to enjoy the great outdoors. There is no shortage of things to see here, so take advantage of all five days in this city.
(Stop 2): Next, drive South to Poughkeepsie to see the Vanderbilt Mansion and Falling Waters Preserve. Construction on the historic Vanderbilt Mansion began in the late 1890s. For being so old, it looks to be in pristine condition and is an absolute must-see attraction.
(Stop 3): Now you'll head due West in Binghampton. One of the places you'll see in the area is the Phelps Mansion, which dates back to the Gilded Age. You'll also get to explore Bowman Lake and Chenango Valley on this part of the trip.
(Stop 4): Continue driving West to Elmira and stay awhile in this part of upstate New York. Several state parks surround the area, and there is also a botanical garden, battlefield, and heritage village nearby. Anyone that loves nature and history will enjoy their time here.
(Stop 5): Head North through the Finger Lakes region to the next stop, Syracuse, New York. This place has a couple of museums, a nature park, and several surrounding state parks that are calling your name. Chittenango Falls is a must-see if you're into landscape photography. This waterfall is over 150 feet tall and is a magnificent sight, especially in the spring and fall.
(Stop 6)Rochester is less than 90 miles West of Syracuse and is the second to last stop on this journey. Visit the local parks and the quaint lighthouse while you're in town. If you're willing to drive further out, stop at the George Eastman Museum and learn about his legacy and work in the photography and motion picture industry. Outdoor enthusiasts should also visit Letchworth State Park while they're in the area.
(Stop 7): The final stop is Buffalo, where you'll visit Niagara Falls State Park and Frank Lloyd Wright's Martin House. These two places are sure to instill a sense of awe, and hopefully, by the end of the trip, you can go home with a heart full of fond memories.
Sightseeing Tour from Philadelphia to Boston (PA, NY, CT, RI, and MA)
Look no further for the ultimate sightseeing tour in some of America's oldest cities. This route is 351 miles long and features over 40 places to see. You can view the full Philadelphia to Boston itinerary here.
(Stop 1): The journey begins in Philadelphia, Pennsylvania, where you'll see Valley Forge, admire the Liberty Bell, tour Independence Hall, and dive into early American history. History buffs will enjoy themselves here, and there will be plenty of extra time to relax and explore the city during your stay.
(Stop 2): After spending four nights in Philadelphia, the next stop is New York City. See all the iconic places, including Central Park, the Empire State Building, Rockefeller Center, the Brooklyn Bridge, the Statue of Liberty, Times Square, and much more. Make sure to wear your best walking shoes and soak in the sights in the city that never sleeps.
(Stop 3): Next, you'll drive up to Hartford, Connecticut, and have a little fun at Lake Compounce, America's oldest amusement park. While in town, you should also check out Bushnell Park, Connecticut's old state house, and Mark Twain's house.
(Stop 4): You're next stop is due East in Providence, Rhode Island. This area has historic, extravagant mansions, including the John Brown House (the first mansion built in Providence) and the Lippitt House (one of the most well-preserved Victorian Era homes). Be sure to soak in views of the city from Prospect Terrace and watch the WaterFire show at Waterplace Park before you leave.
(Stop 5): The final destination is Boston, Massachusetts. Tour the Freedom Trail, see the Boston Harbor Islands, and learn about what happened at the Boston Tea Party. You may also want to visit Bunker Hill, the USS Constitution Warship, and the Minute Man National Historical Park.
Eastern National Parks Tour (ME, VT, NY, OH, MD, VA, WV, SC, TN, KY, and IN)
National Park enthusiasts of all ages will have the time of their life on this trip. The roughly 3,000-mile route begins in Maine and ends in Indiana, and it includes eight U.S. National Parks and several other scenic places along the way. See our epic Eastern National Parks itinerary for yourself.
(Stop 1 & 2): There is no other logical place to start than Maine, where you'll spend almost a week in Acadia National Park. Afterward, head West to Vermont and camp at Quechee State Park so you can soak in all the beauty of this part of the United States.
(Stop 3): The next stop is Letchworth State Park in upstate New York, also known as "the Grand Canyon of the Eastern U.S." Hike to your heart's content and stand in awe of the majestic waterfalls at this breathtaking place.
(Stop 4 & 5): This leg of the journey takes you to Cuyahoga Valley National Park in Ohio, about halfway between Cleveland and Akron. On the way to your next destination, you'll be driving through Western Pennsylvania until you stop in Northwestern Maryland. There are two waterfalls to see while you're here, so keep your hiking boots handy.
(Stop 6 & 7): Head down to Shenandoah National Park in Virginia and enjoy camping under the stars for another week. One of the places you should also visit is the Luray Caverns. After that, the drive is less than 200 miles West of Shenandoah, stopping at the New River Gorge National Park in West Virginia. This is one of the newest U.S. National Parks, but it has a rich history. As you explore this underrated U.S. National Park, look for the remnants of old homesteads, coal mines, and railroads.
(Stop 8 & 9): Make your way to the land of the waterfalls in North Carolina and explore all the natural beauty in this part of the country. After spending a few days there, you'll drive to South Carolina to visit Congaree National Park. This special place has the largest tract of old-growth bottomland hardwood forest in the U.S. Keep your eyes peeled for alligators, birds, and all the other wildlife that call this place home.
(Stop 10): Great Smoky Mountains National Park is a major highlight of this road trip. This National Park has free admission, and there are plenty of neat sights to see, including Newfound Gap, Walker Sisters Place, Cades Cove, Clingmans Dome, and more. You won't regret spending every bit of time at this popular National Park, so take advantage of all eight days you'll be here.
(Stop 11 & 12): Next, drive Northwest to Kentucky and tour Mammoth Cave National Park. This is the longest known cave system in the world, so you won't want to miss this place. Besides the cave, they offer hiking, horseback riding, and kayaking if you want to soak in the natural beauty aboveground. After all that exploring, stop and take a break in Lexington, Kentucky. Enjoy the local botanical garden and park while you rest for the final destinations.
(Stop 13 & 14): Your second-to-last stop is Cataract Falls, one of the top-rated recreational areas in the state. You can go swimming, hiking, picnicking, and bird watching here. You can also head to Lake Monroe if you need a secluded area to sit and enjoy nature. The last stop on this epic road trip is Indiana Dunes National Park in Northwestern Indiana. This place hugs the shoreline of Lake Michigan and features campsites, a swimming beach, hiking trails, picnic areas, and plenty of space to watch the sunset.
If you've taken an epic road trip in any of these states, leave a comment about some of your favorite places you visited along the way!
If you want to customize your own road trips, create an account. Once you log in, click Plan a Trip and follow the prompts. If you want to know how our trip planner works, read our FAQ page.
Are you new to road tripping? Be sure to read about road trip essentials and road trip friendly food.