Road trip friendly food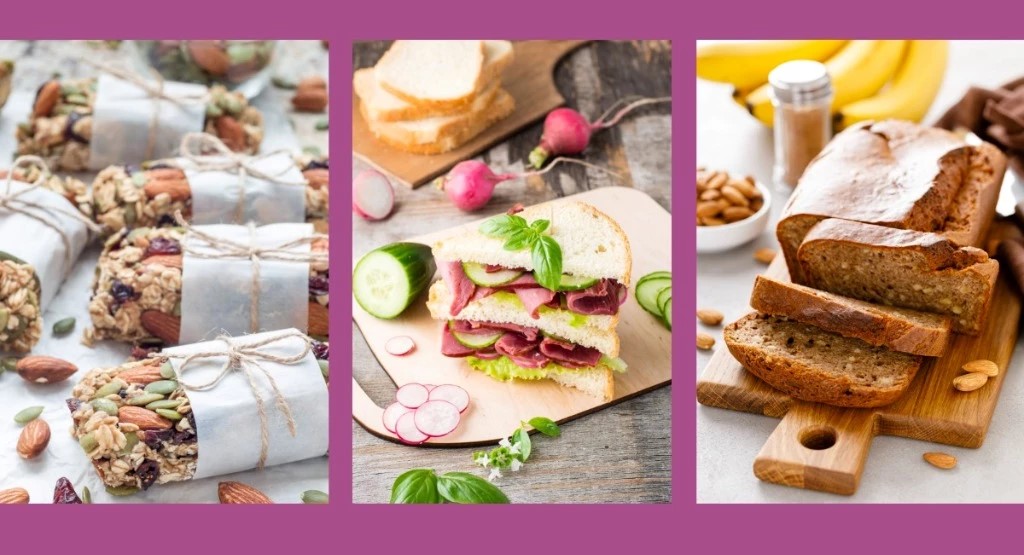 There are many things to consider when planning a long road trip. Today, we will be focusing on one aspect of road tripping, namely food. As mentioned in the road trip essentials article, you should always bring a large cooler to store snacks and food. Continue reading to learn about road trip-friendly meal ideas.
Breakfast:
Start the day right with the most important meal of the day. It is in your best interest to purchase various breakfast items. These can include mini muffins, scones, bagels with cream cheese, granola bars, cereal, and yogurt. Homemade breakfast items such as mini quiches, banana bread, or overnight oats can also reduce your food costs.
Give yourself several different options so you will be less inclined to order fast food breakfast every morning. Feel free to get a hot breakfast every once in a while, but don't make it a habit on a long road trip so you can make your travel budget stretch for as long as possible.
Lunch:
When it comes to lunch, you can get a couple of rotisserie chickens and portion out the meat into bags or small containers. Pack your favorite bread, sliced cheese, prewashed lettuce, and barbeque sauce, and you've got yourself an easy, "throw together" meal. This protein-packed alternative to peanut butter and jam sandwiches can help break up your midday meals. If you are afraid of squishing your bread loaf, buy some pita bread and use that to stuff your chicken in instead.
Sandwiches are great, but if you get sick and tired of eating sandwiches for lunch, pack some flour tortillas to make wraps instead. The fillings of your wraps may consist of similar ingredients as a conventional sandwich. However, using a different form factor can help trick your brain into thinking it is something entirely different. Consider having pre-portioned deli meats such as roast beef, grilled chicken, turkey, ham, salami, and pepperoni to use in your wraps. Another meal to consider is tacos in a bag. These consist of pre-cooked taco meat, cheese, and other toppings you find on a taco. Add your toppings in a quart-sized Ziploc bag along with tortilla strips, then zip up the bag and shake it to combine everything. The best part is you can carry your meal with you wherever you want, and cleanup is a breeze.
Prepare fresh vegetables such as cucumbers and bell peppers beforehand and only use what you need at each meal. Pack a variety of sauces in squeeze bottles, or purchase some reusable squeeze bottles and fill them up right before you leave for the trip. Flavors to consider bringing include ranch, chipotle, pesto, or barbeque. You may also want hummus, salsa, and sour cream, but keep in mind that these spreads tend to be more difficult to store.
If you're not averse to eating fried chicken when it's cold, you could pack that up for an easy meal at the beginning of the trip. Sides you can make ahead of time include pasta salads, rice or noodle bowls, and pre-portioned salads or raw veggie mixes. Crackers and cheese, trail mix, and beef jerky are always good go-to snacks to bring.
The key to staying within your budget on a long road trip is to have a game plan and stick to it the best you can. Schedule enough time to prep for breakfast and lunch before the trip, and stop at grocery stores when you start to run low on your food supplies.
We hope you enjoy spending time with your friends and family on your next road trip adventure. Here are some itineraries to inspire you: Utah Colorado Loop, South Dakota to Wyoming, Upstate New York, Virginia Loop, Sightseeing from Maine to DC, Seattle to San Francisco, Blue Ridge Parkway.