Wandering Through Charleston, South Carolina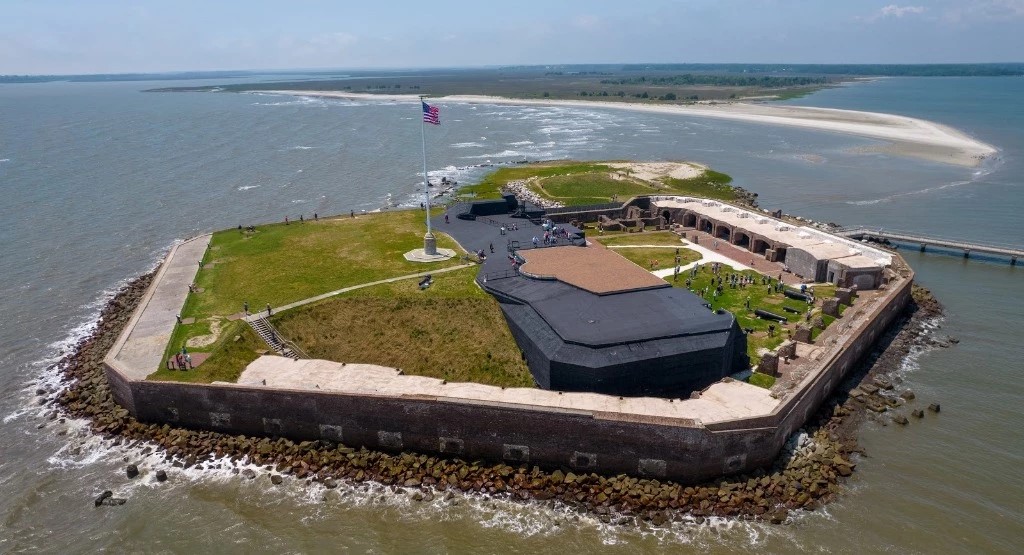 Do you have three days to spend in Charleston and a mind that's curious to know what to see and do? It can be overwhelming trying to fit in all of your "must-sees" into a three-day weekend in a city as historical and vibrant as Charleston. From its rich history, lively arts and culture scene, world-class food choices, and deep, dark history, Charleston truly has it all. In this article, you'll find out how to see most of it in just three short days!
Day 1: Get a Taste
Morning Walk
Start your first day in Charleston in The Battery neighborhood. For some fuel, grab a coffee and a breakfast burrito at the delicious Bitty and Beau's Coffee and begin your stroll around the historical neighborhood. Located on the water and featuring stately antebellum homes, there are many photo opportunities available in this area. Continue your walk to Rainbow Row, the site of arguably the most iconic Charleston photos. This street lined with lanky palm trees and 18th-century homes painted in bright cheery colors is a quintessential photo spot.
From there, you will head to Waterfront Park. Take a stroll down the pier and breathe in the calming saltwater air. If it is hot out, you might want to take a dip in the Pineapple Fountain. Or save it for later and come back at sunset the next day.
Charleston Market
For lunch, walk to the Charleston City Market in the French Quarter and eat at Cellie's Hot Little Biscuits. The favorite menu item here is the buttermilk biscuit with sausage, egg, and cheese. The Charleston City Market, established in 1807, boasts hundreds of vendors that primarily sell handmade items. From sweetgrass baskets weaved right before your eyes to original artwork and simple souvenirs, your choices of mementos are almost endless. You should have no problems finding the perfect gift or souvenir here.
Historical Buildings
After lunch and spending time checking out the market, head to Church Street and visit some of the many churches in Charleston. St Michael's Episcopalian Church on Broad Street is the oldest in the city. It was built in the 1750s! Walk five minutes down Broad Street, and you'll see the Old Exchange and Provost Dungeon. Schedule a tour of the museum and begin learning about the intense history of the building from a guide dressed in a period costume.
From a military prison during the American Revolution, to the awful public auctions of enslaved people, to a place of entertainment for big names such as George Washington, the Old Exchange and Provost Dungeon is one of the most important historical buildings in Charleston.
The Ghosts at Night
For dinner, try a Lowcountry supper at the exquisite Husk before you head out on a spooky and educational ghost tour.
A ghost tour of Charleston is essentially a nighttime walking tour with some insight into the dark history within Charleston. Tour Charleston at Buxton Books is a favorite tour that takes you through the most popular sites in Charleston. The tour guide relates the spooky and dark histories behind each landmark. This tour is not too frightening and includes many riveting stories that the whole family can enjoy.
Day 2: Slavery in Charleston
Tour City Slaveowner Homes
Start the day in downtown Charleston with a tour of some opulent houses-turned-museums in Charleston. Nathaniel Russel and Aiken-Rhett House Museums are some of the best in the city. These restored houses from the early 19th century display the grandiose lifestyles of Charleston's elite, bought at the expense of the freedom of African Americans. Around 20% of enslaved people in the US lived in cities, and these houses give a look into history of what it was like to be a slave in town.
Plantation Tour
After visiting the house museums, head to one of the several plantations in this city to learn about the history there. Boone Hall, just a 20-minute drive from the main city, is a popular plantation that still stands today. It was built in 1681, making it one of the oldest farms in the US. Eight of the original slave cabins are on the property. You can go into each of these cabins and learn about what life was like for slaves on the plantations.
Head back into the city for dinner at cozy Mongolia's, which takes a sophisticated spin on traditional southern cuisine. After supper, walk over to Pineapple Fountain to enjoy a breathtaking sunset. Before heading to bed, enjoy a cocktail and sweeping city views from The Rooftop Bar at The Vendue.
Day 3: The Military and the Beach in Charleston
Fort Sumter
On your last day in Charleston, have brunch at the Palmetto Café, a Lowcountry cuisine spot in a lovely garden room. From there, head to Liberty Park to catch the ferry over to Fort Sumter. Fort Sumter is a well-known site for being the place where the first shots were fired during the Civil War, but did you know it was also active during the Spanish-American War, World War I, and World War II?
Fort Sumter can be visited within the span of about two and a half hours. A half-hour ferry ride one-way takes you from Liberty Square to the fort, where you have an hour to explore the island and take plenty of pictures. Look for shells stuck in the walls and the informational signs throughout explaining the rich history of the spot.
Folly Beach
Once you've arrived back at Liberty Square, head to Fleet Landing for lunch on the water. Afterward, hop in the car for a beach day at Folly Beach, which is just a 20-minute drive away. Folly Beach boasts 6 miles of oceanfront, a namesake pier stretching 1000 feet into the ocean, excellent pier and surf fishing, as well as kayak and paddleboard rentals. Folly beach is also the location of some of the best surfing on the east coast.
Enjoy the wide variety of activities that the beach has to offer and when you start getting hungry hit up happy hour at one of the many bars and restaurants that are just footsteps away. Lowlife Bar has great happy hour specials, original cocktails, and craft beer and wine. Enjoy dinner on the water at Rita's Seaside Grille before you head back to Charleston to finish up the rest of your trip.
In three days, you can see, do, and taste your way through historic Charleston and have an absolutely unforgettable time. Charleston has proven to be an ideal destination for solo travelers, couples, and families alike. What experience are you most excited to have in this utterly incredible city?