Tips for RVing with dogs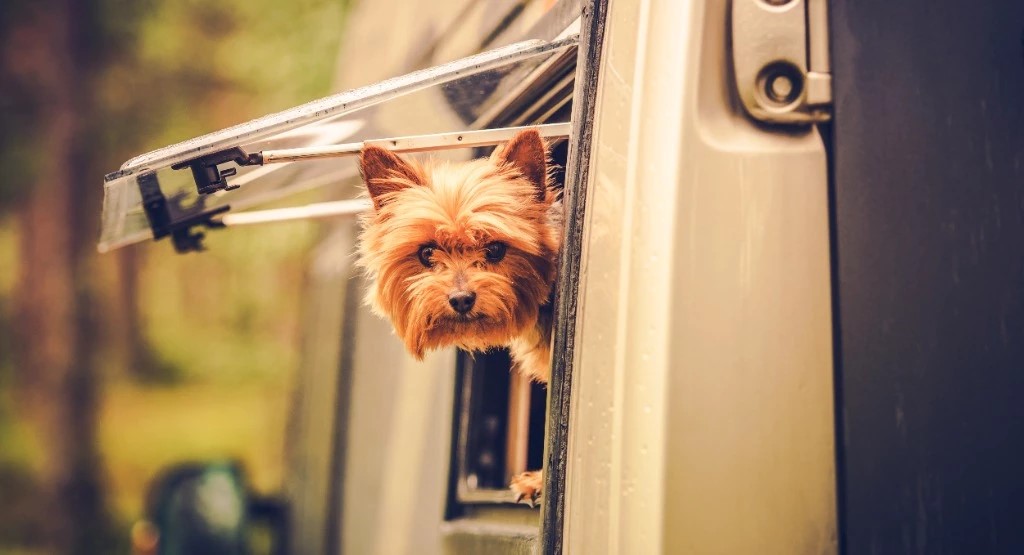 Summer is in full swing, and if you're planning an RV trip with your furry friends, you have come to the right place. This guide will cover tips that can make traveling with a dog as smooth as possible.
First, keep an ID tag on your dog at all times to ensure that if they get lost or escape, the person who finds your dog can know who to contact. It is also a good idea to have a few first aid items handy, such as eyewash, antiseptic solutions, bandage tape, tweezers, and tick remover tools. As an extra precaution, do some research and find a local vet clinic, or ask your vet who they would recommend in the area. A vet will be able to help with more severe injuries or concerns in case of an emergency.
For the drive itself, consider getting waterproof seat covers to protect your car's interior. Having seat covers can make the clean up at the end of your trip much easier. If you don't already have one, you should also purchase a seatbelt tether for your dog. The last thing you want is a distraction while driving an RV, so a tether will keep them safe in the back of the vehicle.
When packing for your dog, leashes and tie-out cables are an absolute must. Tie-out cables range from 20 to 30 feet long and allow your dog to roam outside without being stuck on a short leash right next to you. Bring their favorite chew toys, stuffed animals, balls, or tug ropes to keep them occupied at the campsite. Another thing to consider is bully sticks. These are made from beef and come in varying sizes so your dogs can chew to their heart's content. Along with that, plan to bring extra food and plenty of drinking water for your dog just in case you decide to stay on vacation for longer than expected.
Always call ahead if you are staying at an RV park. Many RV parks are dog-friendly, but it is better to be safe than sorry. All dogs need their space, but larger dogs especially need a designated area to sleep at night in the RV. If you have enough space, consider retrofitting a kennel underneath your bed. This will eliminate some extra storage space for you, but at least your pet will have a cozy place to sleep nearby. There are several DIY RV dog kennel bed tutorials, so do whatever works best for you. If your dog has never slept away from home, get them familiarized with the RV before the trip and maybe sleep in there with them a few different times, so they know what to expect. Some dogs can adjust to new environments easier than others, so do what you think is best for you and your pet.
To find dog-friendly attractions such as beaches, parks, and hiking trails, try the BringFido app. All you have to do is search the city you're in or plan to travel to visit and use the activities filter to pull up a list of places. Once you click on the attraction you're interested in, it will show you a map and a website (if available) to learn more. Off-leash dog parks are especially great for when your dog needs to get their energy out. There are also several dog-friendly restaurants located throughout the United States, so BringFido can be a valuable tool to help you decide the best areas to travel with your dog. Find a do-it-yourself dog wash nearby and brush your dog outside whenever possible to keep the amount of hair (and smell) to a minimum inside the RV.
During your travels, there may be times when you have to stop for supplies or just want to enjoy a dinner outside the RV without your dog. In those instances, you can use the Rover app to request a dog sitter in your area. Choose from dog boarding, drop-in visits, doggy daycare, or even a simple dog walking service so that you can have peace of mind knowing that your pet is in good hands while you're away. Before you even hire someone, the app automatically checks for availability and pulls up a list of people in the immediate vicinity that you input. After checking reviews and clicking on the person you want, you can contact them directly from the app to book a dog sitter. They often send pictures and texts to update you on how your dog is doing during your time away.
We hope you and your pets have a blast on your next RV road trip and wish you happy and safe travels!
Read this article to learn about some dog-friendly places in the United States.
Feel free to look at these camping itineraries for inspiration: Western U.S. State Parks, Midwest U.S. State Parks, Eastern U.S. State Parks, Southern U.S. State Parks