The Pacific Coast Highway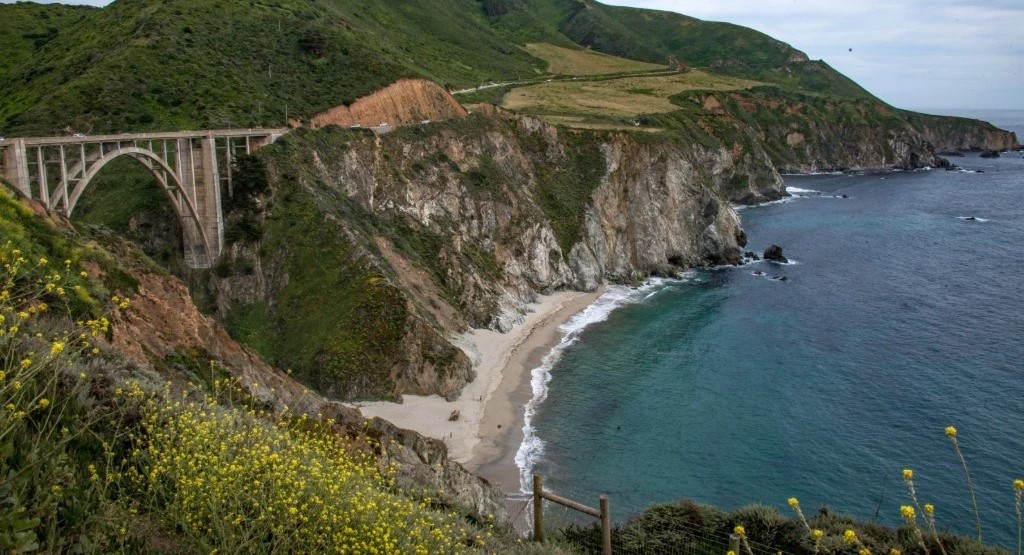 The entire Pacific Coast Highway technically spreads between the states of Washington, Oregon, and California with a distance of nearly 1,700 miles. We are going to focus on the main California portion of this route, also known as California State Route 1. This state can easily be considered one of the most versatile ones in the whole country. It varies from expansive mountain ranges, hundreds of miles of beaches, and utterly majestic forests.
One of the best ways to see a large portion of this coast is to road trip along the ever-so-scenic Pacific Coast Highway, which stretches down along The Golden State. Spanning 656 miles from northwest California in Mendocino to sunny southern California, there is absolutely no shortage of breathtaking cliffside ocean views along this drive.
The full length of the California highway would normally take somewhere around ten hours without any stops, depending on traffic. If you want the full experience, though, we would suggest taking a few days to make the drive to be able to really take in all the astonishing views and various stops that the Pacific Coast Highway has to offer. If you want the best views possible, which I'm sure you do, taking the route starting in the north and heading southbound would be ideal - this way you will be on the ocean side of the road for the entirety of the drive. There really is no wrong time of year to take the journey down the PCH, but going in early spring is typically a favorite time for travelers. Going between early March and May ensures you will get views of bright blooming wildflowers and possibly some seal pups! Who doesn't want to see some adorable wild seal pups?
Driving Down the Pacific Coast Highway
At the start of California State Route 1, you will find yourself in Mendocino, California, which is a quaint seaside town where you will find hiking trails, ocean views, and one-of-a-kind restaurants. Mendocino is also a popular destination for whale watching, which can either be done by posting up in a cozy spot with an excellent view of the Pacific Ocean, maybe with a picnic packed, and keenly watching the horizon, or you can make a full day out of it by booking a whale watching boat tour.
Heading south again for about 4 more hours along the winding coastal road, you will eventually pass through the beautiful San Francisco, and just south of this city is where you will discover Half Moon Bay. A small town on the coast, you will find the spectacular Half Moon Bay State Beach here. After spending some time enjoying the marvelous beach surrounded by towering cliffs, you can head over to Half Moon Bay Brewing Company for some beachside craft beer and delicious clam chowder.
Another three and a half hours down the scenic highway, the next stop worth checking out is Morro Bay. The exquisite Morro Rock is located here, which is a massive 581-foot volcanic plug that is an estimated 23 million years old! It is definitely worth a stop in our opinion.
A bit more south on the PCH you will find the quaint and interesting town of Solvang, California. Adorned with Danish-style architecture, delectable European-inspired restaurants and bakeries, and a wide variety of nearby vineyards, Solvang is bound to steal your heart. Be sure to check out Solvang Restaurant here to try out some authentic Danish food to fuel you before embarking on the rest of your adventure.
The final stop we will mention in this condensed guide to road tripping the Pacific Coast Highway is Laguna Beach. Laguna Beach is best known for its-you guessed it-outstanding beaches. Laguna has excellent surf spots if you're interested in giving that a try, or you can explore the many different coves and tide pools along the 7-mile shoreline.
There are countless combinations of stops you can make when taking a road trip down the Pacific Coast Highway; everything is so breathtaking you can hardly go wrong wherever you end up stopping. Other notable stops along the route include Point Reyes, the Monterey Bay Aquarium, and Big Sur. Make yourself a California Road Trip playlist, roll the windows down, and embark on what will undoubtedly be one of the most remarkable expeditions you will ever have.