The Great Northern Road Trip Series - Part 2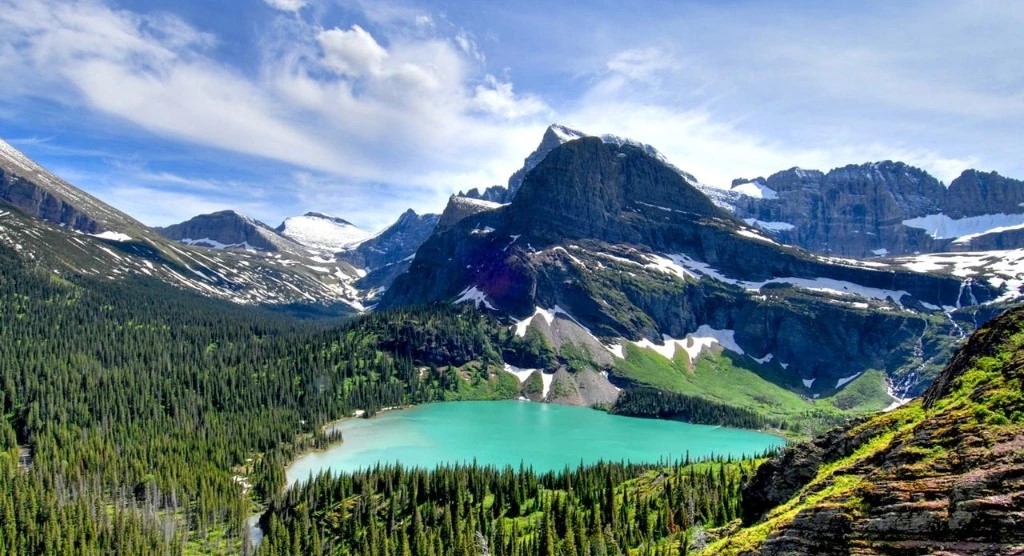 Part 2 – Spokane to Glacier National Park
Our next stretch on our cross-country journey along the Great Northern goes from Spokane, Washington to the breathtaking Glacier National Park in Montana. The most direct route from Spokane to Glacier National Park's west gate takes roughly 5 hours, but rushing through is no fun! Our suggested route from Spokane to Glacier National Park will take you through some breathtaking countryside and give you plenty of opportunities to stretch your legs. You can take your time admiring the views on your way from Spokane to Glacier National Park if you take the longer, but more scenic, route. It's time to get in your car and begin your journey!
Planning the Route from Spokane to Glacier National Park
From Spokane, a frequent route to Glacier National Park's west entrance is through northern Idaho, crossing into Montana on US-2 around Troy in western Montana.
There are faster ways to get to the park, but they aren't as scenic. The following route is recommended since it takes you through the stunning scenery of northwest Montana and Idaho. (Taking I-90 directly from Spokane to West Glacier is a slightly faster option).
The scenery varies significantly from one place to the next, with everything from lake views to lush woods to spectacular canyons and everything in between! We'll point you to the best spots to soak in the sights, have a bite to eat, and stretch your legs on a leisurely stroll.
The Top Spokane to Glacier National Park Drive Stops
Old Mission State Park, Coeur D'Alene
The city of Coeur d'Alene is located in northwest Idaho. The earliest known building in Idaho is located at Coeur d'Alene's Old Mission State Park. Water sports in Lake Coeur d'Alene are popular, as are trails in the Canfield Mountain Natural Area and the Coeur d'Alene National Forest. McEuen Park has a green lawn and a trailhead for Tubbs Hill, which is nearby. Picnic spots and a playground are available at the lakefront City Park and Beach.
The North Idaho Museum tells the fascinating story of the region, particularly the city's former wood industry. In a lovely park environment, the park offers an educational opportunity unlike any other, allowing visitors to analyze the dynamics and complexity between Jesuit missionaries and the tribal people with whom they settled. The Sacred Heart Mission church, a rebuilt Parish House, and a historic cemetery are all open to visitors.
Silverwood Theme Park
Silverwood is actually the Pacific Northwest's largest theme park! Silverwood Theme Park, located just minutes from Coeur d'Alene, Sandpoint, Spirit Lake, Rathdrum, and Hayden, has over 70 rides, slides, shows, and attractions, including four roller coasters, Boulder Beach Water Park, a steam engine train, live entertainment numerous times throughout the season, several on-site restaurants, and so much more. Silverwood also has a huge RV park and campground nearby.
The season at Silverwood spans from May through September. In October, it transforms into Scarywood for the Halloween season, complete with rides, spooky attractions, "scare zones," and a whole lot of fun for those who appreciate a good scare.
Coffee and Grub in Sandpoint, Idaho
You don't want to miss out on a stop at the Hoot Owl! The community of Ponderay, ID, located just outside of Sandpoint, ID, will offer you that home-cooked supper you've been deeply craving. You just need to make sure you show up here nice and hungry. This hidden gem is a local favorite for a reason!
Kootenai National Wildlife Refuge, Idaho
The endpoint of this stretch of the trip isn't the only place where you may see wildlife. The Kootenai National Wildlife Refuge, just outside of Bonners Ferry, is a great place to bring your cameras. You may witness moose, elk, bears, a variety of birds, and much more. Stretch your legs on one of their lovely hiking routes or simply take in the sights at the tourist center.
Kootenai Falls outside of Libby, Montana
When traveling through this portion, you'll also pass right by the state's largest undammed waterfall. There are numerous opportunities to take in the scenery and snap a few photos along the way. A must-see is the swinging bridge! Take a fast stroll on the Kootenai Falls Trail, which is about 0.8 miles long. This place is stunning, so get the most out of the magical views!
Stock Up on Supplies in Kalispell, Montana
You've arrived in the Flathead Valley! Kalispell will provide you with almost everything you need if you need to gather up some more road trip supplies. While you're enjoying the scenery Montana has to offer, you can grab groceries or any other provisions necessary. You can also take a trip along Main St. to look in the local shops before embarking on your next part of the expedition.
Lake Macdonald, Montana
Glacier National Park's largest lake, Lake McDonald, is ten miles long and 472 feet deep. Lake McDonald is a classic glacial formation, filling a basin carved out by Ice Age glaciers. The Continental Divide lies 14 miles away from this long fjord-like lake, which is ringed on all sides by mountains. The mountains not only create a beautiful backdrop for the lake, but they also provide as a rain shield. The McDonald Valley receives a large portion of the obstructed precipitation. As a result, the climate is pleasant and moist. In the Lake McDonald valley, plenty of western red cedar trees and hemlock thrive. Bighorn sheep, mountain goats, elk, black bears, as well as whitetail and mule deer are just a few of the animals that can be seen here.
Polebridge Mercantile & Bakery
The historic Polebridge Mercantile & Bakery is within a mile from Glacier National Park's northwest gate. There are no traffic lights, crowds, as well as no electricity to cause any stress or inconveniences. There are only little rustic cabins, an ancient store, and unrivaled splendor. The Polebridge Mercantile, a store/bakery/gas station, and one bar, the Northern Lights Saloon, haven't altered much in the last 100 years. Cabins are also available for rent at the mercantile. Locals rely on generators, solar panels, kerosene and propane lamps, or simply go without and enjoy the simple way of living.
Whitefish Mountain Resort
Whitefish Mountain Resort is 35 miles west of Glacier National Park and 7 miles north of the town of Whitefish in the Rocky Mountains of northwest Montana. Whitefish Mountain Resort is one of the largest ski resorts in the United States and Canada, with over 3,000 skiable acres and a price point that appeals to both destination and local skiers. They provide cutting-edge grooming, snowmaking, and lifts, as well as some of the friendliest employees you'll ever meet. Whitefish Mountain Resort is a full-service alpine village and is a snow-lovers dream. Skiing and snowboarding, snowshoeing, and guided snowmobile rentals are just a few of the exciting winter activities available.
Bison Range
The Bison Range is located in Moiese, Montana, in the Flathead Indian Reservation's heartland. The Confederated Salish and Kootenai Tribes operate this beautiful 18,500-acre wildlife conservation area, which is open to the public. It's the ideal spot for a day trip, with a rich history, stunning views of Mission Mountain, and good animal photography chances.
This wraps up the second leg of our journey from the western to eastern corners of the US. This portion is complete with some of the most jaw-dropping sceneries this country has to offer, as well as some small towns that are true gems and places you might not have the chance to visit otherwise. We now have about 700 miles of this adventure under our belt, and still so very much to see and do!