The Alaska Highway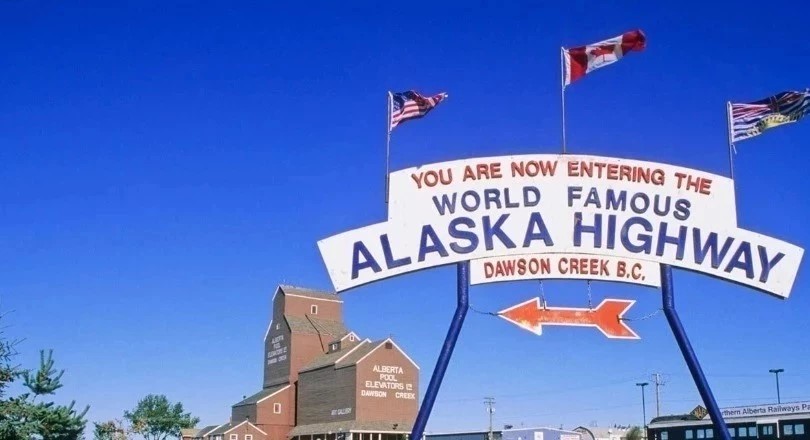 The Alaska Highway, also known as the "Alcan Highway" (Alaska and Canada Highway), is a 1,387 mile stretch of roadway beginning in Canada, routing through the Yukon territory, and ending in Delta Junction, Alaska.
An engineering marvel of World War II, the highway has been described as one of the largest and most difficult construction projects since the Panama Canal. Fearing a Japanese invasion from the west, the Canadian and US governments worked together to build this highway through the heart of the Yukon Territory beginning in 1942 so that the US could have a logistics lifeline to what could have been a battleground in the Alaskan frontier.
Today, this 1,387 mile long highway will take you through countless opportunities for outdoor adventures, wildlife spotting, rustic, undeveloped spans of nature, and important historical landmarks. The Alaskan Highway begins in Dawson Creek, a small town in British Columbia, Canada that is also known as "Mile 0" of the Alaska Highway.
Dawson Creek is a small town in British Columbia, Canada that is best known as being "Mile 0" of the Alaska Highway, and it is the starting point for your Alaska Highway adventure. The first thing to do here is stop by the Dawson Creek Visitor's Center where you can get information about the area as well as the highway, and snap a selfie in front of the Mile 0 Alaska Highway monument. You can also stop by the Alaska Highway House before leaving Dawson Creek where you can dive deeper into the history of the highway and enjoy incredible displays and exhibits that tell the story of it's construction.
From Dawson Creek you will journey through rugged Canadian landscape of increasing wild beauty, culminating in the untamed frontier of Alaska at Delta Junction where you can head north to Fairbanks or Southwest to Anchorage and begin a once-in-a-lifetime Alaskan experience which we will cover in an upcoming article.