Essential Camping Cookware and Supplies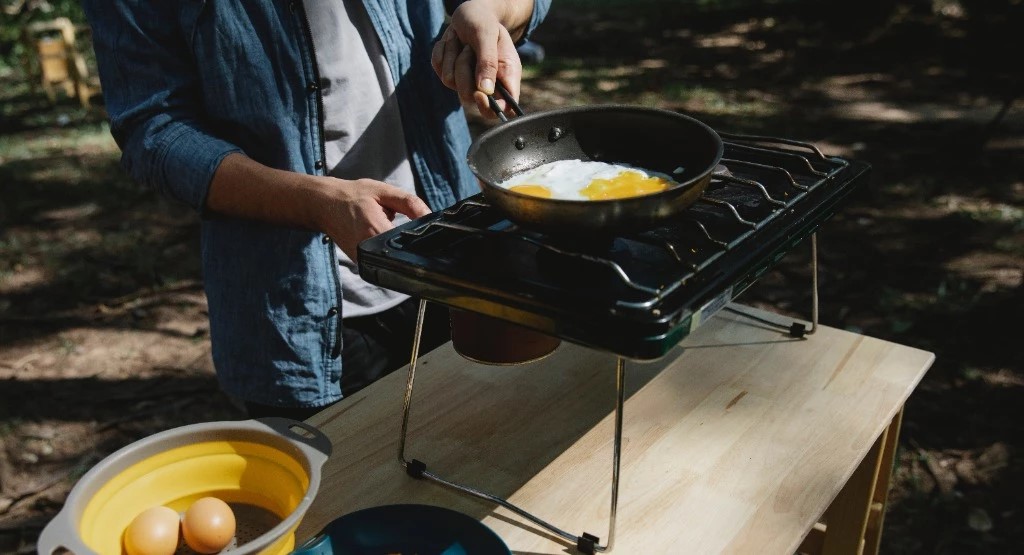 Camping can be a lot of fun, but you have to be prepared with the essentials before you hit the road. This article will provide you with items to consider bringing to make your outdoor cooking experience as smooth as possible.
A portable gas stove is an absolute must if you're going camping. While cooking over a fire may sound fun, it can be a challenge to control the temperature of your cooking surface if you aren't careful. Double or triple burner propane stoves are a great tool to have whether you're traveling in an RV or bringing tents. With these stoves, you can cook multiple things at once and have everything hot and ready at the same time. Always check to make sure your propane tank has plenty of fuel before you leave.
While you're at it, pack some pots and pans with lids. It is preferable to have a separate set of pots and pans if you go camping frequently but feel free to bring cookware from your kitchen. There are outdoor cookware sets out there that feature removable handles, nest neatly inside each other, and are lightweight. This kind of purchase will help you save room in your trunk or RV for other things, so head to your nearest camping and outdoor store for a quality outdoor cookware set.
Portable camping utensil sets are also nice to have, especially if you don't own an RV. It also makes it easy to know where your tongs, spatulas, and serving spoons are because they often come in zippered bags. Look for a set that you like, some even have a small cutting board, and a chef knife included. Along with utensils, you will need a manual can opener. You may also want to consider bringing measuring cups and spoons just in case. If you are using things you already have from home, make sure to bring sheathed knives for safety reasons and make transportation and storage easier. You can even pack all your kitchen utensils in a small storage box to keep next to your camping stove while you're cooking. Hang a trash bag near the cooking station, and be sure to dispose of trash nightly to avoid a run-in with any wildlife creatures.
Consider having a mess kit for everyone in your group. Doing this will save extra room since you won't have to lug around paper plates, bowls, and cups. There are various types of mess kits, so find one that suits your needs. Since you should only need to buy them once, it will save you time and money on future camping trips. Each individual should be responsible for washing their mess kit. To make this process simple, bring a collapsible sink, scrubber, and dish soap with you. Having a large jug of water nearby is also a good idea to avoid filling up the water daily. It is also helpful as a hand washing station, so bring a bottle of hand soap or put a bar of soap in some nylon pantyhose for everyone to use.
You can't fully enjoy the camping experience without a campfire. Bring some form of fire starter with you to save time and energy once you arrive at the campsite. Along with that, a set of extendable roasting sticks are perfect for roasting marshmallows and hot dogs over the fire. These are simple to store during the trip and will allow you to remain at a safer distance from the fire. If you want to cook easy campfire meals, purchase some heavy-duty aluminum foil so the food can remain secure inside the foil packets.
As far as seasonings go, consider storing them in pill organizers and label each section accordingly. That way, you have enough for your needs during the trip without bringing your entire rack of spice bottles with you. Lastly, bring empty tupperware containers and various sizes of zip lock bags to store any leftovers.
We hope this list has been helpful and wish you a wonderful camping season this summer. Stay safe out there and have fun enjoying time in the great outdoors with family and friends.