A Picturesque Guadalupe Mountain Drive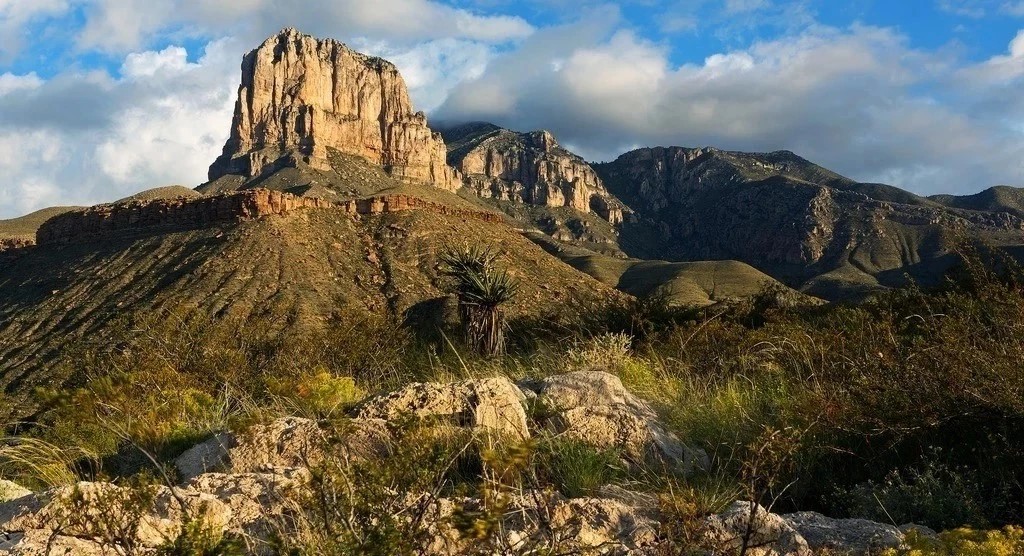 The southwest portion of the United States offers a large quantity of the most ridiculously scenic landscapes and outdoor adventure that you will have the opportunity of finding. The Guadalupe Mountain Range stretches from southeastern New Mexico and into western Texas, and this road trip will take you along the incredible scenery and various charms that can be found along this route. This drive spans about 450 miles in a loop and will take at least eight and a half hours to complete, but you will certainly want to take plenty of stops along the way to take in all of the experiences and natural marvels that this route has to offer. You will have the chance to see national parks, immense mountains, and prehistoric wonders when you embark on this journey.
Aguirre Springs to Alamogordo
We will be beginning in Aguirre Springs, New Mexico to kick off our journey to El Paso, Texas. The jagged Organ Mountains encircle this region of New Mexico, and there are heaps of outdoor recreation opportunities at your fingertips here. Pine Tree Trail is 4 miles and a favorite hiking path here, as it takes you along babbling streams and up above the beautiful Tularosa Valley. If camping is among your favorite activities, there is a wide variety of sites to choose from around the Aguirre Springs National Recreation Area.
Once you are done exploring Aguirre Springs, head northeast for about an hour until you reach the town of Alamogordo. Alamogordo is arguably one of the best stops along this entire expedition, as it is where you will find White Sands National Park. This park is a breathtaking expanse of pure white gypsum sand dunes, the largest that exists in the world. You can either explore the vast dunes or take the 16-mile-long Dunes Drive through this badland. You will surely want to snap some pictures of the striking white gypsum crystal dunes that contrast against the bright blue sky.
You will also find the New Mexico Museum of Space History in Alamogordo, which is the perfect way to escape the hot sun and to gain some knowledge about the history of American space exploration. Meander through the various exhibits and other displays here and learn a thing or two about the space programs in the United States.
Alamogordo to Three Rivers Petroglyph Site
From Alamogordo, you will drive about 30 miles north until you reach the Three Rivers Petroglyph Site. This location is truly remarkable due to the sheer number of ancient petroglyphs that date back thousands of years. There are thousands of various artifacts that display carvings done by Jornada Mogollon people on them. This site is one of the most accessible places where you can experience such relics, and there are hikes and other outdoor activities you can enjoy here before heading on your way.
Three Rivers Petroglyph Site to Carrizozo
After you are done exploring the Three Rivers Petroglyph Site, travel another 30 minutes north to the town of Carrizozo, New Mexico. The Valley of Fires is a region that consists of 125 square miles of molten lava rock. Little Black Peak erupted around 5,000 years ago, earning it the title of one of the most recent lava flows in the United States. There are nature trails here where you can observe bountiful wildflowers, cacti, and wildlife.
The Tularosa Basin Gallery of Photography is situated in Carrizozo as well, which is an ideal spot to check out if you are a lover of all things photography and desert landscapes. This is the largest photo gallery in all of New Mexico, and it is definitely worth perusing if you have some extra time available.
Carrizozo to Roswell
Next, you will direct yourself toward Roswell when you are finished discovering Carrizozo. You can easily make a stop in Lincoln, New Mexico if you are looking for a cozy accommodation after so much traveling. The Wortley Hotel is in the town of Lincoln and has been standing for 140 years now and is bordered by rolling hills and peaceful desert backdrops. The Smokey Bear Historical Park is a wonderful setting to bring a picnic and to walk around the gardens that are planted here, and you can also see the final resting place of Smokey Bear and learn important facts about fire safety and prevention.
Roswell is an aged western town that is about one hour from Lincoln. Roswell is known for having numerous claimed alien encounters, and there is even a museum located here where you can dive into the world of UFOs and extraterrestrials, known as the International UFO Museum. The Roswell Museum and Art Center is worth a visit, as well, which boasts a planetarium and mass amounts of information regarding the incredible culture of the southwestern region of America.
The Bitter Lake National Wildlife Refuge is just outside of Roswell, and hundreds of different species of birds and other wildlife call this place home during certain times of the year. Expect to see cranes, bobcats, and foxes within the Bitter Lake National Wildlife Refuge. This scenic area is ideal if you love the outdoors and seeing loads of wild animals in their natural habitat.
Roswell to Carlsbad
From Roswell, continue on to Carlsbad, where you will come across the fascinating Carlsbad Caverns National Park. You will undoubtedly want to make a stop at this park to explore the incredible maze-like underground cave systems here. A guided tour can help you learn all about the various staggering limestone rock formations that were shaped over millions of years. You will have the opportunity to see stalagmites and stalactites throughout the nearly 100 caves that are situated here.
The Trinity Hotel and Restaurant is a superb place to wind down, grab a delectable bite to eat, and rest up before finishing the last leg of your journey through New Mexico into Texas. This is a historic building with an exquisite and welcoming atmosphere that will leave you more than content and restored.
Carlsbad to El Paso
The last stretch of our journey has you traveling about 3 hours from Carlsbad to El Paso. This portion of the drive will finally take you through the spectacular Guadalupe Mountains. Guadalupe Mountains National Park is nearly 80,000 acres and it consists of countless miles of trails, stunning mountain scenery, and expansive plains that bloom with delightful wildflowers in the springtime. If you only have time to take on one hike here, make sure it is up Guadalupe Peak. Guadalupe Peak is the highest point in Texas, and you will be rewarded with lovely panoramic views of the adjacent and outright gorgeous landscapes. Be sure to bring plenty of snacks and refreshments to enjoy along the way and at the summit!
Once you make it to El Paso, you have reached the end of your expedition. El Paso is a thriving city with incredible food, culture, and locals. Hotel Paso Del Norte is a luxurious space in El Paso that will without a doubt rejuvenate you after days of traveling through New Mexico and Texas. Rest up from all of the thrilling adventures you have had over the last several days and spend some quality time seeing what El Paso has to offer. Museums, zoos, and parks are scattered all throughout the city, so there is something for every type of traveler.
This ends our epic road trip from the southeastern portion of New Mexico to west Texas, where we traveled through limitless deserts, lofty mountain ranges, and vast meadows. There are countless combinations of stops you can make along this route, and that is the beauty of road trips. Do not be surprised if you are now even more inspired to keep wandering through the marvelous United States after taking on this lengthy road trip through this region and the magnificent Guadalupe Mountains.