A Magnificent Road Trip Circling Mount Rainier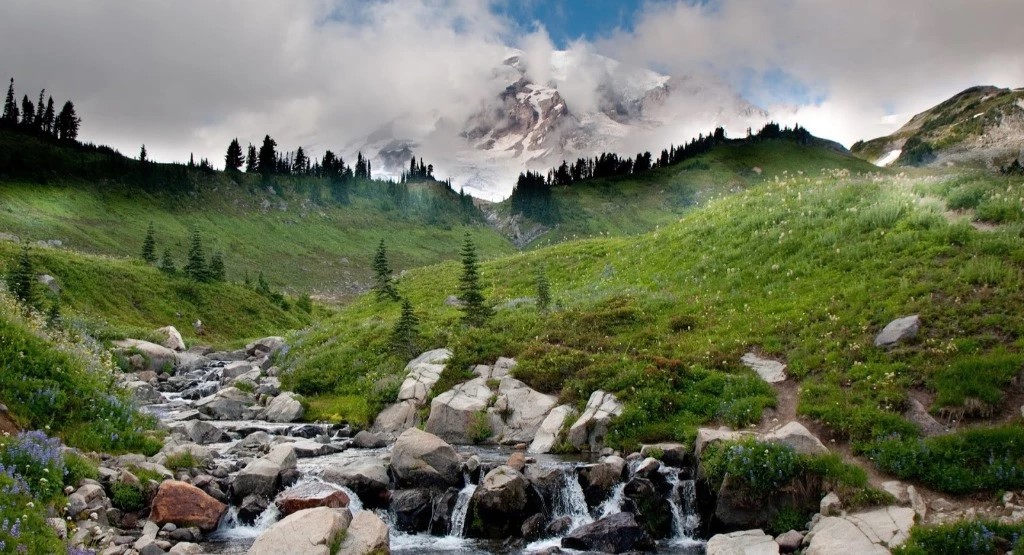 Mount Rainier is a 14,400-foot monstrosity just outside of the city of Seattle, Washington. Mount Rainier is situated within Mount Rainier National Park and just so happens to be an active volcano. Positively stunning vistas and life-changing surroundings will greet you at this park, and there is even a way to road trip around this colossal mountain so that you can experience as much as possible and without letting the peak out of your sight. The road trip loop we have prepared for you is around 200 miles and will take roughly 5 hours from start to finish, but there are numerous points of interest along this route you will not want to miss. Part of this route is only accessible during the summer months, so be sure to factor this in if you are planning on taking this excursion. Whether you are into photography, hiking, or just want a scenic getaway, we have mapped out a road trip itinerary encircling this mountain for you to enjoy.
Tacoma to Federation Forest State Park
We will start our journey in Tacoma, Washington, heading southeast along Wash. 167, through the quaint town of Enumclaw. This town makes for a great place to grab a bite to eat to start your day and to check out the hiking trails and parks that are scattered throughout this town.
Continue on the scenic road for about 20 minutes until you reach Federation Forest State Park, the first official stop on our journey. This state park is chock-full of lush hemlock, spruce, and cedar trees, and you will find the stunning White River flowing through the grounds of this land. There are many miles of trails that wind through this park that is definitely worth checking out. There are multiple species of birds that call this forest home, such as eagles, owls, and woodpeckers, so bring your binoculars if you appreciate the hobby of birdwatching.
Federation Forest State Park to Sunrise
Once you have completed all of your exploring through the beautiful Federation Forest State Park, continue along the route towards Sunrise, Washington. You will find Skookum Falls along this portion of the trip, which is a dazzling 250-foot double-tiered waterfall that you can get an up-close and personal view of by taking a short, yet scenic, hike. Jagged rock faces and lush plant life frames these falls, you will hardly be able to believe your eyes at the sight.
Drive a few more minutes down the road to the town of Sunrise, a town that is almost too good to be true. You will officially be in Mount Rainier National Park when you reach Sunrise, and this happens to be the tallest location that you are able to drive within the park. You will likely not be able to peel your eyes off of Mount Rainier and the surrounding Cascade Mountain Range from this vantage point, and we do not blame you. This town is shrouded with spectacular wildflower meadows and evergreen trees.
There are a number of hiking trails, picnic spots, and scenic viewpoints throughout Sunrise, so definitely take advantage of these features before continuing on. You can find the Sunrise Visitor Center here, as well, which is able to offer guests more in-depth information on the fascinating topic and history of Mount Rainier. The Sunrise Day Lodge is a pleasant place to acquire some sustenance to enjoy in the lovely surroundings that Sunrise provides.
Sunrise to Paradise
After taking in all of the beauty within Sunrise, head southwest towards Paradise, Washington. The Grove of the Patriarchs is situated along this portion of the route, an old-growth forest with the fabulous Ohanapecosh River flowing through it. You will not want to miss out on taking the short hike through this enchanted forest, where you will be amidst 1,000-year-old Douglas-fir and cedar trees.
A few more minutes down the road is where Box Canyon lies, a stunning chasm that has been carved by the rushing Cowlitz River. There are numerous viewpoints you can obtain of this canyon, as well as a great picnic area that allows you tranquil views of the comforting nature here. Swing by Reflection Lakes for the opportunity to see Mount Rainier in all its glory mirroring in this divine body of water. You will not be able to stop yourself from reaching for your camera to document this dreamlike scenery.
When you finally reach Paradise, you will easily understand how this area got its fitting name. Receive a new perspective of Mount Rainier from this region; meander around this storybook town, under the brilliant blue skies and through the marvelous meadows, and discover a new sense of peace like none other. This is the place to make arrangements to stay overnight if you are intending to space your road trip over the course of a couple of days, and the best place to do so is at Paradise Inn, which was built in 1917. This is a rustic lodge that will fulfill all of your desires for comfort, relaxation, and utter peace and quiet.
Before heading out of Paradise, take a stroll along the Nisqually Vista Trail, a path that will take you near the Nisqually Glacier, which happens to be one of the largest glaciers along the face of Mount Rainier. Afterward, stop by the Henry M. Jackson Memorial Visitor Center to experience the exhibits and to snag a bite to eat.
Paradise to Longmire
It will likely be difficult to finally leave Paradise, but once you do, drive to the town of Longmire. This section of the drive is strikingly gorgeous as it twists through thick forests, past waterfalls, and under towering rock formations. Pull your car over at Narada Falls, a cascading 168-foot waterfall that will blow you away with the vibrant rainbows that the mist and reflections create. Continue on until you reach Longmire, a town that is complete with a museum, numerous hiking trails, and a lodge that is full of history.
The Trail of the Shadows can be located in Longmire, a path that allows you to discover some of the hot geothermal pools that call this region home. You might even be fortunate enough to encounter some curious marmots in the meadows surrounding this trail. Catch more glimpses of Mount Rainier throughout Longmire and before proceeding onto the last leg of our road trip.
Longmire to Tacoma
The last stretch of our journey is from Longmire back to Tacoma, which is about an hour and a half. If you still crave some outdoor adventure, make a stop at Lake Kapowsin for beautiful landscapes and for the chance to try your luck at catching some yellow perch and rock bass.
With Mount Rainier on the horizon, head into Tacoma to end your expedition around this transcending volcano. Tacoma has several neat attractions within it, such as the fascinating Museum of Glass and the lovely Wright Park. Tacoma is a wonderful place to explore and to end your long journey through the wilderness that surrounds Mount Rainier with some tasty food and comfortable accommodations to rest up in.
This concludes our picturesque and adventurous voyage around Mount Rainier. Each stop you make along this route will undoubtedly compel you to fall more in love with this region of the United States, and you will deeply crave the tranquility and calm that you will come to know so well after so much time spent in this incredible environment.