7 of the Best Springtime Destinations in the US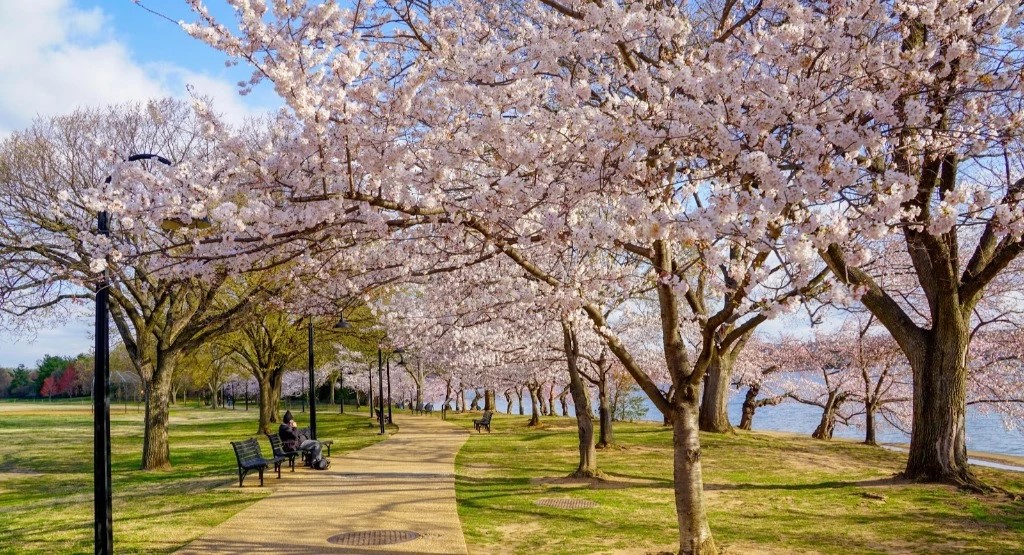 Springtime is finally approaching here in the United States, which means longer days with more daylight, warmer weather, and brilliant new life surfacing all over. Whether you want to escape to a tropical destination the instant it's warm enough or go somewhere with vast valleys of rolling hills of dazzling wildflowers, we have compiled a comprehensive list for you that covers the best springtime destinations all throughout the country.
Texas Hill Country
One of the most iconic destinations in the United States during the spring months is the Texas Hill Country, which is located just west of the city of Austin, Texas. This region of Texas is comprised of 31,000 square miles of vast countryside, rolling hills, and valleys that have staggering limestone and granite rock formations towering over them. There are tons of experiences waiting to be had in the Texas Hill Country, from biking among the dense fields of wildflowers and bluebonnets along the Willow City Loop, going on a horseback riding adventure through the serene countryside, or paying a visit to Ladybird Johnson Wildflower Center. The Texas Hill Country has pleasant average temperatures around 60 and 85 degrees, and it is full of wonderful outdoor springtime activities for the entire family to enjoy.
Park City, Utah
Mountainous Park City, Utah might be typically known for its ideal conditions in the winter for activities such as skiing and snowboarding, but this lovely region is also one of the most beautiful springtime destinations in the country, as well. Depending on what pastimes you are looking for in Park City, it will make sense to either go earlier in the spring (March and early April) if you want to take advantage of having some snow, or later on (late April through May) for warmer weather that will allow you to enjoy hikes and other outdoor activities. The spring is also when this city begins slowing down after the rush of tourism that the winter months bring, so there is a much more laid-back atmosphere throughout the area. The Lost Prospector Trail is typically cleared from snow by the time spring hits, and this is a fantastic hike along a lush green ridgeline above Park City that offers outstanding and scenic views of the valley below.
Washington D.C.
During the spring, the country's beautiful capital city of Washington D.C. bursts with color from the thousands of cherry blossom trees scattered about. With the weather staying around the 60s and 70s here in the spring months, Washington D.C. truly makes for a pleasant getaway during this time. Tidal Basin is undoubtedly the spot to head to when in Washington D.C. between March and May, as this is the primary region that erupts in over 3,000 bright pink cherry tree blooms. Even better, visitors can see monuments like the Jefferson Memorial and Washington Monument serving as the backdrops to this unbelievable cherry blossom sight, so you will definitely not want to forget your camera so you can capture the sheer beauty.
Holland, Michigan
While the Netherlands is arguably one of the most sought-after springtime travel destinations with its endless fields of blooming tulips, the United States has their own little taste of this northern European spot in the state of Michigan. Holland, Michigan is located in the western portion of the state, and it received its name from Dutch immigrants that made their way here in the 1800s. Holland, Michigan is a quaint town that holds its very own tulip festival each May for the entire month, known as the Tulip Time Festival. The town lights up with vividly colored tulips in the delightful downtown area and various gardens throughout, making this such an ideal springtime destination to explore. Walking around this charming town and participating in the plentiful activities, watching the parades, and checking out the authentic 200-year-old windmills in Holland might just make you forget that you're not actually in the Netherlands.
Asheville, North Carolina
The next lovely spring destination we have on our guide is Asheville, North Carolina. Nestled among the undulating Blue Ridge Mountains, this town is becoming a highly sought-after destination year-round, but it is especially phenomenal to visit during the spring months. Not only is the weather in a super pleasant range between 60 and 70 degrees, but the countless trails and parks here are ignited by stunning native wildflowers and teeming with fascinating wildlife. The Biltmore Estate, which is a striking Victorian estate that is comprised of thousands of acres, is one splendid place to swing by if you make your way here between March and May. The numerous gardens at the estate are blanketed in rose and other seasonal blooms, making it a wonderful place to leisurely stroll through and take in some deep breaths of fresh air. The North Carolina Arboretum is another extraordinary place to stop by when in Asheville during this time of year, as it boasts 65 acres of picturesque landscaping and an unbelievable quilt garden that can be appreciated via an observation deck.
Crested Butte, Colorado
Crested Butte, Colorado is another iconic winter destination for the skiing and snowboarding opportunities available here, but it is an equally iconic spring destination, as well. When the snow starts to melt and the winter tourists start to leave, the nature in Crested Butte comes to life and absolutely flourishes. Crested Butte is located pretty centrally in the state, among the towering Rocky Mountains and with the Slate and Gunnison Rivers winding through it, there are ample opportunities to get outside and relish in the crisp spring air. Fly fishing, paddle boarding, white water rafting, and hiking are all extremely popular pastimes during the warmer spring months in Crested Butte, so definitely consider making your way here if you crave a piece of the rugged outdoors after a harsh winter.
Key Largo, Florida
A springtime travel destination guide would not be complete with at least one tropical getaway included. Key Largo, Florida is an incredibly charming place just off the primary landmass of Florida that has everything you could ever need for a warm and peaceful getaway in the Sunshine State. When in Key Largo, you are never far from the water or from some of the freshest seafood that exists anywhere. John Pennekamp Coral Reef State Park is right off of Key Largo, which is a massive park consisting of 178-acres of protected coral reefs for visitors to respectfully explore and appreciate. If you have ever dreamed of swimming among sea turtles and hordes of tropical fish, you will not want to pass up a visit to this exceptional park. The Dagny Johnson Key Largo Hammock Botanical State Park and the Florida Keys Wild Bird Center can also be discovered in Key Largo, which are ideal places to stop by in the spring months to see all the new and thriving plants and wildlife up close and personal.
One of the most amazing things about the United States is the fact of how utterly vast and diverse the various landscapes of this country truly are, from immense rocky canyons to dense evergreen forests and then to white and powdery sand beaches. While each season brings a new essence of beauty to every region of the United States, this guide is comprised of a few of the truly exceptional springtime destinations situated throughout this great country.