6 of the Most Magnificent Hikes Throughout Oregon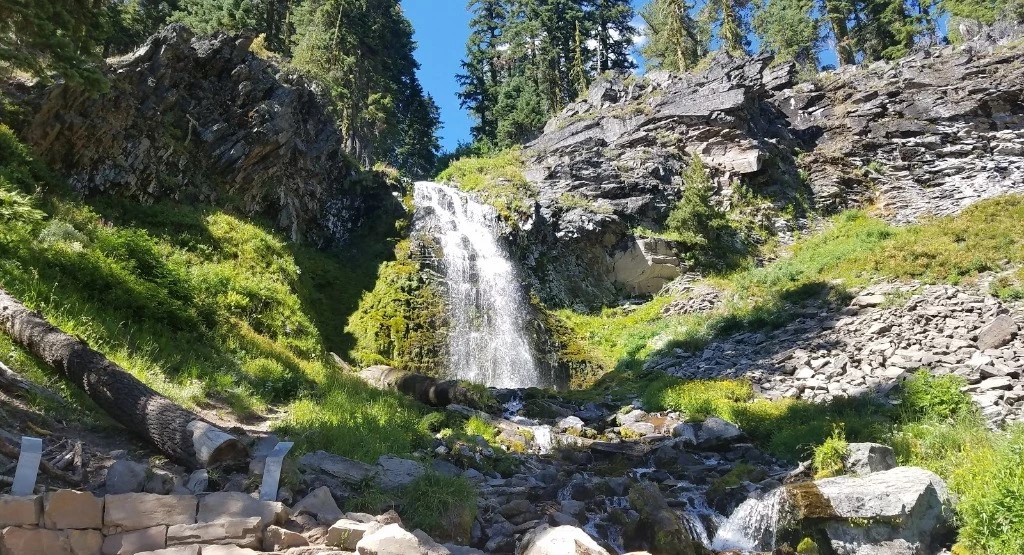 The state of Oregon is known for having some of the absolute best natural wonders in all of the US, as it is brimming with an abundance of lush forests, shimmering waterfalls, rocky mountain cliffs, and overall stunning vistas. Hiking is an activity that brings us so much closer to nature and is one that is able to create a much deeper level of appreciation for this great planet that we live on. Whether you live in Oregon or are simply visiting, the trails around this breathtaking state are without a doubt worth exploring at some point. There are countless trails throughout Oregon, but we have compiled a list of some of the very best available. If you are a seasoned hiker or just want a trail that anyone can traverse, there is one that is listed for you.
Ecola State Park
Ecola State Park is located in the western portion of Oregon, right along the gorgeous coast here. The park has five main trails ranging from moderate to hard within its 1,024 acres of land, and you truly cannot go wrong with any of them. The Ecola State Park to Indian Beach Trail is a fantastic choice for any level of hiker. This trail is a 4.3-mile out-and-back hike that will take you through old-growth spruce forests where you will likely see many different bird and wildlife species, and it will come to an end at beautiful Indian Beach. Traverse through fields of vibrant wildflowers, receive views of the numerous beaches surrounding the region, and snap some pictures of an old lighthouse, named "Terrible Tilly," that is situated on a cliffside at Indian Beach during your time spent discovering this trail. Spend some time hanging out on the beach and taking in the refreshing sea breeze before heading back the way you came on the trail.
Cascade Head Trail
The Cascade Head Trail is one that is undoubtedly worth taking on if you find yourself in the northwestern region of Oregon and with the urge to immerse yourself in an extraordinary environment. This trail is 6.3 miles out-and-back, and it is best to hike this trail in the months between March and October when the weather is optimal and the wildlife is at its peak. Expect to see an abundance of brilliant-colored wildflowers in the meadows, magnificent spruce trees in the forests, native butterflies fluttering around, and bird-eye views of the ocean below from various cliffs. Certain portions of the trail are closed from January to July, so be sure to keep this in mind if you are planning to pay your visit during this time.
Silver Falls State Park
This would not be a list of the best trails to hike in Oregon without mention of the glorious Silver Falls State Park. In Silver Falls State Park, there are 17 different trails visitors can embark on for maximum adventure and unbelievable sights. The trail you absolutely do not want to miss when you are here is the Trail of Ten Falls, and the best season to hike it is during the spring or the summer. On this hike, you will be met by 10 magnificent waterfalls in the nearly 8-mile loop that makes up this path. Hikers will have the chance to amble through dense evergreen forests and to stand right behind a rushing waterfall, which is an experience like none other. South Falls is the massive 177-foot waterfall found on this hike, which is the one that the trail passes under. Any of the trails in Silver Falls State Park provide out-of-this-world sights that will leave you speechless as well as photo opportunities you cannot get just anywhere.
Multnomah Falls to Wahkeena Falls Loop
The Multnomah Falls to Wahkeena Falls Loop is in northern Oregon and is another trail that boasts unreal views of numerous waterfalls that are surrounded by mossy green cliffs. This loop is 9 miles and is rated as moderately difficult, and dogs are allowed to join in on your explorations here. Hikers will come across six various waterfalls, and each one is more beautiful and divine than the last. Multnomah Falls is a staggering 600 feet of absolute splendor, and Wahkeena Falls is 242-feet of captivating beauty. There are numerous lookout points along the trail, such as Lemmons Viewpoint, which provides astounding sights of the Columbia River below. As you hike through the enchanted forest that this trail twist through, you might even be fortunate enough to come across a pika, which is a small mammal similar to a rabbit. The surroundings of this trail burst with breathtaking wildflowers and other flora in the spring and summer, as well. Bring some trail snacks and a camera to capture the sheer beauty that makes up the Multnomah Falls to Wahkeena Falls Loop.
Plaikni Falls
The next trail we have is the Plaikni Falls trail, which is on the easier side at 2 miles roundtrip, and it features another spectacular waterfall. You can find this trail in the southwestern region of the state, and you will definitely not want to miss this hike if you are in the area. Along this hike, you will navigate through old-growth forests that will seriously mesmerize you and create a sense of pure tranquility. The end of the trail showcases Plaikni Falls, a waterfall that plummets over a rocky cliff that is bordered with lush green grass and splendid pine trees. You will likely want to snag a shady spot and just take in the dreamlike surroundings at Plaikni Falls for a while before heading back out.
Deschutes River Canyon Trail
Lastly, we have the Deschutes River Canyon Trail, a dog-friendly trail that is located in the central portion of Oregon. The Deschutes River Canyon Trail is a 5.3-mile loop that presents remarkable opportunities to see a fair amount of the lovely Deschutes River. The spring and fall months are the best when it comes to the surrounding foliage, but you really cannot go wrong since the views are always immaculate. Rolling mountains, thriving pine trees, the rushing Deschutes River, and historical farmhouses can all be seen along this wonderful trail. It would not be a bad idea to pack a delicious lunch and post up at a picturesque spot along the Deschutes River for a picnic that is definitely hard to beat in the scenery.
You have hopefully gained some inspiration for hikes to try out in the unbelievably gorgeous state of Oregon, and there are still plenty more than the ones we have listed off for you today. Hiking is something that is great for the mind, body, and soul, and there is hardly a better place to pick up or enjoy this hobby than this spectacular outdoor haven.