The Great Northern Road Trip Series - Part 5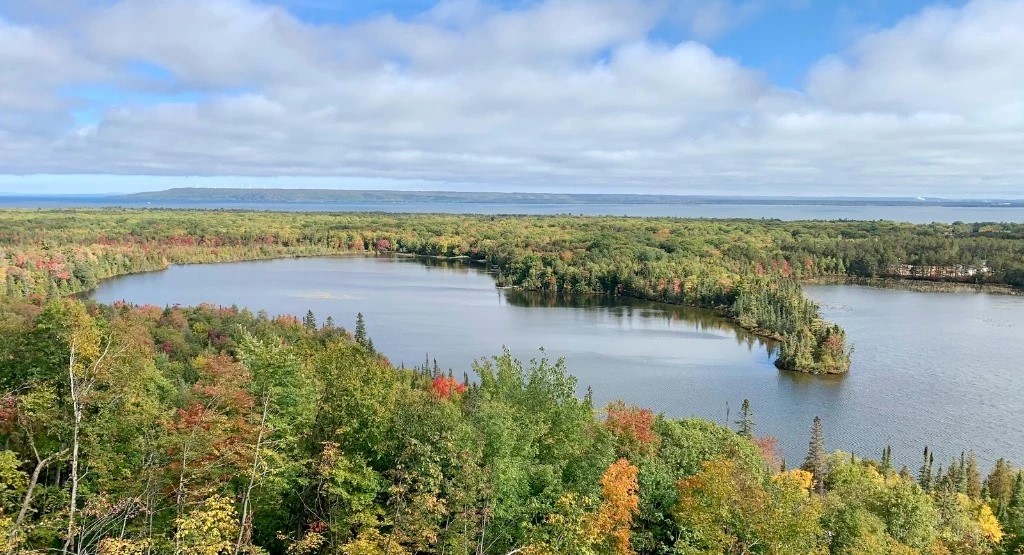 There are plenty of amazing stops on your way from Devils Lake in North Dakota to Hiawatha National Forest, which is the next leg of your journey across the Great Northern route. We've outlined the top spots you don't want to overlook during this stretch, bringing you to some truly breathtaking parks and landscapes.
The Hiawatha National Forest, which is where we'll wrap up this part of the trip, has a lakeside location that distinguishes it since it contains various wetland habitats, making it perfect for recreational activities. The forest is well-known for its healthy ecosystems and memorable experiences. Camping, hiking, and watching natural creatures are just a few of the activities available in the forest. Let's dive into the remarkable stops you'll come across on this 630-mile section.
Grand Forks ND
Grand Forks, located roughly 80 miles south of the Canadian border along Interstate 29, is home to one of the country's best collegiate hockey teams as well as the Grand Forks Air Force Base. Here are some of the top places to see and things to do in this fascinating city.
The North Dakota Museum of Art
The North Dakota Museum of Art, which features everything from modern Native American life to Chinese vases, encourages visitors to broaden their perspectives of art.
Tour The Ralph Engelstad Arena
The Fighting Hawks have won seven national championships and developed hundreds of professional hockey players, making them one of the greatest college hockey programs in the country. A tour of the Ralph Engelstad Arena, whether or not you are a hockey enthusiast, is a must when visiting Grand Forks.
Kellys Slough National Wildlife Refuge
Kellys Slough National Wildlife Refuge, about 20 minutes west of Grand Forks, is home to over 300 bird species and is a great spot to get some fresh air and go bird watching.
Glacial Ridge National Wildlife Refuge
This is the nation's largest tallgrass prairie restoration initiative, involving nearly 30 groups. The project is located about 20 miles east of Crookston along the Glacial Lake Agassiz beach ridge, with the purpose of protecting remnant sections of native prairie, as just about 1% of native prairie remains in Minnesota.
Thousands of migratory Sandhill cranes, a plethora of prairie flowers, and a serene view of the grassland landscape can be enjoyed by visitors who can observe prairie fowl from blinds. This refuge was formed in October 2004.
Lake Bemidji State Park
This popular state park, which is located on the north end of Lake Bemidji, offers sunsets over the water, as well as strolls through the pines, spring flowers and fall colors in the maple forest, and a remarkable bog walk that winds through the realm of a spruce-tamarack bog with its scarce orchids and insect-eating plants. All ages are attracted by the sandy beach, hiking and biking paths, boat, canoe, and kayak rentals, children's playground, volleyball field, and year-round naturalist activities.
During the summer, there is a 95-site campground with a fill/dump station, as well as modern facilities and showers. Up to 35 campers can be accommodated at the Bass Creek group site. Four camper cabins are nestled in the woods and provide year-round electricity.
Cass Lake
Cass Lake is the largest of the eight lakes that make up the Cass Lake system, located about northeast of the same-named city. With 26.9 miles of forested shoreline and sandy beaches, the panorama on the 15,596-acre lake is breathtaking.
Cass has excellent walleye, northern pike, and perch numbers. Anglers that target muskies love it as well. In recent years, the yellow perch catch has increased significantly, with perch reaching 10 to 11-inch lengths. Cass Lake is usually on people's lists of the best fishing spots in Minnesota, so make sure to check out the various lakefront lodges on Cass.
Chippewa National Forest
A starry night in the backcountry to a constructed campsite with paved bike trails and hot showers are all options for camping in the Chippewa National Forest. There are 21 campgrounds and 100 backcountry camping spots in the Chippewa National Forest. Developed campgrounds range from electric and running water sites to rustic campers with vault toilets and hand pump water wells. A picnic table, fire ring, and tent pad are provided at each campground.
Both tent and RV sites are available. Sites in the backcountry can be reached by foot, boat, or car. Campers get to choose what they want to do! Visitors are welcome to camp at any time of year, however, the majority of constructed campgrounds are available from May to September, with three campgrounds remaining open until mid-October.
Judy Garland Museum
Judy Garland's 1925 childhood home was restored and is now recognized as the Judy Garland Museum. The Land of Oz exhibit, which includes the carriage used in the Wizard of Oz and originally owned by Abraham Lincoln, as well as Dorothy's authentic test dress, is located adjacent to the museum.
Brule River State Forest
The famed Bois Brule River, one of the finest rivers east of the Mississippi, runs through the Brule River State Forest for 44 miles. It has been regarded as a superb trout stream for almost a century. Brook, brown, and rainbow trout live in the Brule River. Brown and rainbow (steelhead) trout from Lake Superior, as well as Coho and Chinook salmon, move up the Brule every year. The river has two unique identities of its own. The upper (southern) river flows over miles of coniferous bog and is nourished by several springs.
When the river crosses the Copper Range, it begins a 328-foot drop to Lake Superior over the next eighteen miles. Flashing cascades stream down between steep river bluffs forested with aspen and balsam fir, and over boulders and ledges. Pets are welcome in Wisconsin State Parks, but they must always be kept on a leash and under control. Pets may be prohibited from some regions.
Kimball Falls
Kimball Falls is located in the town of Kimball, Wisconsin. Driving west on US 2 from Saxon Falls to Peterson Falls, you'll notice a little sign indicating Kimball Falls on the south side of the road. Kimball Falls is a minor set of rapids located within a small park. It's less than a mile from US 2 and quite easy to get to, so stopping by won't take long, and it'd be a wonderful place to stop for lunch. The Peterson Falls sign is similar to the Kimball Falls sign, but Peterson Falls is significantly more stunning.
Ottawa National Forest
The Ottawa National Forest covers about one million acres in Michigan's western Upper Peninsula. The forest stretches from Lake Superior's south shore to the Wisconsin state line. Wildlife watching possibilities abound, as do stunning views of undulating hills filled with lakes, rivers, and waterfalls, as well as spectacular fall foliage. However, you must see it to believe it—come to Ottawa!
Lakenenland Sculpture Park
Lakenenland Sculpture Park is located in Marquette County, Michigan, 15 miles east of Marquette. This is a one-of-a-kind outdoor sculpture gallery/museum that you can stroll through or even drive through. Tom Lakenen has created over 80 magnificent sculptures out of discarded iron welded into gigantic pieces of art. With a pond, covered shelter with a fireplace, and a small playground, this is a fun spot to explore. The park is always available to the public and is free of charge. Donations are always gratefully accepted.
Hiawatha National Forest
Hiawatha National Forest, which covers a substantial chunk of Michigan's upper peninsula, has shorelines on three of the five great lakes. There are many possibilities to admire the lakeshore and water with accessibility to Lake Superior, Michigan, and Huron. The wonderful woodlands, on the other hand, should not be overlooked, and the great lakes are not the only waterways to explore.
The North Country Scenic Trail winds its way through the National Forest, providing plenty of possibilities to stretch your legs. The Whitefish Bay National Forest byway runs along the beaches of Lake Superior and connects visitors with the natural beauty and cultural history of the area if you're driving in your campervan.
Six historic lighthouses are located within the boundaries of this National Forest on the United States' third coast, providing beautiful day outings in your RV with stunning views of the Great Lakes. Inland hiking trails, lakes, and rivers encourage RV travelers to spend peaceful days and nights that gradually cool and are ideal for curling up over a campfire. There are lots of spots to park your RV in the National Forest, which has 18 campgrounds. We've highlighted three fantastic places to visit with your camper to find calm woodlands, gorgeous rivers, and lakeside beaches you'll never want to leave.
This section of the road trip is one of the longest, but we think it's one of the most exciting and visually stunning portions in the whole journey. The national forests and parks offer some of the most beautiful surroundings for days you need to get outside for some peace and serenity and the museums offer insight into these regions' intriguing histories. The adventures aren't over yet, though, so get ready to embark on your next exciting experiences as we near the state of Maine.