How To Spend a Long Weekend In New Orleans, Louisiana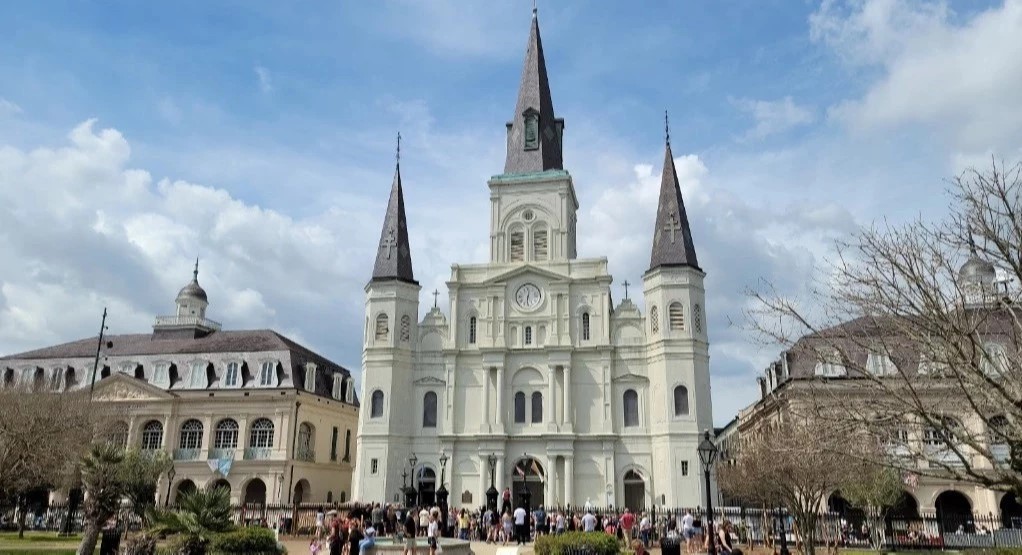 Historical and contemporary New Orleanians have shaped the city into what it is today. New Orleans, as one of the South's oldest port cities, has always been a melting pot, with affluent and free individuals, natives, French creoles, Irish settlers, and modern-day bohemians all making their mark. This city is the birthplace of Mardi Gras, branded "the world's largest free gathering," as well as jazz music. This is a city where art is created for the sake of art, where exquisite handcrafted floats and outfits are created to be shown for one day only before being recycled for the subsequent year. A city that has an intensely local community, where a hometown band can often draw a larger crowd than a headliner.
Day 1
St Louis No 1 Cemetery Tour
Start your journey by visiting the St Louis No. 1 Cemetery, which is located just behind the French Quarter. Even when it comes to burying their dead, New Orleans tends to do things slightly differently. Here, you will find the graves of Marie Laveau, the Voodoo Queen, and Homer Plessy, a civil rights activist during the Jim Crow era. You can also discover how Easy Rider (1969) relates to the Catholic Church's prohibition on filming in cemeteries while here.
Wander the French Quarter
Getting lost in the French Quarter is one of the best things to do while in New Orleans. Explore Royal Street for world-class galleries such as Myth Gallery and adorable boutiques such as Fleurty Girl. Take a detour to Bourbon Street and procure a hurricane from Lafitte's Blacksmith Shop, the country's oldest continuously operating bar. Madame John's Legacy, a free-to-enter 1700s creole home, is a must-see. If the St. Louis Cathedral is open, go inside to see one of New Orleans' most popular 1700s structures. Take a stroll around Jackson Square to see the numerous artists who have set up shop there. Lunch can be had on the Riverwalk while overlooking the Mississippi River at Central Grocery, which serves the original muffuletta.
Day 2
Stroll Through the Mansions of the Garden District
You can start the day by strolling the Garden District and peering inside Lafayette Cemetery No. 1 and praising the dazzling, emerald green facade of Commander's Palace, which was built by renowned New Orleans restaurateur Ella Brennan. Take a walk to the opposite side of the cemetery, where Jackson Avenue is located. On Prytania Street, across from the Louise S McGehee School, visit Toby's Corner, the Garden District's oldest home. Make a point of visiting the Buckner Mansion, on the corner of Jackson Avenue and Coliseum Street, which is the biggest pre-Civil War home in the Garden District.
Explore Magazine Street
For lunch, go to Turkey and the Wolf, which was crowned the best restaurant of 2017, Stein's Deli for the best pastrami sandwich ever, or Lilly's Café, which is a favorite for Vietnamese food from Buckner Mansion. Then take a stroll down Magazine Street to look for trendy boutiques and dive bars, or go to the Great American Alligator Museum. Keep in mind that Magazine Street is 6 miles long, so don't feel compelled to see it all. When you have had your fill of wandering, hop in a cab or take the St Charles Streetcar uptown to Saba for some of New Orleans' finest Mediterranean cuisine. Be sure to make your reservations in advance!
Music on Frenchmen Street
To enjoy live music, take another ride from Saba to Frenchmen Street. Take another rideshare from Saba to Frenchmen Street for some live music. Allow your senses to guide you into the diverse bars along the street as you stroll. You will encounter everything including classic jazz at Snug Harbor, to electronic dance music at Dragon's Den. One of the most common myths about New Orleans' music scene is that it is entirely comprised of jazz. New Orleans has a thriving and diverse music scene that has produced artists such as The Givers, Galactic, The Revitalists, and Sweet Crude. Every night, WWOZ publishes a list of what music is playing.
Day 3
Beignets in the Park
It is finally time for beignets! For beignets and café au lait in the morning, head to Café du Monde in City Park, which is more scenic and far less crowded than Café Du Monde's other location in the French Quarter. Pay a visit to the Sydney and Walda Besthoff Sculpture Garden at the New Orleans Museum of Art, located in the city's biggest park, and flee to one of the city's magnificent museums. The Louisiana Children's Museum, the New Orleans Botanical Garden, and the New Orleans Museum of Art are all worth visiting, as well. For a late lunch, walk along the bayou to Parkway Bakery & Tavern and order their iconic po' boys.
The Perfect Evening
For dinner, visit Bacchanal Fine Wine & Spirits, which serves world-class wines, delectable cuisine, and live music in one of New Orleans' most famous outdoor wine gardens. If you want to prolong your evening, head to the St. Claude and Marigny Street junction for some of New Orleans' finest dive bars. There is regular karaoke at Kajun's Pub, and burlesque, alternative plays, and live local bands at AllWays Lounge & Cabaret. Across the street is the Hi-Ho Lounge, a wonderful live music venue with Fry & Pie serving gourmet French fries and mini dessert pies in the backyard.
Worthy Mentions
Take a steamboat cruise
You've seen it in the movies; now try it out for yourself. Since New Orleans is located on the banks of the Mississippi River, one of the greatest tips to see the city is from the water, and a cruise on a classic riverboat is the ideal way to do so. The stunning Steamboat Natchez offers nightly cruises departing from the Toulouse Street Wharf at 6 p.m., allowing you to enjoy dinner and live jazz while out on the water. You are in for a truly spectacular evening.
Take a ghost tour
Join one of several guided tours around the French Quarter to learn about New Orleans' rumored haunted past. You can choose from ghost tours, vampire tours, and even haunted pub crawls, all of which have a fun blend of fact and fiction. These tours, which are guided by dramatic and professional guides, will take you to some of the city's oldest and creepiest locations. Some of these tales are so terrifying that you might feel compelled to visit some of the locations on your own to see what you can find.
Mardi Gras
Mardi Gras, also known as Fat Tuesday, is a day of parades, parties, debauchery, and a lot of drinking. This is an event when the entire world wants to be in New Orleans. If you plan to go, wear gold, green, and purple, which are the event's official colors that reflect strength, faith, and justice. Eat some king cake, which is colored in the same colors, to enjoy the festivities. Also, since you will undoubtedly be walking a lot, wear comfortable shoes.
Though New Orleans is enticing throughout the day, the city truly comes alive at night when the neon lights of Bourbon Street twinkle. Many businesses in the city remain open until 2 a.m., allowing you to have several experiences in one night. The Big Easy has it all: rowdy nights, arcade games, cult classic movies, fried food, live music, and sweeping views of the skyline.