A Ponderosa Pine Road Trip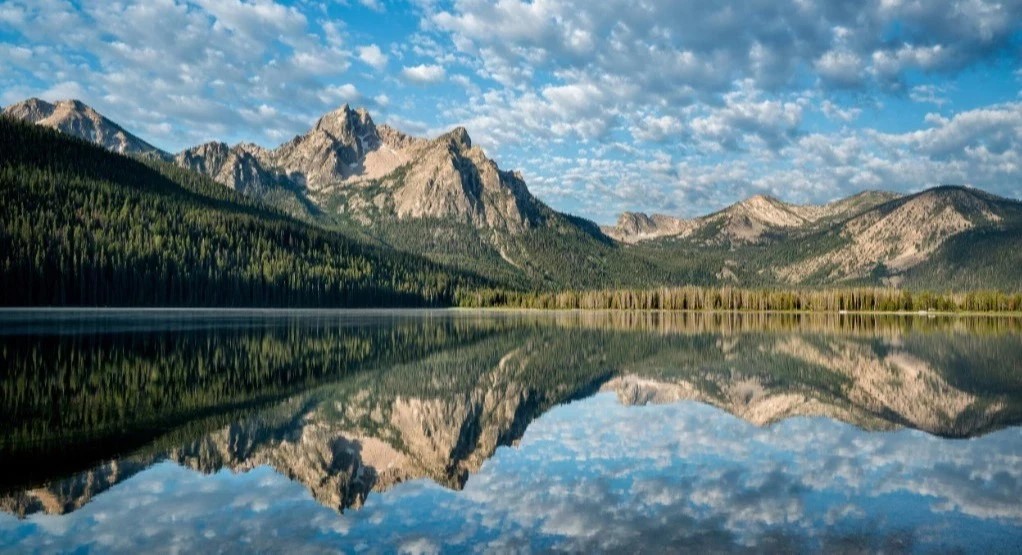 In the great state of Idaho, you will find one of the most iconic and incredibly scenic drives in the entire country. You can have the opportunity to drive through magical dense ponderosa pine forests on this 250-mile road trip through the Gem State. The main stretch of road here is in central Idaho and is officially named the Ponderosa Pine Scenic Byway. This road trip would only take roughly 6 hours to drive along without any stops. There is so much beauty to be appreciated along this route and so many stops you will want to take, so you will undoubtedly want to pencil in at least a few days to complete this trip.
Not many people know that an enormous portion of Idaho's land is actually public land and federally protected. This means that there is actually a ton of untouched wilderness available to explore, as long as it is respected. Expect to see desert views, backcountry wilderness, tremendous mountains, crystalline water, and masses of pine trees along this expedition. This trip can be done during any time of year, but it is probably best during the summer, spring, or fall. Let's go ahead and jump right into our detailed guide to exploring this positively immaculate portion of the United States.
Boise to Idaho City
The initial segment of this journey will have you in the wonderful Boise, Idaho. Boise is often overlooked, but it is a great city that should not be neglected. In the summer, Boise is a lively place with many farmer's markets and concerts, and there is always the opportunity to grab a tube and float down some of the refreshing Boise River. If you want to get out of the city, that is not a problem at all. Over 300 hiking and biking trails span through this region, so getting outside is no issue here.
After you have had enough time in Boise, it is time to hit the road. Head an hour north to Idaho City. Idaho City is a superbly quaint old mining town that had its heyday in the mid-1800s. Give yourself plenty of time to amble through this town to fully take in all of the charm it holds. Main Street is filled with one-of-a-kind toy stores and antique shops. Also, make sure to swing by the Idaho City courthouse, which is a rustic wooden building that was constructed in 1871 and is still used today.
Idaho City to Kirkham Hot Springs
After you are done checking out everything Idaho City has to offer, start making your way towards Kirkham Hot Springs. Idaho has many hot springs scattered all over the state, and Kirkham is arguably one of the very best ones available to check out. Kirkham is comprised of many naturally occurring geothermal pools, and there is a magnificent steaming waterfall that pours into the pools as well. The springs are open 24/7 and have spots surrounding them for camping. There really is no better way to end a day of travel than setting up camp, relaxing in these toasty geothermal pools under the dazzling stars, and then meandering into your tent for a blissful night of sleep in the comforting Idaho nature.
You can find some photos and more information on Kirkham Hot Springs on our site here.
Kirkham Hot Springs to Stanley
Once you are content with your time spent at Kirkham Hot Springs, it is time to continue on the Ponderosa Pine Scenic Byway to Stanley, Idaho. This is potentially the most iconic portion of this entire drive, as you will go through the thick ponderosa pine woodlands that will surely make you feel like you are in an enchanted forest. You will next reach Banner Creek Summit, which is a huge mountain pass with fantastic views. The Sawtooth Range will soon explode into your view, and your jaw will undoubtedly drop to the floor.
You will definitely want to pull over to snag some pictures once the Sawtooth Range comes into view. Jagged mountains framed by endless pines make up this whole territory. Ride along the Salmon River, also known as the River of No Return, and make a stop for a thrilling rafting excursion-if you are up for that. Canyons River Company has a variety of rafting tours that they offer to visitors. This is one of the most remote and rugged landscapes in all of Idaho, and its beauty is sure to capture your heart.
You will have the chance to explore the Sawtooth Wilderness when in Stanley, which you will not want to pass up. This is one of the most expansive wilderness territories in this portion of the country, with more than enough day hikes to choose from. After a long day of adventuring, the Redfish Lake Lodge is an excellent accommodation choice to recharge your batteries at. Situated right on the Redfish Lake and complete with phenomenal mountain views, there is no way you will regret staying at this lodge.
Stanley to Galena Summit and Sun Valley
After all of your outdoor entertainment around Stanley, make your way towards the monstrous Galena Summit. This summit is another spot that offers some of the most idyllic views you could ever possibly imagine. Break out the camera and capture the infinite beauty from this summit before heading down into the Big Wood River Valley with the Boulder Mountains surrounding you.
The Titus Lake Trail is a hiking spot only a short distance from the Galena Summit region. Brilliant scenes of pointed mountains, more pine trees, and emerald green Titus Lake will greet you along this path. Titus Lake Trail is a little over 3 miles in its distance, but the sights are definitely well worth it.
Before embarking on the last portion of the road trip, stop in Sun Valley for a delicious bite to eat. Due to certain local laws, there are no chain restaurants allowed in the Sun Valley area-so rest assured that you will get something unique and made with extra love. The Ram is one of the oldest restaurants in Sun Valley, and it still has its charm after 83 years of operation.
Sun Valley to Shoshone
The last segment of our journey will take you from Sun Valley down to Shoshone, Idaho. These two areas are not far apart in distance at all, but there are a few things you will want to check out in Shoshone before finalizing your road trip. The Shoshone Ice Caves can be found in this town, which are just unbelievable. This cave system is actually a 1,000-foot lava tube with tons of ice formations located inside. Guided tours are the only way to experience these caves, but you will be glad you did not miss out.
Mammoth Cave is another attraction in Shoshone, which was formed after a volcanic explosion millions of years ago. Once you make a visit here and see just how vast it is, you will understand why the name Mammoth Cave was given to it. Before ending your Idaho expedition, swing by the Sawtooth Botanical Garden to encounter and educate yourself on all of the flourishing native flower species that call this garden home. Strolling through this lush garden escape is a wonderfully relaxing way to finish up this Idaho getaway.
This concludes our guide to the Ponderosa Pine Scenic Byway road trip. Idaho is often overlooked when it is truly filled to the brim with historic charm and rugged outdoor adventure. The Ponderosa Pine Scenic Byway allows for access to some otherworldly sights and experiences that you cannot get just anywhere. So hit the road and get out in the great outdoors.