5 Places to Enjoy the Fall Season Without Intense Crowds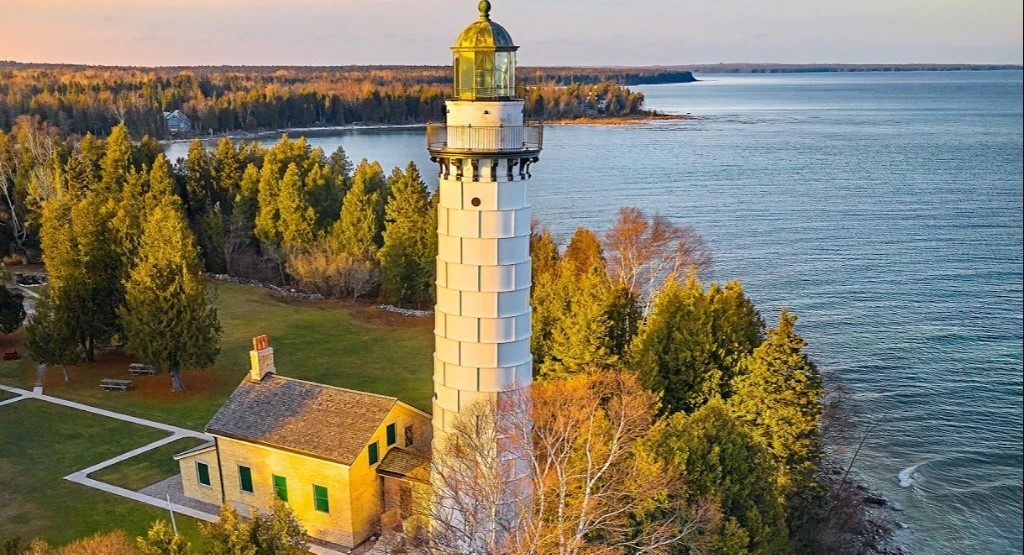 What is there to not love about fall? We have trouble thinking of anything! Every season has its perks, of course, but there is just something so distinct about fall. It's a magical time of year as well as one of the best times to plan your travels so that the one-of-a-kind fall scenery that unveils itself throughout the United States can be fully appreciated. The destinations that likely come to mind when you're thinking of where to visit this fall might be the Smoky Mountains in the south or possibly the Green Mountains in Vermont. Don't get us wrong, these are extraordinary locations and should by all means be explored in the fall – but if you want some options for this year that help you steer clear of dense crowds, this post is perfect for you.
Best Uncrowded Autumn Destinations in the US
Door County, Wisconsin
A true gem in the state of Wisconsin is a region known as Door County. Situated up on the peninsula between Green Bay and Lake Michigan, this area will provide you with out-of-this-world views and an endless array of everyone's favorite fall time activities. Late September until mid-October is considered the best time to visit Door County during this season since this is when the foliage is at its colorful peak. A large portion of Door County is also public space, meaning there is so much opportunity to enjoy the outside world here via hiking, camping, and kayaking.
Another wonderful aspect about Door County this time of year is the variety of festivals and activities that really get us in the fall spirit. There are many family-owned orchards around Door County where you can go apple picking with the whole family. There are charming pumpkin patches and farmer's markets that have incredible local offerings as well as the wonderful Fall Fest that occurs in mid-October. You also don't want to miss out on paying a visit to at least a couple of the infamous lighthouses that are scattered along the coasts of the peninsula, such as Cana Island Lighthouse and the Sherwood Point Lighthouse, because this is a prime way to take in the breathtaking fall scenery!
Stanley, Idaho
Idaho can sometimes be overlooked when it comes to deciding on somewhere to travel to, but we think it should be near the top of your list! This also means you'll benefit greatly if your main criteria when looking for a destination is to avoid ridiculous crowds. Just a bit north of Sun Valley is the quaint town of Stanley, Idaho. Stanley is truly a wonderland for anyone that considers themselves to be an outdoor enthusiast. The scenery here is breathtaking, especially in the fall. There are crystalline alpine lakes scattered throughout the area that reflect back the Sawtooth and White Cloud Mountains as well as the vibrant red, orange, and yellow hues of the changing leaves – you just have to see it to believe it.
There are many hiking trails, lovely routes to drive along for the ultimate leaf peeper experience, and great fly-fishing opportunities throughout Stanley. Book a cozy stay at one of the local lodges, such as the Redfish Riverside Inn. Nestled right next to the picturesque Salmon River, you can relax on the deck under the bright stars and in the crisp autumn air while you sip on a mug of warm apple cider. Talk about a dream come true!
Saratoga Springs, New York
New York State as a whole is an unmatched place to visit once autumn hits, but there really is nothing quite like the unbelievable charm that Upstate New York delivers. The specific region we'll be talking about today is Saratoga Springs. Away from the hustle and bustle of the Big Apple, Saratoga Springs will surely provide you with the whimsical autumn escape you've been craving. This area is stunning year-round, but with the way the landscape lights up in the warm colors of fall, it might just be the very best time to visit.
There are no shortages of fun, adventure, and peaceful activities to fill up your time here in Saratoga Springs. You can make a visit to the beautiful grounds of Saratoga National Historical Park to learn about the site where the British surrendered during the Revolutionary War, go apple picking at a local orchard, eat your weight in cider donuts, or go to the infamous Adirondack Balloon Festival, which is held near the end of September. Spend your days hiking on the miles of trails throughout Saratoga and the evenings enjoying delicious food and beverages at the many local restaurants around town. Upstate New York is in a league of its own when it comes to never-ending beauty and entertainment while avoiding hordes of other travelers!
Voyageurs National Park, Minnesota
Spanning over 200,000 acres in Minnesota up near the Canadian border is a phenomenal place known as Voyageurs National Park. There are visitor centers and trails that are accessible by car, but this park is unique because the majority of it is water-based and only reachable by boat. If you have access to your own boat, then you can navigate the park's waterways yourself. Don't worry if this isn't the case for you, though! The park has numerous boat tour programs to make sure you get the full experience during your visit.
The landscape of Voyageurs is truly breathtaking. Winding waterways, crystal-clear lakes, and lush boreal forests meet your eye from every angle. In the fall, crowds dwindle, and these natural features become even more astounding to look at as the trees shift into their warmer shades. If you keep your eyes peeled, you're likely to see wildlife such as moose, wild wolves, beavers, and the majestic bald eagle. The Echo Bay Trail offers a great way to experience the diverse ecosystems at Voyageurs, especially if you enjoy birdwatching. If you can plan a visit at nighttime and are lucky enough, the Aurora Borealis, or the Northern Lights, can also be seen dancing and shimmering in the sky here at Voyageurs! This can happen year-round as long as the sky is clear, but the highest chance of seeing the lights is in the fall and winter. No matter what, you're in for a remarkable and peaceful time as you take in the exquisite beauty that exists here in Voyageurs National Park.
Kent, Connecticut
It wouldn't be a list of extraordinary autumn destinations without any mention of New England. This is the true land of enchantment once the seasons transition and the colors of the leaves begin to change into hues of rust and gold. The small and charming town of Kent, Connecticut is quiet and the epitome of an ideal fall destination. It has even been crowned as the best place for experiencing the fall season and all it has to offer! You can't visit Kent without taking time to explore the infamous Kent Falls State Park and hiking to spots that award you with jaw-dropping views of the Taconic and Catskill Mountain Ranges. We go into more detail about Kent and other outstanding leaf-peeping destinations in the northeast in this article, too.
Kent is home to a number of fantastic local shops, markets, and restaurants that help make a trip here all the more special. This is the perfect option for a quiet getaway when you just want to unwind and admire the season. You can take your pick from any of the quaint bed and breakfasts that are scattered throughout Kent to help make your trip as cozy as can be.
Autumn is such a special time of year and the perfect chance to spend as much time outside as possible before the snowy winter hits. There is no shortage of amazing destinations throughout the US when it comes to fully taking pleasure in the fall season, but sometimes the most sought-after places can become a bit too saturated, making it more difficult to truly unwind. If you make your way to any of the above locations this fall, we're confident that you'll be utterly captivated by the scenery and charm that each of these destinations contains.