Yellowstone Road Trips: The Upper Grand Loop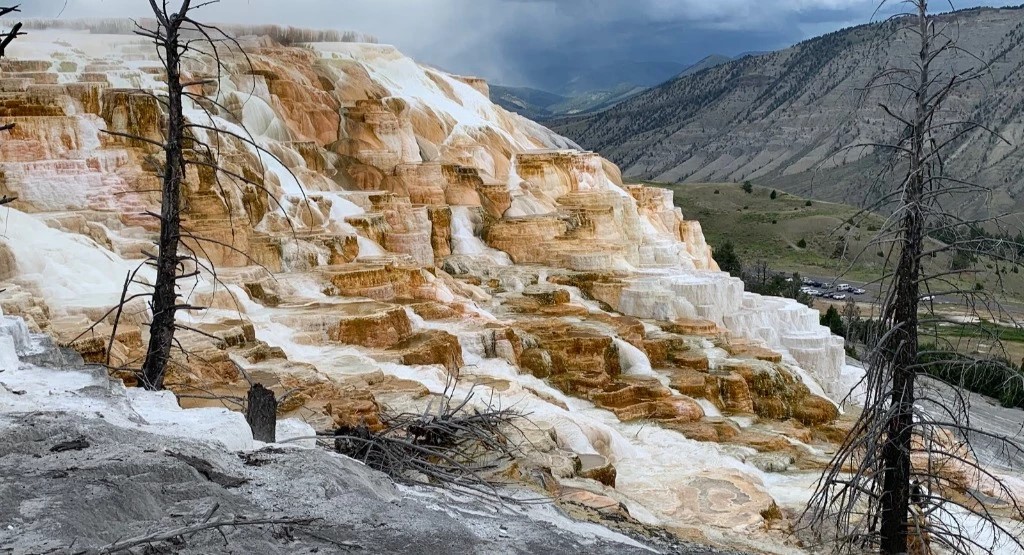 Yellowstone National Park, in the incredibly scenic state of Wyoming, is easily one of the most visited and sought-after parks in all of the United States. Between 4 and 6 million travelers make their way to this iconic destination each year to experience the crown jewel of the park: the Old Faithful geyser. Yellowstone is a lot more than just Old Faithful, though. There are multiple road trip loops throughout the two million-acre expanse of land. Today, we will be discussing one of the best day trips you can do through Yellowstone, called the Upper Grand Loop.
The Upper Grand Loop is a 70-mile stretch of road that winds around many must-see scenic points throughout the park. The drive would take you about 3 hours without any long stops-but believe us, you will undoubtedly want to park the car and explore certain spots that this road will bring you near. It would be ideal to make this drive between the months of late May and early November, as many of the roads along the route close when winter hits. The Upper Grand Loop begins at Mammoth Hot Springs and links you to Tower Roosevelt, Canyon Village, Norris Geyser Basin, and then brings you back to Mammoth. Since it is a loop you can go one of two ways, but today we will be going directionally clockwise around the circuit.
Mammoth Hot Springs to Tower Roosevelt
The first leg of this journey will be from Mammoth Hot Springs to Tower Roosevelt. You will begin at Mammoth Hot Springs, so you should definitely take some time to observe the absolutely insane sight that is these springs. Take a stroll along the boardwalks hovering over the steaming terraces of springs and marvel at the beauty.
Once you start your drive, along this first section you will come across Undine Falls, a 60-foot waterfall that is 4 miles east of Mammoth Hot Springs. You can choose to either stay and gaze at the stunning falls from the road, or you may follow a short trail to get a more up-close look of them. You can also take an easy nearby 1-mile hike through pleasant meadows to the nearly 80-foot Wraith Falls along the Lupine Creek.
If the Blacktail Plateau Drive is operating, definitely take a detour along this avenue before heading onto the next portion of the loop. This is a beautifully scenic road with lots of wildlife, such as bison and wolves, to observe.
Tower Roosevelt to Canyon Village
Your next portion of driving will be from Tower Roosevelt to Canyon Village. You have the highest potential of seeing black bears along this section of the route, so be on the lookout! This area is also where you will find Tower Fall. Tower Fall is 132 feet and cascades down Tower Creek. There are accessible viewpoints for you to be able to admire this spectacle of a waterfall that is surrounded by jagged rock formations.
Mount Washburn is also easily reachable on this stretch of the loop, and visitors are welcome to hike the 3-mile path up the mountain for spectacular panoramic views of the first national park in our country.
Canyon Village to Norris Geyser Basin
The Canyon Village to Norris Geyser Basin stretch has some of the best views on the entire Upper Grand Loop. Hike along the boardwalks surrounding the Norris Geyser Basin and be amazed by the natural wonders here. The infamous Steamboat Geyser is located here, as well. Steamboat Geyser is the tallest geyser in the world, sometimes reaching a height of 300 feet! Porcelain Basin and Back Basin are also in the region and are definitely worth exploring and snapping some ridiculously gorgeous pictures of. The Norris Geyser Basin trail that brings you along all of these basins is an easy 2.25-mile trail. You may also be interested in hiking to see the Artist Paint Pots, a collection of vibrant blue pools in this area.
Norris Geyser Basin to Mammoth Hot Springs
The final stretch of the Yellowstone National Park Upper Grand Loop takes you along the Gardner River. You may want to make a stop and reach for your fishing pole and see if you get any bites from trout. There are also multiple picnic facilities, so it would not be a bad idea to break out some tasty food after a long day of road tripping and exploring. Sit down and finally fully relax and take in the serenity that Yellowstone National Park brings to every single one of its guests.
If you still have not had enough hiking, check out Bunsen Peak, which is a 1,300-foot ascend for some seriously breathtaking views of the entire park.
Taking a day to road trip the Upper Grand Loop in Yellowstone National Park is an idyllic way to see a tremendous portion of this very expansive area of land. Yellowstone is truly a wonderful fragment of this great country, and it is incredible that there are so many available approaches for seeing as many of the spectacles this park has to offer.