Underrated Mountain Resorts on the East Coast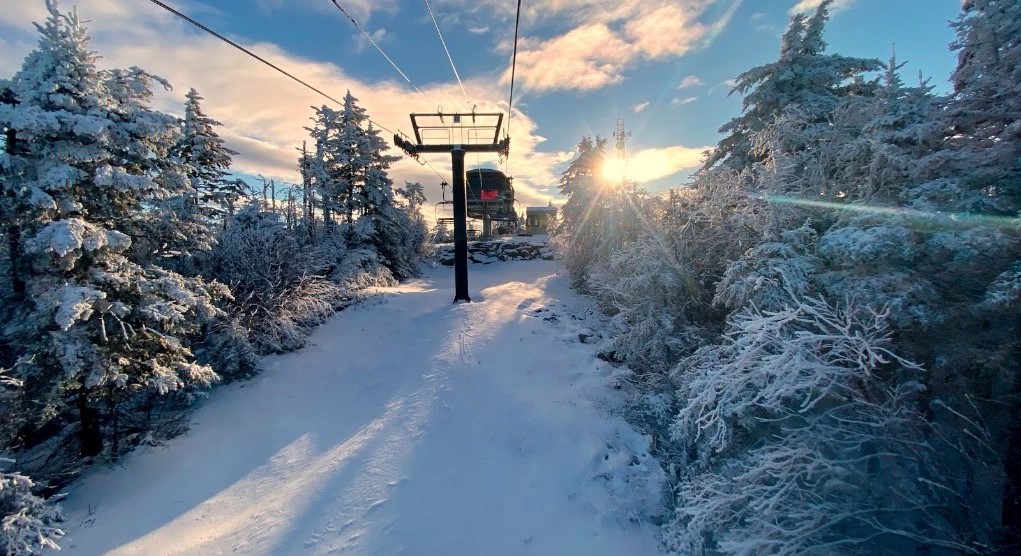 With winter quickly approaching, it's just about time to dust off your skiing and snowboarding equipment for the 2023 season. The US has seemingly endless mountain resorts to choose from when it's time to plan your next winter getaway, which can make it difficult to easily choose a destination! The East Coast alone has an abundance of skiable slopes, so we're going to start off by covering some wonderful, underrated mountain resorts that the eastern portion of the country has to offer.
From steep runs to slopes that are perfect for those just beginning their winter sport journey, we'll unveil a selection of the lesser known, yet equally fantastic, mountains that might be perfect for your next winter trip. Whether you're an avid skier or just love the cozy atmosphere that ski resorts provide, these underrated mountain resorts are sure to make your winter wonderland dreams come true.
Mount Sunapee Resort – New Hampshire
Up in the northeast, Mount Sunapee Resort in Newbury, New Hampshire is a premier winter playground that is perfect for skiers and snowboarders of all levels. The mountain is just a short drive from Boston and while there isn't a lodge on the property, there are plenty in the area that visitors can make accommodations at. With 66 trails across 233 acres of terrain, Mount Sunapee has plenty of exhilarating routes to choose from, and it's known for having great options for beginners. The location also awards visitors with beautiful views of Lake Sunapee and the surrounding New Hampshire countryside as you glide down the slopes. Mount Sunapee Resort has a remarkably welcoming atmosphere and offers an unforgettable skiing and snowboarding experience in the heart of New England.
Jiminy Peak Mountain Resort – Massachusetts
Another phenomenal ski resort option up in New England is Jiminy Peak Mountain Resort in Hancock, Massachusetts. This beloved destination not only has 45 amazing trails to choose from, but it also stands out from the rest because of its dedication to eco-friendly practices. The resort has a powerful wind turbine on the property that powers a third of all the electrical demands of it.
Jiminy Peak has an impressive variety of well-groomed trails suitable for all levels, from beginner to advanced. There is a charming lodge on the grounds with a perfect alpine village atmosphere, making it easy to rest, relax, and fuel back up before hitting the slopes again. Jiminy Peak is an excellent choice for those looking to have amazing adventures and create lasting memories in an eco-conscious destination.
Beech Mountain Ski Resort – North Carolina
If you're looking for a mountain resort that lies a bit farther south, consider the incredible Beech Mountain Ski Resort in northwest North Carolina. Beech Mountain is part of the Blue Ridge Mountains and has everything you could ever need for the ultimate winter vacation. Beech Mountain happens to be the highest ski area in the Eastern United States and has 17 trails as well as 9 lifts for your convenience.
The mountain does have a couple slopes that are good for beginners learning the ropes, but this is definitely a better-suited destination for those that are more skilled at skiing and snowboarding. The resort also offers passes to partake in snow tubing if that's more your speed, and there's a brewery on the property that serves as the perfect pitstop after a long day on the slopes. Beech Mountain Resort has a friendly atmosphere and a range of extraordinary winter activities, making it an idyllic destination for anyone seeking a winter trip that isn't too far north.
Sunday River Resort – Maine
With a staggering number of 139 trails across 884 acres and 8 mountain peaks, Sunday River Resort is a wintery paradise. Sunday River is one of the largest and most versatile ski areas on the East Coast, with trails for every single level of skier and snowboarder. Other than these two action-packed pastimes, guests can rent ski bikes, embark on a half-mile trail that adorned with thousands of lights during the evenings, go ice skating and snowshoeing, and take a dog sledding excursion through the Mahoosuc Mountains. This resort boasts an impressive snowmaking infrastructure, guaranteeing exceptional snow conditions throughout the whole season.
Beyond the slopes, Sunday River offers a wonderful après-ski scene and numerous off-mountain activities, such as the luxurious spa and nearby Bethel Village, where visitors can indulge in delicious cuisine. With beginner lessons offered and friendly visits from the resort's yeti mascots Eddy and Betty, families will feel right at home here at Sunday River Resort. The picturesque setting among the Mahoosuc Range and the countless amenities ensure a memorable and fulfilling winter experience for all.
Okemo Mountain Resort – Vermont
If you're on the hunt for a mountain resort that's more geared towards families, look no further than Okemo Mountain Resort in Ludlow, Vermont. The mountain's well-groomed trails, extensive terrain, and consistent snow coverage cater to riders of all levels, from beginners starting off on bunny slopes to advanced riders that have a need for speed. The mountain has a staggering 121 trails and 20 lifts, so it's safe to say there are endless opportunities for fun here.
Aside from skiing and snowboarding, Okemo Mountain Resort has other activities for the whole family including snow tubing, a thrilling winter mountain coaster, and ice skating. With a welcoming atmosphere, plenty of nearby lodging, and a backdrop of the picturesque Green Mountains, Okemo has fantastic amenities and activities available for all, making it an ideal destination where treasured memories are made.
Blue Knob All Seasons Resort – Pennsylvania
Blue Knob All Seasons Resort, home to the highest skiable mountain in Pennsylvania, is quite the hidden gem and a top-tier destination for skiers, snowboarders, and anyone who simply loves the surroundings of a charming ski resort. With a sprawling terrain, Blue Knob caters to riders of all levels, from novices to experts. Snow tubing is another favorite pastime here if you need a family activity or a break from the slopes!
In addition to the many adventures awaiting at this resort, you'll also find an enchanting ski village and lodging on the property, which means that planning your winter trip should be an absolute breeze. The breathtaking views of the surrounding Allegheny Mountains add to the already endless appeal of this gem of a ski resort. A visit to Blue Knob All Seasons Resort will certainly make for unforgettable memories whether you want to maximize your time on the slopes or indulge in the relaxing amenities the resort provides.
Plan the East Coast Winter Getaway of Your Dreams
In a world where the most popular mountain resorts typically steal the limelight, it's helpful to have a selection of hidden gem destinations on the East Coast that will not only save you money but also provide you a more rewarding time on the slopes. Whether you're looking for a mountain that has easier slopes to learn on or challenging courses that get the adrenaline pumping, the East Coast offers a myriad of winter sport wonders that are sure to capture your heart. These mountain resorts not only offer exceptional winter experiences, but they're also the perfect settings to create cherished memories with your friends, family, or special someone. As you plan out your next winter getaway, consider wandering off the beaten path to any of these underrated mountain resorts and discover the unmatched beauty that abounds along the East Coast.