The Great Northern Road Trip Series - Part 1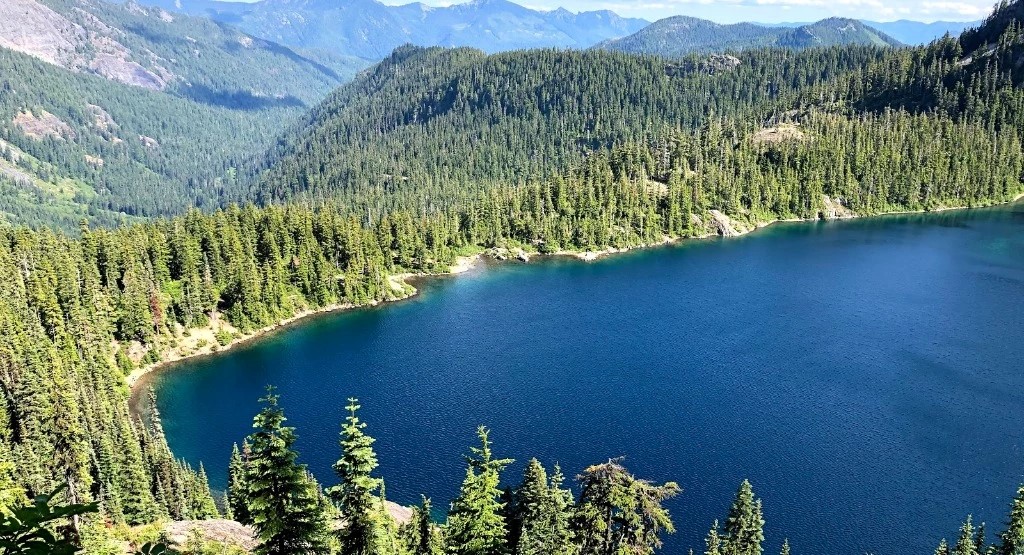 The United States has an almost overwhelming amount of remarkable road trip routes to choose from, and we've covered a significant number of the most iconic ones in the form of guides here on Go Wandering. Something we have yet to cover is cross-country road trips, which are a huge undertaking and take a long time to plan and can end up taking weeks or even months (depending on your personal desired length for the trip). This is precisely why we're starting off this new article series where we break down the best, most beautiful, and adventure-filled cross-country road trips over the course of several articles to make it as detailed and informative for any of our readers that want to take these trips but are overwhelmed with the planning process.
We're kicking off the series with a road trip guide for the Great Northern route, which runs from Washington state all the way to Maine. We will take you through all the best spots you won't want to miss on this drive, including magnificent state and national parks, the one-of-a-kind local eateries, and other unique locations that will make this road trip an absolute adventure of a lifetime.
Part 1 - Olympic National Park to Spokane
The first leg of our 3000+ mile road trip will start in the Pacific Northwest city of Seattle. While Seattle is definitely the state's crown gem, there is enough diversity to see and plenty of things to do between Seattle and Spokane, the state's second-largest city. Washington is one of the country's most stunning states and has plenty to see during this first 4-hour leg of our cross-country journey.
Planning a Road Trip from Seattle to Spokane
Depending on the time of year, there's likely to be a variance in the road conditions in Washington, but the safest and most ideal time to get your start here is during the late spring. It's no surprise that the roads on the west side are often better maintained.
Also, keep in mind that central Washington had huge wildfires in recent years, typically during the late summer months. These could potentially result in road closures and make passing through particular locations dangerous.
You will have no trouble finding numerous rest sites, gas stations, and natural locations along the road where you can hike or camp. Between Seattle and Spokane, there are a variety of dining options, ranging from small-town fruit stands offering organic local produce to fast-food restaurants, coffee shops, and classic roadside cafes.
What is the distance between Spokane & Seattle?
The trip between Seattle and Spokane is about 279 miles and requires about four and a half hours with no stops. You have a few options for your Seattle to Spokane road trip, based on what you want to see and do as well as how quickly you want to get there.
Many folks choose the more direct route and travel the entire length of Interstate 90. On your way along this route, you'll drive through deserts, farm fields, and of course, mountains. Another alternative is to travel north on Highway 2, which passes through additional mountain scenery as well as the little town of Leavenworth, which is discussed below. It will take about six hours to complete the journey on Highway 2.
Highway 20, which runs even further north than Highway 2, is another alternative and passes through spectacular mountain landscapes and woods. Take Interstate 5 north to Burlington, then go back on the interstate for this route. This will take longer and is not recommended in the winter due to the likelihood of mountain road closures.
Top Seattle to Spokane Drive Stops
Snoqualmie Falls
Washington's most spectacular wilderness awaits less than an hour after leaving Seattle as you make your way into the Cascade Mountains. You'll pass through the little town of Snoqualmie, which is home to one of the region's most beautiful natural features, just before traversing Snoqualmie Pass. Snoqualmie Falls is a 268-foot waterfall that can seem like one massive, rushing stream or two side-by-side waterfalls, depending on rainfall.
The observation deck is within a short distance from the parking lot. There's also a park where you can have a picnic or you can eat at the Salish Lodge, which is portrayed as the Great Northern Hotel on the television show Twin Peaks.
For a picturesque view of the surrounding countryside, hike one of the moderately difficult paths leading from the parking lot. For more action and fun adventures, continue east on I-90 for about 30 minutes and you'll arrive at the Summit at Snoqualmie ski area, where you can hike, ski, and snowboard.
North Bend
Although Starbucks was founded in Seattle, customers looking for a great cup of coffee know to go to North Bend. North Bend, along with Snoqualmie and Fall City, was one of the major filming locations for David Lynch's cult classic TV drama Twin Peaks. It is a little forest town surrounded by foggy mountains and a sea of trees, just like the show depicted. Twede's Café, of course, is the town's biggest attraction. You can't leave here without tasting the cherry pie.
Mt Rainier National Park
Mt. Rainier is the state icon of Washington, and rightly so. The inactive volcano, at 14,411 feet, is the highest point in the Cascade Mountains.
Mt. Rainier, which is about 59 miles south of Seattle, is a spectacle to behold at any time of year. Its crystal-clear alpine lakes are surrounded by seas of brilliant wildflowers in the spring and summer, while the peak is cloaked in a blanket of shimmering snow in the winter.
Mt. Rainier National Park is a must-see on any trip to Washington, and it's well worth adding into a Seattle to Spokane drive if you have the time. You may hike, climb, fish, see a wide variety of wild biodiversity, and of course have fantastic photo opportunities.
Leavenworth
Leavenworth is a town that was planned after a Bavarian village and is certainly pleasant and worth a stop along this drive. Front Street, the main road in the town, is surrounded by charming Alpine-style structures, featuring restaurants and taverns that serve Bavarian and German cuisine, modest boutiques, and the Nutcracker Museum. The town is worth a visit at any time of year, but it is especially charming during the Christmas season, when the streets are decked out in a variety of festive decorations.
If that isn't enough to entice you, there is also a reindeer farm nearby that offers guided tours. Currently, excursions are only available by appointment, so plan ahead if you want to see Rudolph and his companions close up and personal.
Thorp
Cle Elum, which in Kittitas language means "swift water," is a charming ancient location in the middle of the Cascades. Spend a little more time at the Cle Elum Lake fishing, swimming, or simply taking in the panoramic views while sipping a glass of local wine or beer or a cup of freshly prepared coffee. Hike the John Wayne Pioneer Trail, see the South Cle Elum Depot Railway Museum, or take a stroll through the historic South Cle Elum Rail Yard.
Plan a stop at Smokey's Bar-B-Que for house-smoked homestyle meals when hunger strikes. Another feature is the Carpenter House Museum, a 1914 home that provides an insight into the town's past through the eyes of the town's first successful (and very affluent) banker.
Ginkgo Petrified Forest
The Pacific Northwest is known for its dense, rich tropical rainforests, which you'll see a lot of on your way from Seattle to Spokane. The woods, on the other hand, are unique. The Ginkgo Petrified Forest State Park and Wanapum Recreation Area, surrounded by sage-covered desert and few surviving trees, is a forest of fossils fashioned by time and the forces of nature.
According to the Washington State Parks website, the Gingko Petrified Forest is one of the most diversified fossil forests in North America, including petrified ginkgo and other kinds of trees, as well as ancient petroglyphs. That's all the more incentive to go if you've never heard of fossil forests before! Visit the Interpretive Center to learn about how Ice Age floods formed the cliffs and petrified woods, then visit the Ginkgo Gem Shop to buy some colorful stones or petrified wood to take home as a souvenir.
Gorge Amphitheatre
The pioneers of this town were either joking or trying to ensure that no one forget the state's title, the nation's first president. The Gorge Amphitheatre, located in George, Washington, draws thousands of people each year, despite the fact that the little town had only 501 residents at the time of the 2010 census.
The Gorge, formerly known as the Champs de Brionne Music Theatre, is a 20,000-seat facility with a view of the Columbia River Basin that has played host to some of the world's greatest performances. While there are other events throughout the year, the Memorial Day weekend Sasquatch Music Festival is by far the most prominent, attracting thousands of people each spring for three days of camping and music.
Wild Horse Monument
Whether or not there's a show going on, George is worth a visit to see the "Wild Horse Monument." David Govedare, an artist from Chewelah, began work on it in 1989 with the intention of unveiling it at the state's centennial celebration. His original concept differed little from the final outcome. He had visualized sculpting Grandfather, the Native American culture's Great Spirit, tipping over a woven basket from which a group of 18 wild horses raced forth. However, due to a lack of funds, the project was scaled back to only 15 horses. Regardless, it's a homage to the region's indigenous peoples and the once-free roaming wild horses. The landmark can be easily seen from the road.
Walla Walla
You usually think of the Bay Area, especially Napa Valley and Sonoma, California, when you think of wine country. However, in recent years, Washington has emerged as a strong contender in the wine-making industry. The Walla Walla Valley, which used to be mostly a wheat-growing region, produces more than 100 different types of wine today. Unlike other wine-producing regions, the valley, like the rest of the state, has a diverse range of soil types and microclimates, allowing a wide selection of varietals to thrive. Sip your libations while overlooking the undulating wheat fields and the Blue Mountains at one of the local vineyards.
Walla Walla will leave you a couple of hours south of Spokane, but we think it's certainly worth the extra miles. This is a cross-country expedition, after all! Towns in Washington other than Seattle may not garner the same degree of attention, but, as you can see, there are more than plenty sights to see and activities to partake in between Seattle and Spokane.
With scenic beauty that includes wildflower-covered mountains, golden grain valleys, spectacular coastlines, enormous deserts, an ancient tradition as one of the Wild West's last frontiers, and a diverse population that includes lumberjacks, sailors, techies, and vintners, the state clearly has something for absolutely everyone. This concludes part one of our journey across the Great Northern, and even though we've already packed in a high volume of incredible experiences, we're only just getting started!