Best Late Summer Destinations to Visit in the US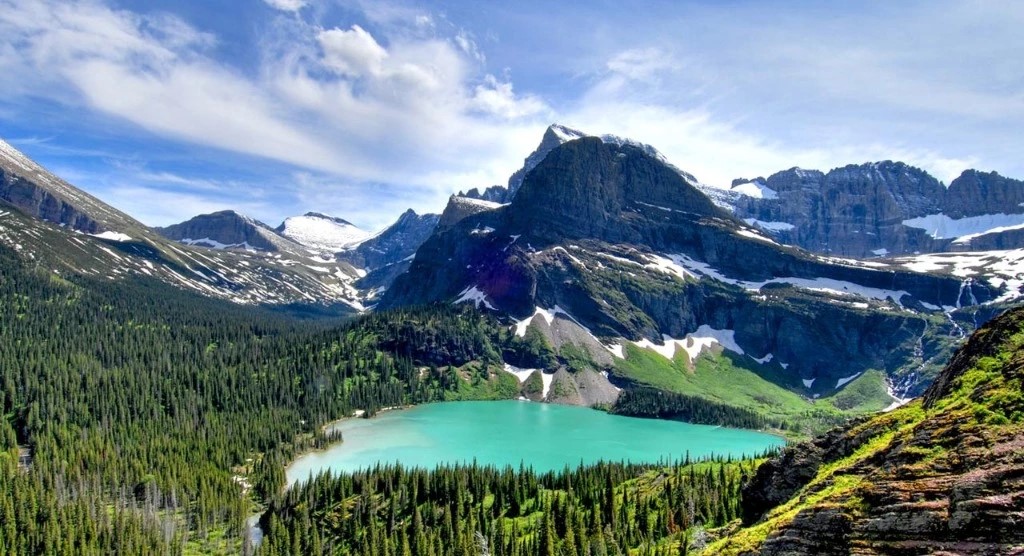 Summer in the United States – a time when the weather has finally warmed up in the northern states, students get to have a few relaxing months outside of school, and when it's the perfect opportunity to explore some of the country's greatest locations. Whether you like to execute your vacations by way of road trips to see as many wonderful locations as you can on the journey or by plane so you can maximize your time in one specific destination, there's something listed here for absolutely every kind of traveler.
Late Summer Travel Destinations
Below you will find some of the places that we've deemed as great destinations in August and early September. This time of year allows for the perfect chance to visit locations that are in a more comfortable temperature range when summer hits, which is what we focused on here. Many of these spots completely come to life when it warms up and offer a totally new experience than you would receive if you visited any other time.
Lake Tahoe - California
California is brimming with wonderful destinations that range from desert escapes, theme parks, unbelievable mountains, pristine lakes, sunny beaches, and so many more! Lake Tahoe is just one of the many great spots in this state, but it surely is one of the best for summer travels. Lake Tahoe is a year-round destination because in the winter it turns into a getaway for enjoying various and thrilling snow sports. In the summertime, though, Lake Tahoe is hard to match. The water in this lake is some of the purest that you'll find, and you'll easily see that when your eyes meet the crystalline and high-visibility blue water. The air temperatures here reach the 80s in the late summer, making a dip in the refreshing 70-degree lake a highly welcome experience during long days in the sun.
There are more than enough adventures to take part in if you don't necessarily want to swim, from kayaking and paddleboarding on the calm lake to hiking the many miles of trails that are found in the surrounding areas and trying out the best local restaurants and breweries.
Portland – Maine
There's no doubt that the summer season is the best time for you to book your trip to Maine. There's an enchanting atmosphere that washes over the state once the weather warms up, especially in the delightful town of Portland. Did you know that Portland, Maine has been named one of the best foodie cities in the entire United States? It's easy to understand why once you spend any amount of time here. You would be remiss to not try some tender Maine lobster at least once during your visit here because if anywhere is going to serve up a lobster roll the right way, it's Portland!
With the state having more miles of coastline than all of California, Portland also has great access to lovely beaches as well as picturesque lighthouses. There are six lighthouses within a 20-minute drive from the town, so you can even plan a day where you go on a lighthouse tour to dive deep into the history of these remarkable structures and see so many different views of the stunning Maine coastline. The Portland Head Light stands tall on a beautiful cliff and is the oldest and most well-known lighthouse in the entire state. Don't be surprised if the welcoming quality of Portland makes you want to extend your trip here, because that's just the effect that this charming town has.
Sawtooth National Recreation Area - Idaho
Did you know that over 60% of Idaho's total area of land is federally owned? This means that this land is protected and reserved for people to enjoy the exquisite nature that makes up this state. Sawtooth National Recreation Area is just one of the many parks throughout Idaho, and it makes for one of the very best places you can plan a visit to in the late summertime for extraordinary outdoor activities. This recreation area can be found within the magnificent Sawtooth Mountain Range and is comprised of more than 750,000 acres.
If your objective this summer is to get some much-needed peace and quiet and to connect with nature, this is certainly the place to do so. With over 700 miles of hiking trails, numerous mountains that soar at heights over 10,000 feet, and crystal-clear alpine lakes, Sawtooth NRA will grant you the serenity you're looking for. If you want a fully immersive experience, there are many campsites throughout the recreation area available to set up at. Other activities here include fishing, boating, bicycling, and of course observing the abundance of wildlife that calls this land home. The opportunity to fully disconnect from the outside world doesn't come around too often for many, but Sawtooth NRA will allow you to do just that this summer – just don't forget your camera, because you'll definitely want to document the outstanding surroundings here!
Mackinac Island - Michigan
Michigan, also known as the Great Lake State, is full of hidden gems and natural beauty that you simply have to see to believe. Mackinac Island, located in Lake Huron and in between the upper and lower peninsulas of the state, makes for the ultimate summer getaway. This island is embedded with a rich history and is enriched with a local flare that is hard to come by these days. You can only get to the island by ferry, and once you arrive, you'll feel like you've been transported to a different world that only exists in the most enchanting stories. There are no cars and no chain hotels found anywhere on Mackinac Island. Your time here will be filled with the best local and fresh cuisine, bike rides along the coast, and homemade fudge that might just change your life.
You'll definitely want to spend most of your visit to Mackinac outside, and you can do so by hiking on the various trails throughout the island, kayaking in the lake, taking a bike ride around the island's perimeter, and strolling through any of the numerous bright flower gardens. You'll also want to check out Fort Mackinac during your trip, which has ties to the War of 1812. Mackinac Island is somewhere you go when you want a summer vacation that you'll think back to for the rest of your life.
Finger Lakes – New York
Millions flock to New York every year to explore the infamous Big Apple, but there are so many other incredible places that the state has to offer! The Finger Lakes were formed more than 2 million years ago and encompass over 9,000 square miles of land in New York, and they are truly a sight to see. There are eleven different lakes, so the opportunities are endless if you opt to spend the late summer here.
The Finger Lakes region is known for its extraordinary outdoor activities, wineries, and culinary experiences. There are state parks scattered throughout this area that are filled with glorious hiking trails that lead you to marvelous cascading waterfalls. Spend a day (or multiple days) trying out the local wine while catching views that seemingly came straight from a postcard and your evenings indulging in mind blowing farm-to-table cuisine. New York may be known for its bustling city, but you don't have to go far from here to be surrounded by natural beauty that will take your breath away.
Glacier National Park - Montana
The United States is full of jaw-dropping national parks, and it's impossible to choose one that beats out the rest. If the choice absolutely had to be made, though, Glacier National Park is surely near the top of the list. Located in northern Montana and made up of more than one million acres, Glacier National Park is a wilderness escape that serves as an unmatched destination for your late summer travels. This is one of those places where you'll capture magnificent photos that your family and friends will be in awe over, but even those snapshots won't do the landscapes at Glacier NP justice.
There are more than 700 miles of hiking trails that snake through the grounds of the park, allowing you to see vivid alpine meadows, staggering mountains from every angle, and strikingly blue lakes that you'll want to stare at forever. You can reserve a campsite at the park if you want a more rugged visit here, bike along the Going-to-the-Sun Road, fish in the many lakes, or take a guided tour by way of bus, foot, raft, or horseback. Glacier National Park makes for an ideal late summer destination for anyone that loves the outdoors and that wants to experience how this land comes to life once the weather warms up.
There's no question that there are some truly remarkable destinations to visit throughout the US during the late summer. This is a time when being outside as much as possible should be taken advantage of, and all the above-mentioned locations offer prime opportunities to do so. Whether you're looking for a family-friendly place that's quiet and has gorgeous summer temperatures or a more secluded region where you can unplug for a while and fully take in the great outdoors, there's a destination for you in this guide!