A Lively 3 Days in Austin, Texas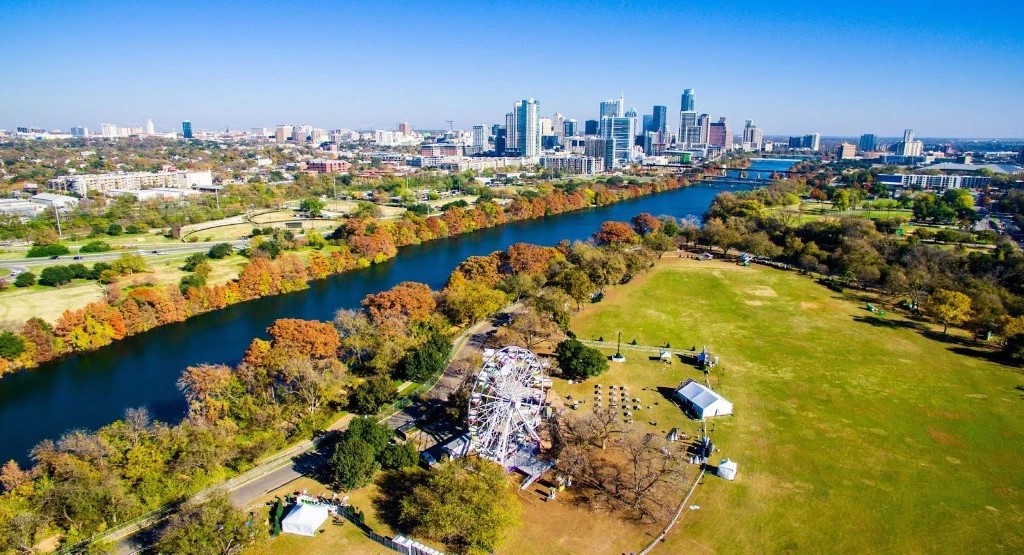 Austin is labeled as the "Live Music Capital of the World," as it has more live music venues per capita than any other city in the United States. Numerous popular musicians, namely Stevie Ray Vaughan, Janis Joplin, and the Dixie Chicks, began their careers there. Despite its rapid expansion in the past few years, Austin retains a unique, laid-back vibe that you won't find in other Texas cities. Outsiders may perceive Austin as a haven for oddballs, but locals relish their oddness and proudly proclaim the city's slogan, "Keep Austin Weird."
The primary reason for visiting is to enjoy the outdoors, in addition to the bustling live music and nightlife experiences. Many experts consider Austin to be one of the best places to live in America, with an average of around 300 sunny days per year and vast swaths of green space like Zilker Metropolitan Park. It's most likely that there is something for everyone here: If you're a history enthusiast (LBJ's library and the Texas State History Museum are both here), an art lover (Blanton Museum of Art), a sports fan (University of Texas at Austin football), or an aspiring artist, there's something for everyone (Sixth Street). You might wonder why you don't reside here after your visit. Below you will find the perfect itinerary for a 3-day weekend in Austin, Texas.
Day 1
Barton Springs Pool
Barton Springs Pool, located in Zilker Park, is a popular hangout for tourists and locals alike. Expert travel writers still refer to Barton Springs as the "soul of Austin," and many travelers claim that it is a great place to cool off in the summer. Native American settlers once claimed the springs had mystical healing powers.
The 3-acre pool, which is fed by underground springs, maintains a constant temperature of 68 to 70 degrees, making it ideal for escaping the blazing summer temperatures that Texas is notorious for. Bathhouses and an informational museum about the heritage and biology of Barton Springs are also on the premises. One of the aspects that makes Austin special, according to pool patrons, is the experience. Several of the best Austin tours have stops here as part of their city tourist attractions.
Zilker Metropolitan Park
This beloved 351-acre park, located across the river from downtown Austin, contributes to Austin's popularity as one of the best places to live. Zilker Metropolitan Park is home to a number of the city's most prominent attractions, including art galleries and swimming pools, as well as sports fields and plenty of open space for strolling. You'll find a variety of choices at the Austin Nature and Science Center's Dino Pit, whether you want to swim, canoe, or search for fossils – a specific point of appreciation from recent tourists.
State Capitol
The State Capitol, Texas' legislature base, stands stoically in the heart of central Austin. This pink-granite landmark, which opened in 1888, is 14 feet taller than the United States Capitol in Washington, D.C. The 218-foot rotunda, the chamber of the House of Representatives, and the governor's reception room are all the same as they were when the capitol first opened.
Starting in the 1980s, the building has undergone extensive renovation, along with the replacement of the zinc statue of the Goddess of Liberty atop the dome with an aluminum one. A 667,000-square-foot underground expansion was completed in 1993 as part of the reconstruction to accommodate the state government's development. Many tourists describe it as the most remarkable state legislative building they have ever seen, but they also warn that it may get packed. According to previous visitors, a tour to the capitol building is the best way to learn about Texas history without having to pay an admission fee.
Austin Bats
Austin is home to North America's largest urban bat colony. The Congress Avenue Bridge is home to nearly 1.5 million bats. The bats made their home here after a bridge reconstruction in 1980 created ridges that were ideal for bats to avoid predators. Mexican free-tailed bats migrate north to the bridge every spring to give birth and raise their young. The bats can be seen every evening at dusk throughout the summer as they embark on their nightly excursions to rid the city of pesky insects before returning to central Mexico in the fall.
Day 2
LBJ Presidential Library
Although visiting a presidential library may appear to be a chore, this one is distinct. Lyndon B. Johnson's library, devoted to the 36th president of the United States, contains all of the anticipated items – particularly presidential papers – as well as a few unusual displays that are almost as fascinating as the president himself. This tells the tale of President Lyndon B. Johnson's life and political career through a variety of mediums, including presidential holiday cards, photos from the civil rights period, and an LBJ robot.
Blanton Museum of Art
The Blanton Museum of Art, located on the University of Texas at Austin campus, should be a must-see for any art lover. It is one of the country's largest university art museums, with over 18,000 pieces spanning from Renaissance and baroque works by famous artists such as Rubens and Poussin to a sizable array of traditional Latin American art.
Sixth Street
A trip to Austin's "Live Music Capital of the World" wouldn't be perfect without checking out some of the city's up-and-comers on Sixth Street. In the 1970s, this neighborhood became the epicenter of Austin's music scene after extensive renovation by the National Register of Historic Places in an attempt to save the area from its kitschy reputation.
Today, Sixth Street between Congress and Interstate 35 (dubbed "Dirty Sixth" by locals) is the apex of Austin's music scene. Supermarkets, cafes, bars, and yes, live music venues such as Esther's Follies, Pete's Dueling Piano Bar, and the Alamo Drafthouse Cinema abound in the city.
Day 3
Bullock Texas State History Museum
The Bullock Texas State History Museum, named after Texas's 38th lieutenant governor, presents the Lone Star State's fascinating legacy with artifacts ranging from the initial Goddess of Liberty statue that once stood atop the State Capitol's dome to astronaut Edgar Mitchell's spacesuit from the Apollo 14 moon flight. The museum includes exhibits with over 500 objects as well as revolving unique exhibitions that represent the state's rich past. The museum also has Texas' largest IMAX projector, a 4-D Texas Spirit Theater with unique documentaries short films, a cafe with an outdoor seating area, and a huge museum shop where you can take a piece of Texas history home.
More than 9 million people have visited the museum since it opened in 2001 to know the history of the Lone Star State. Locals and visitors alike agree that the displays are well-organized, and many suggest devoting at least a few hours to seeing what there is to see.
Esther's Follies
If you don't happen to be in the groove for live music, 6th Street is a great place to receive some entertainment. The cast at Esther's Follies has kept fans in the corridors for over 35 years with everything from magic tricks to comedy shows. This spot is a must-see for locals and tourists, and the shows never fail to amuse.
Mexic-Arte Museum
The Mexic-Arte Museum, located only a few blocks south of The Driskill on Congress Avenue, is dedicated to the preservation of Mexican and Latin American cultural diversity. The museum hosts year-round theatrical and musical events as well as a remarkable permanent collection that is comprised of portraits from the Mexican Revolution and traditional ritual masks, as well as more recent works from local artists.
Recent visitors said the museum was a wonderful surprise and suggested stopping by the eclectic gift shop, which sells works by local artists. The museum has been quoted by many as "small but mighty."
Lady Bird Johnson Wildflower Center
This center, named after Claudia Alta Taylor "Lady Bird" Johnson (wife of President Lyndon B. Johnson), is a perfect place to find some scenic beauty that is great to unwind. The center was co-founded by the former first lady to teach fellow botanists about the advantages of planting and cultivating specific types of plants, a project that has transformed gardening practices in central Texas.
The Lady Bird Johnson Wildflower Center is also the leading research library for wildflower studies in the United States. More than 970 species of Texan flora, such as bluebonnets and evening primrose, grow on more than 284 acres of gardens and along more than 2 miles of hiking trails, attracting visitors from all over the world. An observation deck, a cafe, and a gift shop are also available at the center. Tourists agree it's lovely all year, but spring and summer are the best times to see the most flowers in bloom to avoid disappointment if you're a nature lover.
Austin is one of those places that you immediately fall for the moment you arrive. Austin, Texas is one of the most unique and exciting cities that you can pay a visit to in the United States, and it is certainly a dog and music lover's paradise. There is absolutely always something to do or see in Austin, and you'll likely be planning your next trip out here before you are even back home.