A Guide of the Best Places in Santa Fe, New Mexico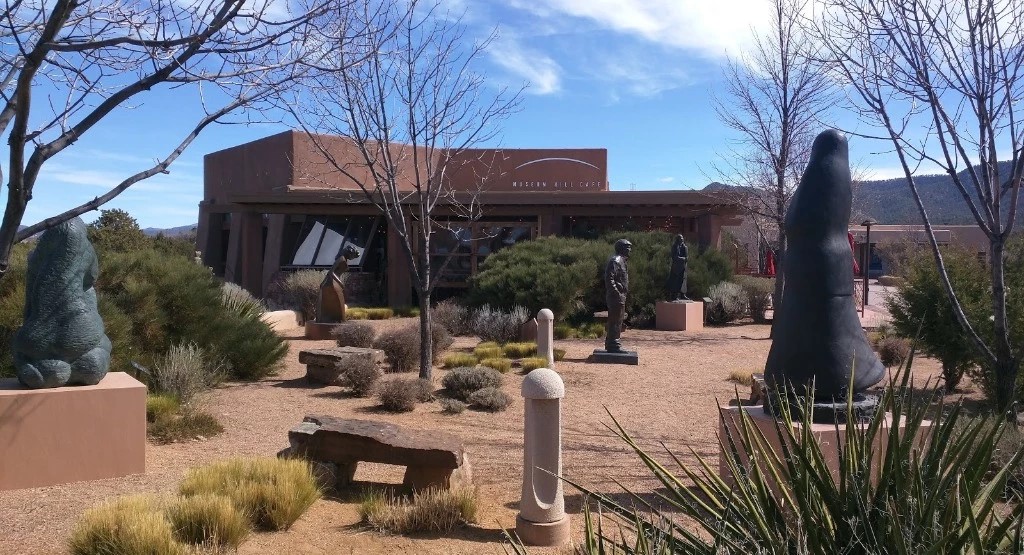 When visiting Santa Fe, New Mexico, most tourists' first and last stops are on Canyon Road, the heart of the city's art and culture. While the commercial galleries and public museums often overshadow the ancient structures, you should still visit the Plaza to see the Cathedral Basilica of St. Francis of Assisi and the Governors' Palace. Encourage small trade at the Santa Fe Farmers Market for a taste of live culture. If you're looking for some fresh air, the Sangre de Cristo Mountains are a terrific place to go hiking, skiing, horseback riding, or bicycling. We're going to take you through our detailed guide of the best spots to experience while spending any length of time in lovely Santa Fe.
Canyon Road
Canyon Road dispels any question that Santa Fe is a must-see visit for art aficionados. Canyon Road, located just east of the Santa Fe Plaza, is home to an array of art galleries selling renowned artwork by well-known artists like Fernando Botero, as well as hidden gems like hand-woven Navajo rugs and Southwestern wood carvings. Because of the range of techniques utilized to promote art, the neighborhood is referred regarded as an art lover's paradise. You'll encounter everything from jewelry and pottery to paintings and sculptures in the various galleries along the street.
Santa Fe Plaza
The Santa Fe Plaza has been the city's cultural center since its foundation in 1610, holding bullfights and fandangos. The plaza, which is bordered by various historic buildings like the San Miguel Mission and the Palace of the Governors, is still the hub of activity in Santa Fe, from live music to the Santa Fe Fiesta in September. The National Historic Landmark Plaza holds Indian and Spanish markets regularly, as well as concerts and town hall meetings. On any given weeknight, the plaza is bustling with opportunities to experience restaurants, galleries, and gift shops.
Santa Fe Opera House
The Santa Fe Opera House is a world-famous theatre where a wide variety of operas are performed each summer. Since 1957, the group has staged operas – sitcoms, musicals, tragedies, and other genres – each and every summer. The venue is an open-air theatre encircled by the Sangre de Cristo and Jemez Mountain ranges, which implies it has some spectacular vistas and can hold up to 2,200 people. Audiences can arrive up to three hours before the show, and many do, expressly to tailgate with picnics, gourmet foods, and drinks in the neighboring parking lots.
Museum of International Folk Art
This is undoubtedly the most distinctive of the museums run by the New Mexico Department of Cultural Affairs. The Museum of International Folk Art offers more than 135,000 pieces and unique displays illustrating daily life in nations all around the world, with a focus on Southern art. African, Asian, Middle Eastern, modern Hispanic and Latino, European, North American, and Spanish Colonial exhibits ranging from household objects, porcelain, and sculptures to toys, puppets, and costumes are on display in this museum. Don't worry if your kids are bored: the wide assortment of colorful toys from all across the world will pique their interest.
The Palace of the Governors
The Palace of the Governors, built in 1610, was New Mexico's first capital. The adobe edifice was the location of the country's sole victorious Native American revolt in 1680, and it has been in general use more than any other construction. With the help of relics like a stagecoach from the Santa Fe Trail era and an altarpiece constructed in 1830 for a church in Taos, the National Historic Landmark now shows 400 years of the state's history. The palace has been restricted for refurbishment since early 2019, so make sure to check the website before heading this way.
Santa Fe Farmers Market
If you're traveling to Santa Fe for any purpose other than to see the art or ski the slopes, make sure to stop by the Santa Fe Farmers Market. Hundreds of merchants sell anything from locally grown food, flowers, and cheeses to cider and tongue-numbing green chile salsa throughout the entire year. A snack bar sells coffee and other regional delicacies, as well.
The Cathedral Basilica of St. Francis of Assisi
Take a while to see the Cathedral Basilica of St. Francis of Assisi if you're interested in stunning architecture. This magnificent Romanesque cathedral, built a block east of the Santa Fe Plaza, shines out among all the city's adobe skyline. The cathedral was built in 1869 with the primary goal of bringing Catholicism to the Southwest. The modest adobe chapel, which is next to the cathedral and features the oldest image of the Virgin Mary in the United States, is all that survives of a former church that was demolished during the 1680 Pueblo Revolt.
Santa Fe Skiing
Some tourists may be surprised to learn that New Mexico has some of the best ski resorts in the Southwest. The ski season lasts from late autumn through early spring, with several resorts receiving up to 300 inches of snow per year. Within a two-hour drive of Santa Fe, there are four main ski resorts. Ski Santa Fe has 83 trails and 660 acres of terrain; Pajarito Mountain Ski Area has 44 trails and 750 acres of skiable terrain; and Sipapu Ski and Summer Resort has more than 40 trails, three terrain parks, and 200 acres of skiable terrain.
Georgia O'Keeffe Museum
Georgia O'Keeffe was influenced by Santa Fe's fiery scenery after moving from the East Coast, and her depictions of New Mexico quickly gained her a distinction as one of the best Southwestern artists. Even those with only a passing interest in art should pay a visit to this museum, which is built in a former adobe Baptist church and houses the world's largest O'Keeffe collection. There are over 1,000 sketches, paintings, and sculptures here, as well as 2,000 works by her contemporaries. A film about O'Keeffe's life, story, and development as an artist is also shown inside the museum.
Bandelier National Monument
The southwest was partitioned into different city-states administered by Native Americans for millennia before the United States achieved independence. Tourists can examine the ruins of one of these communities at the Bandelier National Monument. A complex of old cave homes and other stone constructions belonging to Pueblo ancestors may be found at the bottom of Frijoles Canyon. Follow the paved trail through the village and up the wooden ladders into the caves to learn more about the hamlet.
Santa Fe has a remarkable history and an abundance of cultural significance that is sure to wow any traveler. If you make time to experience any of these extraordinary spots found within Santa Fe, you will undoubtedly create memories that will last a lifetime.